After a six-year wait, the legal version of the old-school, Dolores Park Truffle Man's weed-infused 'Truffies' have at long last arrived on SF dispensary shelves. Here's where to find them.
Do you know the Truffle Man? One of San Francisco's greatest cult-hit heroes of the late 2000s and early 2010s was the Dolores Park Truffle Man. With his recognizable signature white fedora and copper pots, the Truffle Man, also known as Trevor, Truffle Guy, or "Chester Copperpots," was a fixture in the park back in the Robot Dance Party era, when the Truffle Man had a Yelp page packed with hilarious reviews, was unfairly blamed  for the park (and the people in it) frequently getting trashed, and actively spreading Dolores Park bliss with his handmade, marijuana-infused chocolate truffles.  
And then there was high excitement in 2017 when the Truffle Man announced he was going legit, and those famed truffles would be sold legally on San Francisco dispensary shelves. This was about three months before the Prop. 64 recreational marijuana law took effect, when everyone in the cannabis industry was assured that "green rush" riches would roll in easily once the new adult-use cannabis rules kicked in on January 1, 2018.
But the so-called "green rush" has been a bust, with disappointing revenue and onerous regulations that have strangled out many of the smaller, local operators. We have not heard from the Truffle Man in the six years since that announcement.
Until recently. On a new Instagram account started in January of this year, a January 24th post declared, "Remember me? The TRUFFLE MAN is coming back stay tuned!" Meanwhile, the Truffle Man website got a complete redesign.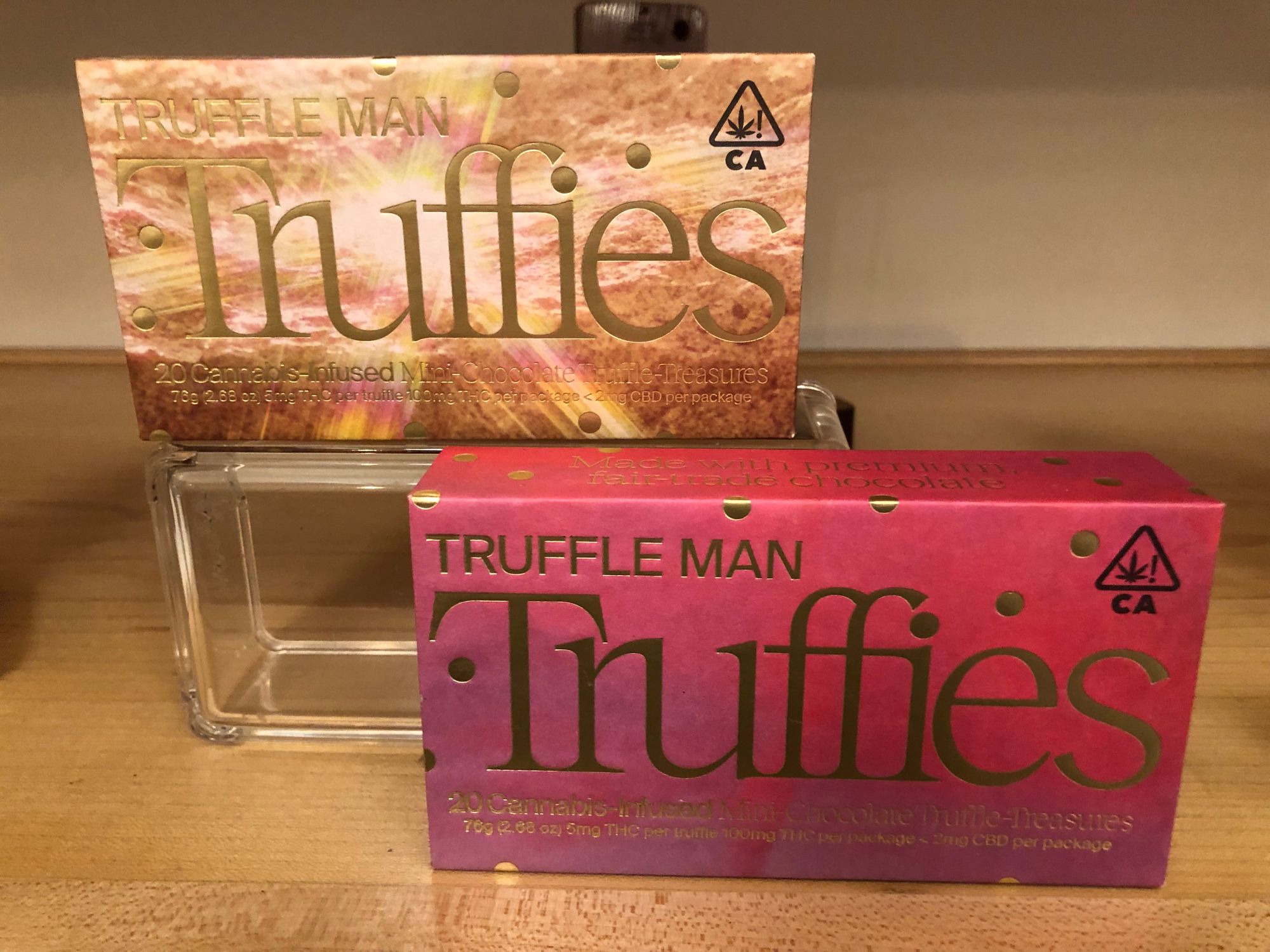 And now, the Truffle Man's legal, infused truffles have finally arrived on San Francisco cannabis dispensary shelves. They're called "Truffies," and SFist confirmed they are indeed currently available at the Vapor Room at Ninth and Mission streets. We've also confirmed that these Truffies are currently available via the Bay Area delivery service Ona Life.
"Truffies are bite-sized treats made with dark chocolate caramel ganache," the Truffle Man website says. "Truffies are always made by hand with fair-trade chocolate, premium full-spectrum weed, and the best ingredients."
A few other SF dispensaries are listed as selling Truffies on the website, though they were not available at those locations when SFist visited each one Wednesday night. Though realize that dispensary inventory can differ by the day.
Truffies were also being sold last weekend at the Outside Lands Grass Lands area "Legacy Market" which featured homegrown Bay Area brands.
There are two varieties of Truffies available; Jamaican Rum and Turkish Coffee. Both retail for around $30 for a pack of 20 Truffles. That's actually a more affordable price per truffle than the old Dolores Park deals of two for $10, or five for $20. Though we are not aware if there is THC potency difference with the new Truffiies, which contain five milligrams of THC in each truffle.
SFist reached out to the Truffle Man, and we will update this post with any response. The Truffle Man does not appear to have given any major media interviews since a 2017 Eater SF profile that announced he would start selling the truffles legally.
But it's not hard to imagine why it took six long years for the Truffle Man's truffles to get regulatory approval and the capacity to manufacture and sell. Consider the fate of another former Dolores Park edibles purveyor, the infused cookie brand Auntie Dolores.
The new legal cannabis industry regulations require even small, mom-and-pop edible producers to have licensed, commercial kitchens that cost hundreds of thousands of dollars. Baking out of one's home kitchen is no longer an option, plus add in the crushing costs of the required lab testing and specialized packaging for the product.
Auntie Dolores gave up on selling edibles, and is now a topical cream and capsule brand. "The sooner we stopped making edibles, the better," Auntie Dolores founder Julianna Carella told the website Greenstate in 2018. "We were losing money doing it."
According to Greenstate, the industry's legacy edibles chefs also had to deal with"tens of thousands of dollars in upgrades to raw industrial spaces; local inspections by multiple agencies; thousands of dollars in state and local permit fees; 300-plus pages of new regulations to follow; workman's compensation and liability insurance; and fees for licensed lab testing and distribution."
But after six long years, the Truffle Man has persevered through this and finally realized the dream of getting those truffles sold in marijuana shops. Maybe he finally got the investors lined up, maybe he just kept working his ass off for six years, and probably a combination of both. But Truffies are now at long last available for purchase in retail stores, and we suspect they'll be creating quite a buzz for a long time.
Related: Trevor The Truffle Man From Dolores Park Goes Legit [SFist]
Image: truffle.man via Instagram