The best bookkeepers can help San Francisco businesses stay organized and avoid costly mistakes. A good bookkeeper helps management to better understand how daily activities meet with a big picture, overhead view of the company. Why is this list free?
Dimov Tax Specialists has over a decade of bookkeeping expertise working with businesses of all sizes, from a single owner to hundreds of employees. Their bookkeeping services are customized to meet your unique requirements, whether they are quarterly or monthly deliverables such as financial statements, invoice and payment reconciliation, quarterly income or sales taxes, or a variety of other duties. Additionally, their CPA team can also discuss business and tax strategy on an ongoing basis, partnering with you to help enhance company performance.
Based in San Bruno and proudly serving the Greater Bay Area, Pascual & Associates, LLP is an incredible professional bookkeeping company that goes above and beyond that service. The talented team advises clients on accounting, tax, and operating issues. Composed of professionals with extensive experience from larger firms and expertise in a wide array of industries, this accounting agency offers a full range of business advisory, tax, and assurance services and will tailor a service plan that is catered to the characteristics and prospects of your business.
Startups in the SF Bay Area often try to get by without a bookkeeper or accountant to ensure that they are on the right path, but as time goes on, most find that their time is best spent focusing on their core competencies and future growth opportunities.
For that reason, it can be an important turning point for an early stage business when management brings on a great bookkeeping partner.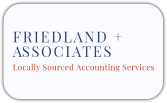 Friedland & Associates is a San Francisco-based accounting services firm. The company prides itself on being local and accessible, as opposed to outsourcing its work. It offers bookkeeping services in areas such as accounts receivable, accounts payable, and reconciliations. Friedland & Associates will also analyze data and run financial reports like balance sheets, profit + loss, and cash flow. It will also serve as the accounting manager/controller for certain corporations. Additionally, the firm utilizes cutting-edge technology – such as FloatApp – to help predict future cash flow for clients. It offers a free consultation to help customers determine what is needed and how much services may cost.
Synqmine is an accounting and tax preparation service located in San Jose. It serves the greater Bay Area region, as well as online clientele. The company provides many accounting and financial services. Some of these services include general accounting, entity selection, individual and corporate tax returns, payroll services, and various consulting services. The company uses QuickBooks Online to work with clients fluidly. It specializes in the production of financial statements, as well as quarterly and year-end balance sheet preparation. Synqmine provides clients with an online appointment process. Tax planning and preparation are other services that the company has in its portfolio of offerings.
Beyond Bookkeeping
#3 of 9 Leading Bookkeeper Companies
★★★★★
Beyond Bookkeeping is an accounting service that is headquartered in the city of San Francisco. It stands out from other bookkeepers because it is based in the cloud. The company has been in business for over ten years and specializes in small business partnerships. It works with multiple industries, including technology startups, event planning, law, e-commerce, and retail. Its services include transactional projects such as payroll, tax returns, and financial statement preparation. It also offers financial insight and strategies to small businesses to help them move into the future. Beyond Bookkeeping will even set up entire back-office systems and provide training to users to utilize them effectively.
Sutro Li is a San-Francisco based accounting business that specializes in working with non-profit clients. The company has a two-pronged approach to each client: a team is established in India while a U.S.-based director is appointed to the client here. Sutro Li provides a full suite of bookkeeping services and incorporates the latest in cloud-based technology within its methodology. It strives to maintain financial compliance and to streamline management of all aspects of running a non-profit company. It provides an outsourced CFO service and makes sure that its clients meet budgetary and timeline constraints. Account Managers also train clients using Xero and offer training in many areas of financial services and accounting.
Peninsula Accounting is an accounting firm with 2 Bay Area offices: one in Sausalito and one in San Francisco. It provides financial and bookkeeping services to clients in the small business, non-profits, and individuals. It offers a wide range of amenities, such as audits, tax services, back-office support, and payroll services. It works with clients in both tax and finance. Peninsula Accounting has a 24/7 customer service so clients can contact the company at any time. As a CPA, the company provides a full suite of complex accounting services. It incorporates QuickBooks and other technology. It also guarantees customer satisfaction.
Pascual & Associates, LLP is a full-service accounting firm located in the Peninsula. Its services include accounting, business advisory, assurance, and tax services. The company is a QuickBooks-certified pro adviser. It has a large selection of bookkeeping offerings, including accounts payable, billing, invoicing, budgeting, and financial statement preparation. Business advisory services consist of ensuring compliance, strategic business planning, and new business formation support. The company's assurance services include financial statement audits, reviews, and compilations. Pricing is transparent at Pascual & Associates, so customers can see what services they will be receiving and for what cost. From bookkeeping to tax preparation, the company will assist small businesses throughout the entire cycle.
Accountiful
#7 of 9 Top-Notch Bookkeeper Companies
★★★★☆
Accountiful is a full-service bookkeeping company that operates out of San Anselmo. It serves the greater Bay Area and beyond. The firm strives to eliminate paperwork as much as possible and has streamlined many of its services into web-based software. Clients go through a unique process. This involves an initial consultation, followed by an analysis of the projected task. The task is then customized by Accountiful to meet the various demands of the client. Once the cycle is implemented, the firm will continue to monitor the service. It offers multiple accounting and bookkeeping services, accounts payable, accounts receivable, payroll, and CFO and controllership opportunities.
Matax is an accounting and bookkeeping firm in the San Francisco Bay Area. Matax is a Xero Gold Partner, which means it is certified with Xero and seamlessly integrates its software into is services. Xero itself is a cloud and web-based accounting suite of tools and software, and Matax has committed fully to its use. It specializes in creating customized accounting packages and services for individuals and small businesses. Some of its accounting services are payroll, project tracking, and invoicing. It not only organizes and streamlines financial statements such as balance sheets, but Matax will prepare financial predictions and projections for clients. The firm prides itself on its commitment to efficiency and the ability to adhere to timelines.
Streamline
#9 of 9 Leading Bookkeepers
★★★★☆
Streamline Bookkeeping is an accounting and bookkeeping business located in Oakland. The firm will prepare and supply clients with a monthly tax statement, which eliminates much of the day-to-day burden – and paperwork – many companies undergo. Its clients come from many different industries. Most clients that work with Streamline are small businesses, individuals, and professional service firms. It offers data entry services, as well as prepares and reviews financial statements. It utilizes QuickBooks online, so clients can access their information at any time. Streamline's services include monthly reports, as well as monthly phone calls with clients to monitor progress. Customer satisfaction is paramount to the firm, and satisfaction is guaranteed.
WHY THIS LIST IS FREE TO USE
The above list includes Bookkeepers that SFist believes actively provides superior services. In some cases, they are among the most successful teams in San Francisco. In some cases, variable, sponsorship listing fees or commissions effect the ranking position of the teams, but every one has a history of providing great services. To learn more about SFist's classifieds listings read more here.
---
SFist / Best of San Francisco / Best SF Accountants / 9 Best Bookkeepers