Never fear, ye fans of IKEA's Swedish meatballs: The new downtown SF IKEA store will be serving them immediately upon opening next Wednesday.
We learned last week that IKEA had set an opening date of August 23, but all we knew up to that point was that there was a food court planned for the second floor of the still unopened mall at 945 Market Street (between 5th and 6th) which wouldn't be open until next year.
But, as the Chronicle now has learned, the IKEA store will be opening with two food concessions inside, including a "Swedish Deli" concept that sounds very much like the IKEA Swedish Restaurant you find in most big-box IKEA stores.
The Swedish Deli will serve the traditional Swedish meatballs, along with vegetarian plant balls that are made to look and taste like the traditional ones, and some odd-sounding "vegetable balls" that are vegan and made with peas and corn. There will also be salmon dishes served, along with the store's vegan cinnamon rolls, and frozen meatballs (and plant balls) will be available for purchase as well.
The second food concession is called Swedish Bite, which will be located at street level, and will sell more pre-packaged, refrigerated meals, including six-packs of cinnamon rolls, along with hot and cold drinks.
The food court, dubbed Saluhall, will open next spring along with other portions of the six-story mall. We also learned a few weeks back that there will be a coworking space on the mall's top floor, dubbed Hej! Workshop, which is set to open early next year. That will double as a showroom for IKEA for Business furnishings.
Everyone is wondering how IKEA will fare in terms of security and keeping out the "undesirable" elements of Market Street that Whole Foods claimed were responsible for its decision to close its store two blocks up after only a year in business. That store closed in April and it's still not clear if and when it may reopen.
The mall, we thought, had been dubbed Meeting Place, but the Chronicle still seems to think it is going by the Swedish name that IKEA affiliate Ingka Centres uses for these concepts, which is "Livat," which translates as "bustling happening." The remaining retail tenants in the mall have yet to be announced.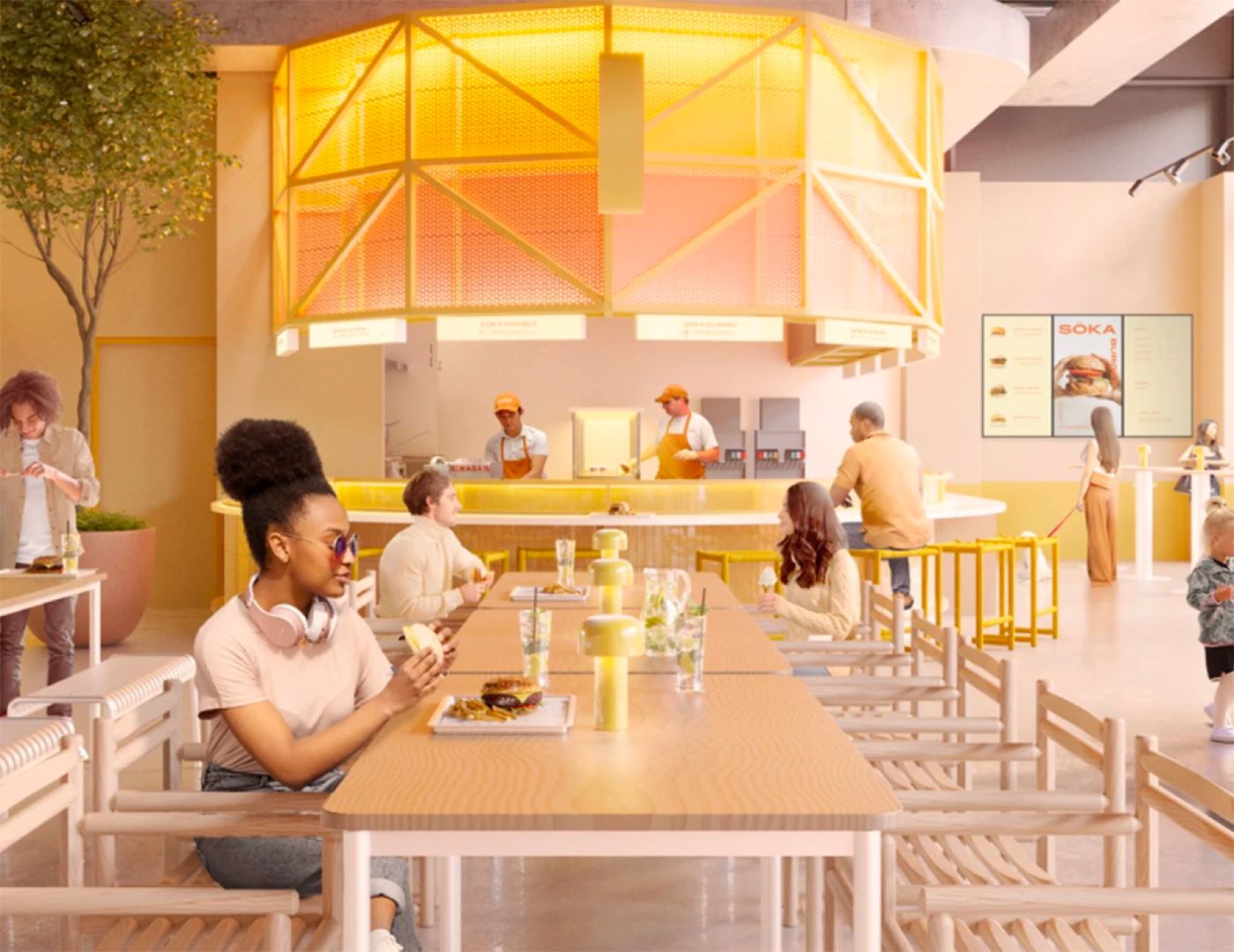 The Saluhall food court concept, which is meant to be predominantly plant-based, is new for Ingka Centres, and the one in SF is one of three launching worldwide.
"Named after the Scandinavian-style 'Market Hall', Saluhall will reinvent the traditional shopping centre food offer with a Scandinavian twist, bringing delicious, predominantly plant-based cuisine to a global audience whilst being kind to the planet," the company said in a release. "It will be Ingka Centres' first food offer to be entirely beef-free, appealing to a global audience and reducing climate footprint."
"We developed the Saluhall concept to be a joyful community experience," says Ingka Centres' Commercial and Digital Director Jens Nielsen. "As people come back together and enjoy spending time with each other, the demand for food halls is on the rise again. The flexibility of Saluhall offers people the freedom they look for, and the ability to experience life together. We want it to be about a whole lot more than what's on the menu – a modern and original twist on the traditional food hall; providing local communities with a place to meet, while eating delicious food and socialising together in an even more inclusive and sustainable way."
Previously: IKEA Store to Open On Market Street With New Co-Working Space On Top Floor; Mall Opening Next Year