Juanita MORE!, San Francisco's indefatigable drag matriarch, walked down The Castro — flanked by other prominent LGBTQ+ locals and a sea of sequined regalia — Saturday afternoon to lay wreaths down at both defunct and thriving queer businesses, spotlighting the need to protect SF's queer legacy and culture.
On Saturday midday, MORE!, levitated by a pair of high-heels and wearing verdant couture, began her "A March to Remember & Reignite Hope" walk — with clan — at the Harvey Milk Plaza, laying individual wreaths at over forty local storefronts over the course of two hours before concluding at the Lookout.
Those institutions that, against the odds, are still profitable amidst rising rents received rainbow-colored iterations. Closed properties were decorated by ominous all-black wreaths; The Castro's storefronts yesterday afternoon, alas, told a dichotomous narrative of both substantial loss and one unified by newfound hope.
"Our community, especially the Castro, relied on locally owned and community-oriented small businesses," MORE! told Jill Cowan of the New York Times. "Now with so many threats of eviction and rent hikes, that's becoming super difficult."
MORE!'s display comes just days before San Franciscans will decide to vote either "yes" or "no" on Proposition D, a ballot measure that, per the SF Examiner, would begin imposing a tax come next year of "$250 per linear feet of street frontage" to stores sitting empty for more than 182 days.
Should the measure go to pass, it's believed Prop D could amass a sum of $5M, funds which would be used by the City of San Francisco to aid struggling small businesses.
The lauded DJ and philanthropic maven noted, as well, that the march's intent was to "shake everyone" awake and pull focus toward the issue at hand: the erasure of San Francisco's queer history due to omnipresent greed.
"My hope is to, really, reignite hope," she adds in her interview with Cowan.
View some of these social media-snapped moments of Saturday afternoon's display to spark some hope that The Castro (and its community of queerdos) will weather through these admittedly turbulent times.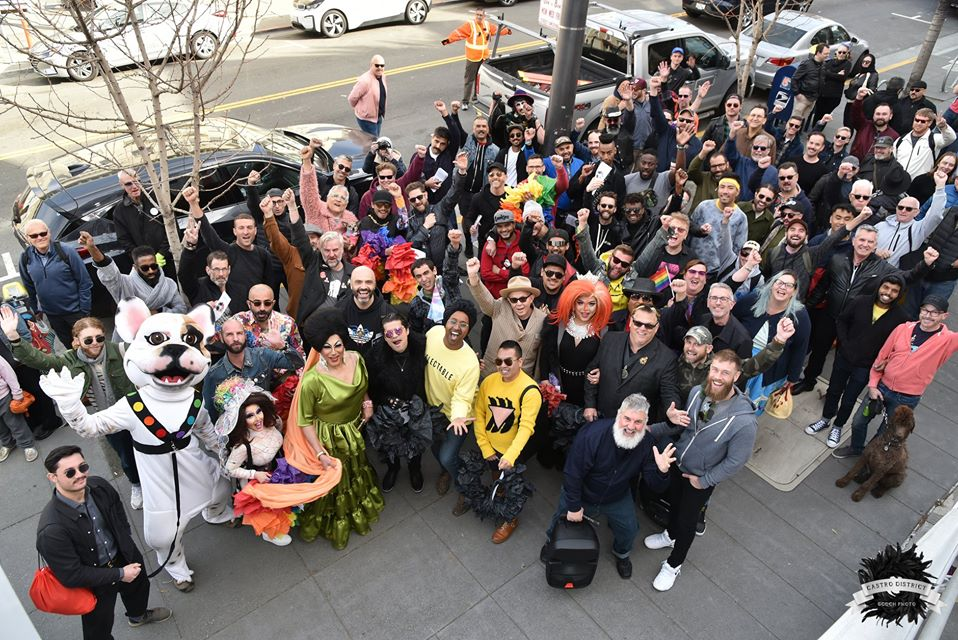 Related: 7 San Francisco Drag Queens Reveal Their Favorite Looks of 2019
Four-Alarm Fire Breaks Out In The Castro Above Q Bar And Osaka Sushi
Cafe Flore Quietly Shutters After 47 Years In the Casto, Future Uncertain
Image: Facebook via Gooch