As noted last week, the much anticipated fast-food collaboration of chef-restaurateurs Roy Choi and Daniel Patterson has made its Bay Area debut, and that would be Locol. With multiple locations planned — including one in the Tenderloin that was originally slated to open first, and one already open in Los Angeles's Watts neighborhood — Choi and Patterson are promising to reinvent the fast-food genre as something "revolutionary" (per the website) as well as healthy. And they're doing it on the cheap, which most of Locol's menu priced between $3 and $7, with the hope of attracting low-income customers in inner-city neighborhoods who tend not to have any healthy food options.
The menu, which you can see in full below, features four "burg" options, all $5, including the Locol Cheeseburg pictured above, and a Veggie Cheeseburg. There are four bowls, including a ginger noodle bowl and some beef chili. And there are taco-quesadilla hybrids dubbed "foldies" including one stuffed with carnitas, and one with machacha (dried beef).
As Patterson explained last year as he and Choi were getting Locol off the ground, one way they're keeping costs down is by making the burger patties with 70 percent beef and a 30-percent mixture of tofu and grains. "Fast food wasn't always what it is today," Patterson said. "I don't know necessarily that fast-food companies don't want to put out a better product. They're not able."
While you'll find a few fried items on the menu, like some "chicken nugs" and the patty for the fried chicken sandwich, one thing you won't find anywhere are french fries.
Choi and Patterson enlisted the help of some famous friends in creating the menu as well, including Tartine baker and owner Chad Robertson, who helped create the burger bun, and Noma chef Rene Redzepi.
Choi put their mission this way: "The people who are feeding the most amount of people are not thinking as chefs. In a punk rock way, Locol is like saying 'I don't agree.'"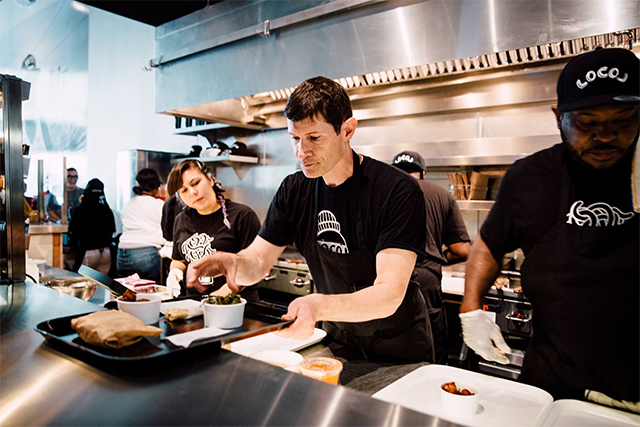 The Oakland location takes the space once occupied by Patterson's restaurant Plum, next door to the still extant Plum Bar, at the intersection of Broadway and Grand Avenue.
Expect to see Locol's San Francisco location, at 57 Taylor Street, to hopefully open eventually, but Patterson has said the next location to arrive will be in East Oakland. As he told the Chronicle this week, "Deep East Oakland, where we did a lot of our hiring, is still isolated, and they have a lot of desire to bring good things to the community, just like Watts. That's why it's so important to connect and let them know we're here."
Locol's chicken "nugs." Photo: Facebook
The fried chicken "burg". Photo: Facebook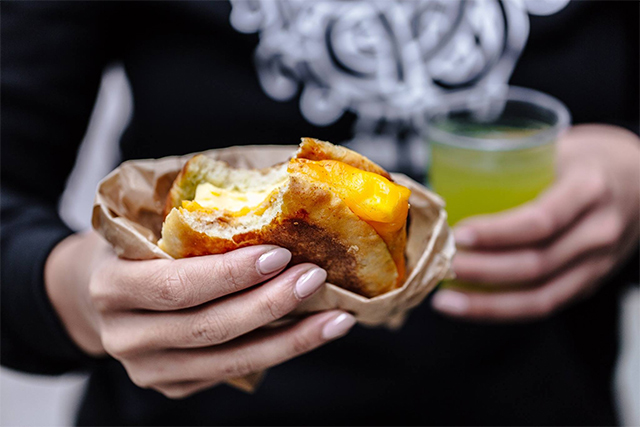 They also do breakfast, like this egg and cheese sandwich ($5). Photo: Facebook
Locol - 2214 Broadway at Webster, near Grand, in Oakland - Open daily 8 a.m. to 8 p.m.
Previously: Video: Daniel Patterson And Roy Choi Release Trailer For Fast Food Restaurant Loco'l
Patterson behind the line at Locol's Oakland location, which debuted Wednesday. Photo: Facebook