This post is a collaboration between Expedia and Gothamist staff.
San Francisco is a meeting ground for music, food, ethnic and cultural background, you name it. It only makes sense we should have such a great variety of festivals every year, all focused on getting everything out of the community we're lucky to have.
Each event isn't just about its subject matter, either; it's about seeing the city, it's about the neighborhood it's held in, the people who attend, what its proceeds go to. In short, it's about San Francisco.
For a look at what's coming up, we've partnered up with travel experts Expedia for a rundown of some can't-miss Bay Area festivals in 2015. Whether you're a native or a traveler looking to round out your plans, check it out!

via Facebook.
Northern California Cherry Blossom Festival, April 11-12 & 18-19. Every year, 200,000 people come to this festival in one of the biggest celebrations of Asian culture on the West Coast. It's unsurprising the event's gotten so big in its 48 years; San Francisco has a long, rich history of Japanese culture. Come to Japantown itself and celebrate with food, music, martial arts displays, the Queen Program, and of course, the Grand Parade. Post Street, Japantown.

via Facebook.
San Francisco International Beer Festival, May 9. "Good beer and good times for a great cause, since 1984." This massive beer festival is produced entirely by the parents of students at the Telegraph Hill Cooperative Nursery School, which in turn benefits from all the festival's proceeds. It's easy to do your part in supporting the school: sample hundreds of beers from the best craft breweries in the world, meet the brewers, and eat pizza, sausages and oysters until you can't move anymore. You can do it, we believe in you. Fort Mason Center, Marina District.

via Facebook.
Fillmore Jazz Festival, July 4-5. This is the largest free jazz festival on the West Coast, drawing over 100,000 visitors over the July 4th weekend. Groove to the sounds of live music from multiple stages and browse the arts, crafts, food and beverage spanning 12 blocks of one of SF's coolest neighborhoods. Fillmore Street, Pacific Heights.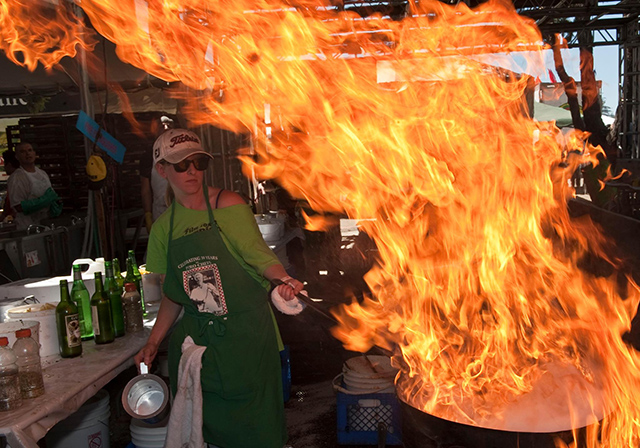 via Facebook.
Gilroy Garlic Festival, July 25-26. This is the holy grail of food festivals, and one of the largest in the United States. Founded in 1979 by an Italian-American doctor on a mission to upstage a town in France as the "Garlic Capital of the World." Here we are today with a gigantic gathering of people from all over set on sampling garlic in every form and function. There's also a well-known cook-off at the festival, featuring finalists from a contestant pool formed in May. Maybe you've got what it takes! Gilroy.

via Outside Lands.
Outside Lands, August 7-9. Quickly becoming one of the best music festivals in all the land, this event brings together singer-songwriters, DJs, jazz acts, indie up-and-comers, visual artists, and talented food and wine vendors. Watch it all in a park that needs no introduction; no backdrop is better than that gorgeous bridge against the Bay. Golden Gate Park.

via Facebook.
San Francisco Street Food Festival, August 15-16. Having outgrown its original home of Folsom Street, the festival moves this summer to newer, bigger digs at Pier 70. The event acts as a fundraiser for La Cocina, a non-profit incubator focused on helping low-income food entrepreneurs in the Bay Area. Come down and support the cause by loading up on pupusas, taquitos, dumplings, churrasco sandwiches, and lots, lots more. Pier 70, Potrero Point.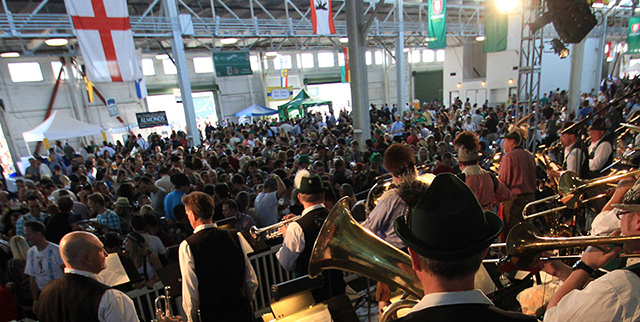 via Facebook.
Oktoberfest by the Bay, September 25-27. This is one of the top ten Oktoberfests in the US. Come for the best in German food and drink, stay for the music, singing and dancing. This year's event will be headlined by the 21-piece Chico Bavarian Band, because why not? It's Oktoberfest for a reason. Pier 48, SoMa.

via Facebook.
Treasure Island, likely October. I mean, this festival is awesome. It's getting bigger and bigger headliners, features a mix of acts (hip hop and electronica on Day 1, rock and indie on day 2) and it all takes place on Treasure Island. Being later in the year on an island in the Bay, the weather can be wild, but it's come to be part of the mystique of the whole deal. The crowd and performers become one solid unit as they battle through sets in the elements, united by music and community. You'll come out of it a different person. Treasure Island, San Francisco Bay.

via Facebook.
Hardly Strictly Bluegrass, Likely October. Another new Golden Gate Park classic, Hardly Strictly Bluegrass is a massive free celebration drawing the equivalent of SF's entire population over three days. Once strictly bluegrass, it's now hardly strictly, so expect to see acts from Earl Scruggs to Emmylou Harris to New Orleans brass band ensembles. Golden Gate Park.