Sometimes it can be hard to tell what's normal in this town. Here now (with a tip of the hat to Buzzfeed listicles): 41 possible signs you've become that jaded San Franciscan.
1. It's a "corner store" not a "bodega"
2. When traveling, you get confused when there's nowhere to put your recycling and compost.
3. You're no longer eligible for 7x7's Hot 20 Under 40.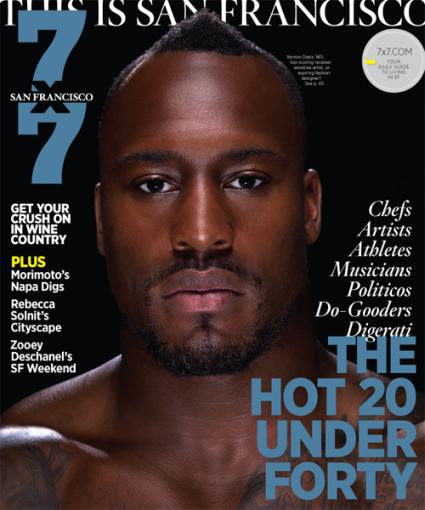 4. You're genuinely baffled by the sight of children.
(Photo: green kozi on flickr)
5. You're no longer fazed by human feces.
6. You think it's cool that your band opened for Sleater-Kinney at the Tip Top.
Sleater-Kinney at Great American in 2002. (Photo: Comtesse DeSpair on flickr)
7. You say you're over Dolores Park… when you're on your way to Dolores Park.
(Photo: DocPop on flickr)
8. You go batshit insane and remove all your clothing the moment the temperature breaks 78 degrees.
(Photo: Kayvee on flickr)
9. You no longer yell "back door!" or "step down!" for fellow Muni riders because it's more satisfying to watch them struggle.
(Photo: Megan Allison on flickr)
10. You think people who call it "the BART" or "the Muni" should be immediately deported to North Dakota.
(Photo: Carl Wilson on flickr)
11. Same goes for people who eat a burrito with a knife and fork.
(Photo: Adam Smith on flickr)
12. You know that tacos are the new burrito.
(Photo: riceandwheat on flickr)
13. And pupusas are the new tacos.
(Photo: Jonathan McIntosh on flickr)
14. You remember when the city was a gay mecca
(Photo: Eric/sftrajan on flickr)
15. You throw a tantrum every time you try to find food after 10 p.m.
(Photo: Jeremy Brooks)
16. You've gotten food poisoning twice from bacon wrapped hot dogs on Mission Street, and you will still get it a third time.
(Original photo: Rob Koziura on flickr)
17. You're completely blind to naked old men with cockrings.
(AP Photo/San Francisco Chronicle, Paul Chinn)
18. You miss the days when you could do way too much E on Saturdays at Club Universe
(Via: Club Universe on Myspace [sheesh])
19. You've STILL never been to Alcatraz.
(Photo: Tony Koloski on flickr)
20. You've actually taken a moment to look up who your District Supervisor is.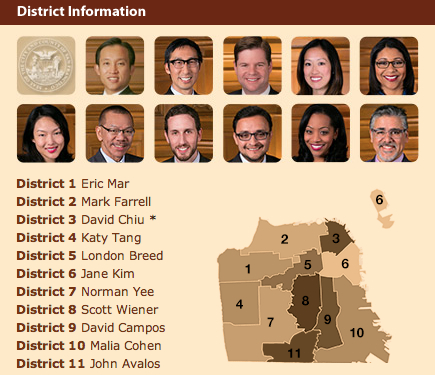 21. You've appeared in Gloss magazine.
22. You used to get drunk with Ana Matronic at Trannyshack when it was at the Stud.
(Photo: SeanFrisco on flickr)
23. You actually went to this cyber cafe.
24. Uber seems like a perfectly normal, affordable way to get around town.
(Via: Uber)
25. You've lived here for more than two months.
(Photo: Andrew Mager on flickr)
26. You have four terrariums.
(Photo: Flora Grubb)
27. You know science museums are actually for grownups.
28. The F line just seems loud and annoying
(Photo: Sergio Ruiz on flickr)
29. You remember when Mecca was hip and Farallon was brand new.
(Photo: Jack on flickr)
30. You want a serious relationship just so you can split your rent.
31. You worked at The Industry Standard.
32. You remember when the Lion Pub was a gay bar.
(Photo: Yelper Matt M.)
33. You got laid at the Black House in the Castro.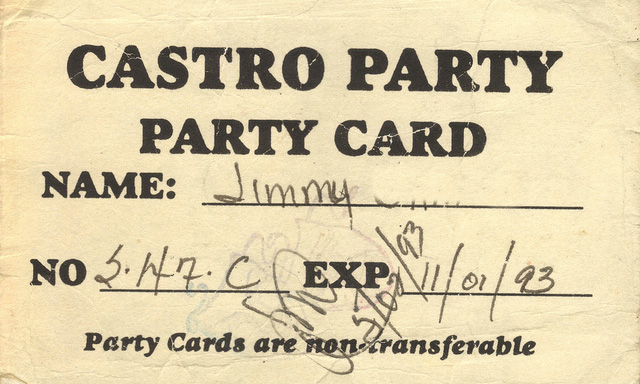 Castro Party a.k.a. "The Black House" party card (via: Jimmy Mike on flickr)
34. You say things like, "I don't go North of Geary."
(Via: Street View)
35. Aside from work, you never leave your neighborhood.
(Photo: David Gartner on flickr)
36. Napa sounds like a pain in the ass to get to.
(Photo: Wally Gobetz on flickr)
37. Oakland sounds like a pain in the ass to get to.
(Photo: Sergio Ruiz on flickr)
38. North Beach sounds like a pain in the ass to get to.
(Photo: Alexandra Jones on flickr)
39. You've stopped trying to compare San Francisco to New York.
Previously. (via: generic_)
40. The next time you step off a BART train from SFO, you'll realize you secretly kind of missed the faint odor of weed and urine.
(Photo: David Lytle on flickr)
41. You may need a liver transplant.
Fernet shots. (Photo: Phil Dokas)
With additional witticisms by Brock Keeling, Jay Barmann and Rose Garrett.
(Photo: jdaisy on flickr)