Seattlest has a talk with the photographer from last week's "Segway Mom" and then experiences some dissension in the ranks over the question of wine vs. beer. It's not West Side Story, but about as close as they'll get. They're also still waiting on some inbox relief after a spammer is arrested.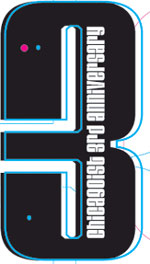 As Chicagoist counts down the days to its third anniversary party, they found all-organic pizza to be underwhelming amidst the hoopla, tried to stay on the good side of Jack White (unlike a DJ who played the unreleased new White Stripes record on-air), detailed the rules and regulations behind sidewalk cafes , and beat up a little more on their favorite political whipping boy.
Phillyist denied the sudden onslaught of summer by taking a look at their snow-covered downtown. But, as much as they may deny it, they know that it's warm outside, and that means baseball, even if it's not particularly baseball. When the Phillies aren't depressing them, though, they're catching awesome live shows, eating awesome Spanish food, admiring responsible dog owners, and reminding their readers to support small bands.
Torontoist had one hell of a busy week. Besides being the first media outlet to get photos of the interior of the gorgeous Daniel Libeskind redesign 0f the largest museum in Canada, they found their prime minister on Facebook (sorta), and interviewed the brain behind PostSecret, Frank Warren. They launched a new feature, Touch Up Toronto (inspired by Londonist's project over the past year). Finally, they decided to give up on Amato, their (now ex-)favourite pizza place in the city.
DCist spent the week asking the tough questions, like whether cops on Segways are hilarious, or helpful, and whether the good people behind Esquire magazine actually know where the best bar in D.C. is. More seriously, they also questioned a plan to close a popular nightclub because a shooting happened outside it, and a heated debate emerged after they wondered if unsupervised kids were back to throwing rocks and attacking people in the Columbia Heights neighborhood. Finally they launched their new wine column, because the real question is, what are you drinking tonight?
Austinist was thrilled that a local landmark finished renovations, but saddened that another classic watering hole might close because of zoning problems. Tickets for the Austin Film Festival went on sale, and a bunch of extraordinary students from the University of Texas embarked on a 4,500-mile ride to Alaska. Local police turned down a chance to be on "Cops", which was still not as disappointing as the Texas House failing to get rid of its speaker. Austinist finally learned what $335.9 million worth of assorted drugs looked like, and are awfully fond of a local buzz band.
If you wear Hooker shoes at Dodger Stadium, LAist is going to catch you (and no Kosher Hot Dogs? What's with that?). Huge news in town is that Kobe Bryant is leaving the Lakers (or maybe... not). In other sports news, bikini races at Hollywood Park anyone? Unfortunately at the Silver Lake Trader Joes, you need to race across the street if you want to stay alive. To rest off all those sporty activities, Los Angeles has another movie theatre full of posh fun including alcoholic drinks, assigned and cushy seating and free parking.
A lot of things to watch at SFist this week. There was a little whale watching, with a mother and calf that had lost their way. With shock, awe, and amusement, they checked out Google's new "street level view" maps. SFist watched and positively reviewed the RiffTrax show. They saw an L.A. paper's take on perhaps their most famous 'hood, The Haight. The whole nation watched on pins and needles as a Bay Area resident won the national spelling bee. All of this while the city ran from zee-oh-em-bee-eye-ee-ess.
Bostonist watched as the Red Sox' Kevin Youkilis continued his consecutive game hitting streak to 23, and started up his very own blog (they even created a slick "has a posse" graphic), took a lesson from Chicago voting (vote early and often) and figured out how to make those 25 all-star votes count best for the Sox. Baseball isn't the only sport in town - the Patriot's Tom Brady is on the platform of a candidate in the commonwealth, or, more precisely his "equipment." The Mooninites attack Boston again, this time using fax machines. And Passim is named top hub club, but it's not the 70's anymore.
Londonist are beginning to think they live in the world's most surreal city. First, there's the High Court judge who speaks in poetry. Then, there's the man who ate a corgi to protest about Prince Phillip shooting animals. And if the royals aren't killing foxes, the suburban giant cats are.
Gothamist marked the final week of May with Manhattanhenge, that day of the year when the sun is lined up with streets perfectly. Gothamist wondered if a Harlem minister's suggestion that the way to save Harlem would be to boycott businesses made sense and thought about the many faces of Rudy Giuliani. The hungry Big Apple blog also enjoyed a delicious meal at Bo Ssam and was impressed by a middle school's noble fight against graffiti. And then there was the City Council fight over naming a street after a radical black activist, that prompted a number of verbals fights, including "jokes" of assassination and criticism of Thomas Jefferson.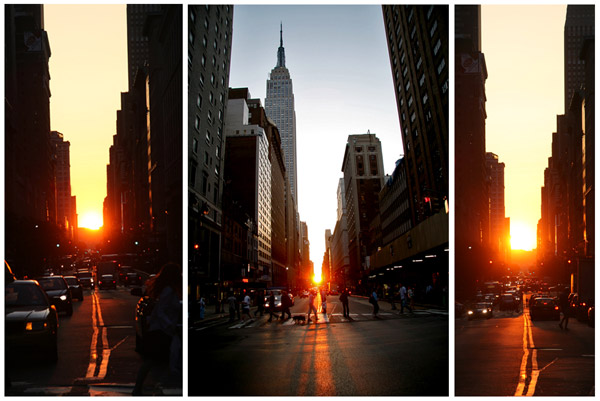 Also, check out other favorite stories from Houstonist, Shanghaiist and Sampaist!
Photographs, top to bottom, from Torontoist, Chicagoist's third anniversary invite, Dapper Dan J for SFist
good