Just like in most past years, except for 2020-2021, there are public street fairs, events, and music festivals in San Francisco basically every weekend from May until well into October, and we've catalogued almost every single weekend's festivities for the next six months, with an emphasis on those that are free to attend.
You may not know it yet, but unless you're traveling out of town, you will have something to do pretty much every weekend in the city from now until fall arrives. SFist has sifted through the calendar, and for the next 20-odd weekends of the year, stuff is happening.
Below, we have a selection of festivals, many of which are free of charge to attend or merely ask for a "suggested donation" at the gate.
MAY 2023
Lower Haight Art Walk (Saturday, May 6)
Art Walk SF and the Lower Haight Merchants and Neighborhood Association are throwing this street fair, which will shut down three blocks of Haight Street between Webster and Pierce streets on this first Saturday of May. A main stage will be set up at the Webster Street end with live music, and there will be vendor booths, food, and a block party vibe from noon to 5 p.m.
Taiwanese American Cultural Festival (Saturday, May 13)
It's the West Coast's largest celebration of Taiwanese American culture, and this is its 30th annual iteration in Union Square. The family-friendly fest showcases Taiwanese culture, food, entertainment, activities, and more and goes from 10 a.m. to 4 p.m.
Sunday Streets Bayview (Sunday, May 21)
This year's Sunday Streets series kicks off in the Bayview with a new Community Block Party format that extends just three blocks "based on community requests for a more focused route." The fun goes from noon to 5 p.m., and the exact location still has not been announced.
Carnaval (Saturday May 27 & Sunday May 28)
The annual, multicultural Mission celebration Carnaval returns this Memorial Day Weekend, and its the 45th iteration with the theme "45 Years of Music and Movement." The Grand Parade happens on Sunday, and features dozens of local music and dance troupes hailing from all over the world, parading from 24th & Bryant Street west to Mission Street then north to 15th Street. That runs from 9:30 a.m. to 2:30 p.m. on the 28th, but there's music and more happening Saturday as well.
JUNE 2023
Union Street Festival (Saturday and Sunday, June 3-4)
They're rolling out the putt-putt turf on Union Street both Saturday and Sunday on the first weekend in June, as the Union Street Festival promises live music, food, and vendors on Union Street from Octavia to Fillmore. The organizers call this the city's oldest festival, having been established in 1976, but the North Beach Festival has them beat as do some other events. (11 a.m. - 7 p.m. on June 3; 10 a.m. to 6 p.m. on June 4)
Soy & Tofu Festival (Saturday, June 3)
The 11th iteration of the Soy & Tofu Festival comes to Japantown's Peace Plaza, with live performances, free samples, vendors, and fun and games involving soy. (11 a.m. to 5 p.m.)
Sunday Streets Tenderloin (Sunday, June 4)
This year's Sunday Streets event in the 'Loin will be a two-block-long block party and street closure (location still TBA), that includes music and family fun from noon to 5 p.m.
SF Uke Jam's Summer Uke-splosion (Saturday, June 10)
This free event celebrating ukulele music returns to Yerba Buena Gardens' Esplenade from 1 to 3 p.m. "Whether you play or just enjoy hearing the ukulele strummed by trained fingers, come join the SFUJ community for an afternoon uke-apalooza in the summer sun with a program showcasing the region's foremost ukulele talent, a community strum-and-sing-along (bring your uke!), and special performances."

Juneteenth (Saturday, June 17)
The Fillmore shuts down for Juneteenth each year, with a party that extends through the neighborhood between Geary Boulevard and Fulton Street. The event features carnival rides for kids, live music, a car show, hair and fashion, and retail and food vendors from 11 a.m. to 6 p.m.
North Beach Festival (June 17-18)
The 67th Annual North Beach Festival happens on Saturday, June 17 and Sunday, June 18, 2023 at Columbus and Grant avenues. It will feature acrobatic performances from the Dear San Francisco crew, Italian street art, spoken word, plenty of food and drink, and the annual Blessing of the Animals. It runs both days from 10 a.m. to 6 p.m.
SF Pride (Friday, Saturday, and Sunday, June 23-25)
SF Pride returns in full for 2023, with the annual Trans March on Friday, Dyke March on Saturday with the huge gathering in Dolores Park, and a Pride Parade up Market Street Sunday, with all the parties that happen all weekend as well. (Full schedule here)
Stern Grove Festival: Indigo Girls with Neko Case (Sunday, June 25)
An awesome 2023 schedule ushers in another Stern Grove Festival season, and one highlight will be this Pride Weekend show featuring Neko Case opening for queer elder stateswomen The Indigo Girls. Tickets will be made available online on Thursday, May 25, at 2 p.m., and they will be snapped up in under 10 minutes. (2 p.m.)
JULY 2023 SF STREET FAIRS AND FESTIVALS

Divisadero Art Walk (Saturday, July 1)
Art Walk SF will be blocking off some section of some street or streets — though it seems likely it will be Grove Street or some other side street along the corridor, as opposed to Divis itself, which would cause major traffic headaches. Details TBA, but it should run from noon to 5 p.m.

Fillmore Jazz Festival (Saturday, July 1 & Sunday, July 2)
Celebrating the largely gone but not forgotten jazz heritage of the neighborhood, the Fillmore Jazz Festival is a multi-block event that extends into Lower Pac Heights along Fillmore Street, from Geary to Washington, with two music stages and a bunch of vendor booths. This year's fest will run from 10 a.m. to 6 p.m. both days.

July 4 Fireworks at Pier 39, Plus Basically Everywhere Else in Town Too (Tuesday, July 4)
July 4 falls on a Tuesday this year, and the traditional Pier 39 fireworks will surely be buttressed by competing displays in the Mission, South of Market, and Excelsior, and obscured the ever-present fog. (9:30 p.m.)

SF Free Folk Festival (Saturday, July 8)
This free gathering of folk musicians and fans is the 47th annual edition — showing SF's long tradition of folk music fandom. And this fest is finally back, fully in person, at the Golden Gate Park Music Concourse. Look for further details and a schedule here, as they become available.

Three-Legged Dog Picnic (Sunday, July 16)
Our previous coverage of the three-legged dog picnic made the New York Times last year (though way down at the bottom of the article), and the Tri-Pawed Picnic will return to Duboce Park in 2023 for "dogs with cones, casts, one eye, wheelchairs, blind, deaf, toothless, vintage, lumpy; they're all welcome." (11 a.m. - 2 p.m.)

Stern Grove Festival: SF Symphony (Sunday, July 23)
Symphony lovers flock to this annual free concert out by the ocean, part of the larger Stern Grove Festival. This year's concert will feature Chris Dragon conducting, and special guest Lettuce. Tickets go up for reservations on June 23 at 2 p.m.
Up Your Alley Fair (Sunday, July 30)
The Dore Alley Fair, formally known as Up Your Alley, will return in all its dirty, very gay sluttiness in SoMa — and this fair is well know to be more gay and male than, say, the more inclusive Folsom Street Fair, though all are welcome. The fair occupies a smaller footprint along Dore Alley and Folsom Street, usually just including stages between 9th and 11th streets.
Sunday Streets Valencia (Sunday, July 30)
Arguably the biggest event of the Sunday Streets season, the Valencia edition includes a street closure that extends from Duboce Avenue all the way to 26th Street, with live music, food vendors, and all the merchants Valencia has to offer from noon to 5 p.m.
AUGUST 2023 SF STREET FAIRS AND FESTIVALS

Nihonmachi Street Fair (Saturday and Sunday, August 5-6)
The Nihonmachi Street Fair returns to Japantown this year, and per the organizers: "Post Street from Webster to Laguna will be closed and will showcase AAPI nonprofit organizations, Asian artisans, Sounds of Thunder Car Show (Sun), Art & Soul of Jtown, and Children's World. Live music at the Clear Channel Outdoor Stage! Doggie World will also be back on Saturday!" (11:00 a.m. - 6:00 p.m. both days)

Outside Lands (August 11 to August 13)
You may have your tickets already, and the lineups for each day have been announced. This year's three-day fest in Golden Gate Park includes headliners Kendrick Lamar, Foo Fighters, ODESZA, Lana Del Rey, The 1975, and Megan Thee Stallion.

Stern Grove Festival Big Picnic with The Flaming Lips (August 20)
The big fundraiser for Stern Grove, the Big Picnic, features a Neon Indian DJ Set followed by the legendary Flaming Lips. Tickets for the event will go up for reservations on Thursday, July 20, at 2 p.m., and will go fast.
SEPTEMBER 2023 SF STREET FAIRS AND FESTIVALS

Shakespeare in the Park: Cymbeline (Saturday, Sunday, and Monday, September 2-10)
If you're not at Burning Man on this Labor Day weekend, the SF Shakespeare Festival's free offering this year is Cymbeline is at the Jerry Garcia Amphitheater in McLaren Park every day this weekend, and the next weekend too. (2 p.m.)
Flower Piano 2023 (Friday-Tuesday, September 8-12)
Flower Piano will back for 2023, and while we only have dates announced, the SF Botanical Garden says "Flower Piano will transform San Francisco Botanical Garden once again into the city's own alfresco concert hall where everyone is invited to play and listen."
​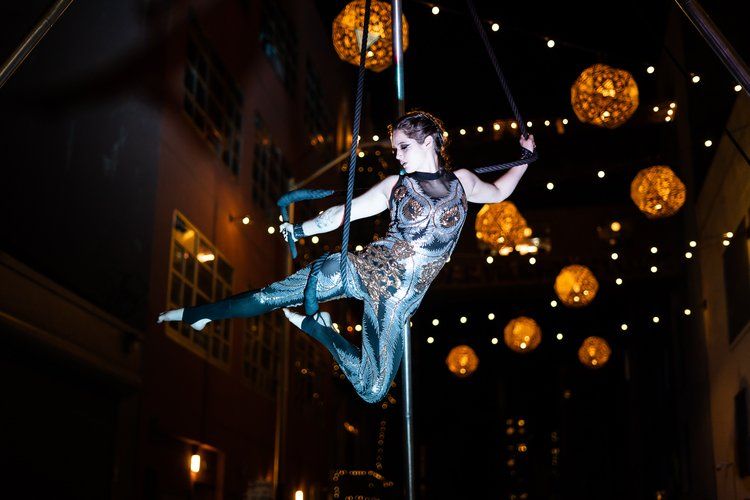 Skybridge on Stevenson Outdoor Dance and Music Party (Thursday, September 14?)
This became a new SoMa tradition in recent years, thrown by the SF Parks Alliance, and activating what can be a usually pretty dicey alley just off mid-Market. We don't yet have confirmation whether it's happening again this year or not. (6-9:30 p.m.)
Haight-Ashbury Street Fair (September 17)
It's the 44th annual Haight-Ashbury Fair this year, and no performers have yet been announced. But you can submit to this year's poster contest.
Autumn Moon Festival in Chinatown (Saturday September 23 & Sunday September 24)
The two-day Autumn Moon Festival in Chinatown this year returns to September — and proper autumn — with the parade scheduled for early Saturday afternoon, on Grant Avenue for Broadway to California Street. (11 a.m. - 5 p.m. both days)
Folsom Street Fair (Sunday, September 24)
The big daddy of all kink and fetish fairs, Folsom Street Fair, will be celebrating 40 years of sexual freedom this year. The Fair typically occupies all of Folsom between 8th and 12th streets, and runs from 11 a.m. to 6 p.m., but details for this year have not yet been released.

Hardly Strictly Bluegrass Festival (Friday, Saturday and Sunday, September 29 - October 1)
We won't know the lineup until August, but Hardly Strictly Bluegrass will return this year, and this time will conflict with the Portola Festival on Saturday and Sunday. It seems fair to assume, though, that the audience for these two fests will be fairly different — though some people have eclectic tastes! As always, the festival is free to attend, and you will be rewarded with relaxation if you arrive early, pick one stage, camp out, and don't move camp til it's over.
Portola Festival (Saturday, September 30 & Sunday, October 1)
As of this writing, we still don't know the lineup, but this year's EDM-heavy Portola Fest has been confirmed on Pier 80 once more, this time happening a week later than last year. It will run all day into the night on both days, with an array of four or five stages, details TBA.
OCTOBER 2023 SF STREET FAIRS AND FESTIVALS
Castro Street Fair (Sunday, October 1)
This will be the 49th annual Castro Street Fair, and while the fair is a bit smaller in footprint than it once was, it's still usually a pretty good time, with the intersection of Castro and Market becoming a big dance party by day's end.
Fleet Week Air Show (Friday, Saturday, and Sunday, October 6-8, 2023)
Fleet Week also technically starts the weekend of October 2, but the main (and very loud) Fleet Week Air Show event is the following weekend (October 7-9, 2022). While you can buy prime seating if you're so inclined, there are several excellent free spots to watch the air show, like Crissy Field, Fort Mason, and Pier 39. (11 a.m. - 4 p.m.)
How Weird Street Faire (Saturday, October 14)
After moving the famed, electronic-music-heavy How Weird Street Faire from May to October during the pandemic, it looks like organizers are sticking with the fall, and this year's date has been set for October 14. Look for updates on Instagram.
Bearrison Street Fair (Saturday, October 14)
The bears are back for the "fair for every bear" that debuted in 2021 and returns to South of Market for 2023. The Sisters of Perpetual Indulgence and Bears of San Francisco will put some hair on your chest with a full day of DJs, live music, wrestling, and general shirtlessness. And it's a noon-to-6 p.m. affair, in and around 11th Street and Harrison.
Top image via the Haight-Ashbury Street Fair