The days of shady doctors prescribing medical marijuana cards for stubbed toes or back pain are happily over in San Francisco. You can now walk into a cannabis store that looks like Sickbay on the Star Trek Enterprise simply by being over 21 and providing valid ID. Inside, you might find fanciful treats like Madame Munchies weed-infused macaroons or herbal treatments such as Flour Child's Topical Rub. But one thing is for certain, you will be amazed by the variety and attention to detail that these locations give you.
---
Barbary Coast
In many ways a granddaddy of the list, this marijuana store, located on Mission between 5th and 6th, has been a staple in the San Francisco cannabis community for years. Known for their well curated menu and unique interior design, Barbary Coast has an upscale feel and one of the chillest lounges in which to meet with friends or enjoy the wide variety of products that they offer.
Barbary Coast SF
952 Mission Street
415.243.4400
---
SPARC
SPARC is another San Francisco institution that has been around for the long haul, with three locations in the city and two in the Santa Rosa area. SPARC on Mission offers a more medicinal vibe in an Apple Store-like setting with a flameless lounge complete with volcano vaporizers which you can rent for 'medicating.' In the past, SPARC has offered services such as acupuncture, showcasing the benefits of alternative medicines. SPARC recently opened its newest location in the Mission, taking over the beloved Love Shack on 14th Street — one of the oldest operating dispensaries in California.
SPARC Lower Haight
473 Haight Street
415.805.1085
SPARC SOMA
1256 Mission Street
415.252.7727
Love Shack by SPARC Mission
502 14th Street
415.243.4400
---
Moe Greens
Moe Greens is a newer cannabis store conveniently situated for those working at the Twitter, Uber and Dolby offices, on Market Street near 9th. They make the list largely due to an expansive lounge area, which is broken up into three sections: a open-concept vape and flameless lounge for people to meet or work, a dab bar for the expanding concentrate industry, and a flower lounge with doors and booth-style seating for enjoying traditional cannabis consumption.
Moe Greens
1276 Market Street
415.762.4255
---
The Apothecarium
The Apothecarium received a mixed bag of reviews when it first opened in 2011. Providing visitors a techie feel with cannabis-culture undertones, they are known for great customer service and Victorian-inspired decor. Their knowledgeable staff is capable of directing first time dispensary visitors and veterans alike. The Apothecarium now has locations in the Marina, Castro, and SOMA, in addition to a Las Vegas outpost. (And the whole chain was just acquired by Canada's TerrAscend.)
Apothecarium Castro
2029 Market Street
415.500.2620
Apothecarium Marina
2414 Lombard Street
415.408.6986
Apothecarium SOMA
527 Howard Street
415.741.0741
---
Mission Cannabis Club (Previously Shambhala)
Mission Cannabis Club (MCC) is located on Mission Street between 20th and 21st, in the heart of the Mission District. MCC has a diverse menu with a welcoming staff, ready to educate its customers or let them explore on their own. It is the perfect spot to visit before doing some urban exploring in the Mission.
Mission Cannabis Club
2441 Mission Street
415.970.WEED (9333)
---
Pure 710SF
Pure 710SF — located on Kearny near Maiden Lane — is the hidden gem of this list. In the middle of downtown, Pure 710SF is nestled away on the third floor and has a unique vibe which attracts tourist and business professionals alike. A great and friendly staff, impressive menu, and variety of specials makes Pure 710SF a must-visit.
Pure 710SF
49 Kearny St 3rd Floor
415.654.5275
---
SFFOGG
SFFOGG at 12th and Howard has some of the best prices of any pot shop in the city. While on the smaller side, they have built a loyal customer base who keep coming back for more. They also give back to the community, hosting events such as charity golf fundraisers and more.
SFFOGG
211 12th St
415.896.4271
---
Urban Pharm
Urban Pharm brings the industrial and steampunk vibe to their 10th and Mission cannabis shop. With easily one of the coolest interiors, their robust menu and lounge makes it a great place to chill out with friends. Their dab bar is always firing, and promotional events like ladies night keeps the place packed every night.
Urban Pharm
122 10th Street
415.872.9488
---
Dutchman's Flat
Dutchman's Flat is located in Dogpatch and has blossomed in its neighborhood since opening several years back. Not only is it a great first stop on your way to / from the airport, but the addition of the new Warriors Arena down the street will make it a must-visit for big concerts and basketball games. Sporting a variety of products, Dutchman's Flat has build a reputation of high-end merchandise and excellent service.
Dutchman's Flat
2544 3rd Street
415.872.6867
---
The Green Cross
The Green Cross is located on Mission Street and has been serving the southern neighborhoods of San Francisco for roughly 15 years. They offer a wide variety of products, including great vapes and flowers, as well more medicinal products like sprays and tinctures. A true OG in the SF cannabis scene, The Green Cross should be on anyone's checklist of dispensaries.
Green Cross
4218 Mission St
San Francisco, CA 94112
415.648.4420
---
The Green Door
SOMA mainstay The Green Door is located on 5th and Howard, a short walk from the Moscone Center — thus serving as an easy stop for any convention attendee or local in the area. Their low prices and wide selection have helped them expand over the years. Friday nights are always an attraction with various product deals and a DJ keeping the beats bumping.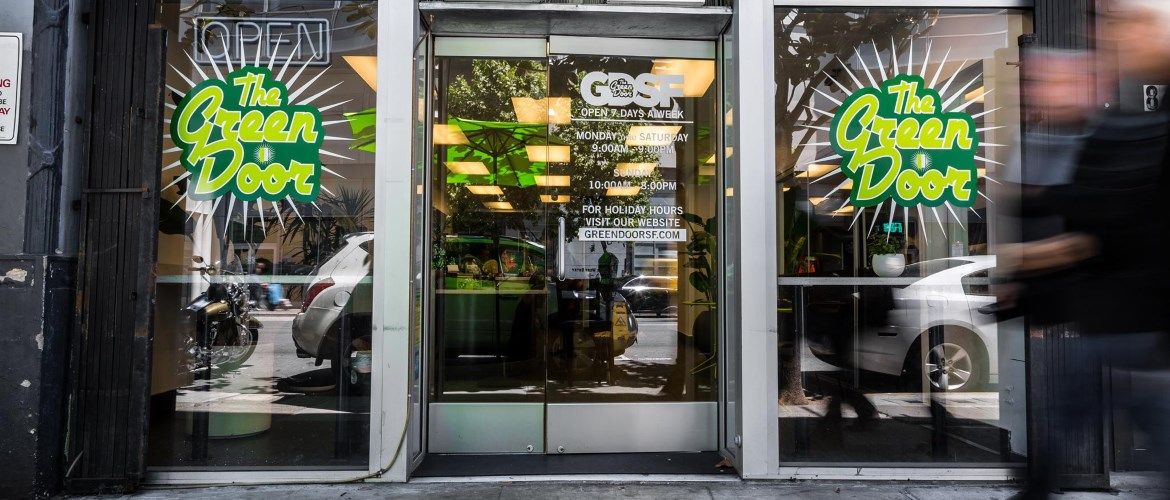 The Green Door
843 Howard Street
San Francisco, CA 94103
415.541.9590
Related: Trevor The Truffle Man From Dolores Park Goes Legit