If you feel like more and more cars are being broken into on SF streets, you're not wrong: According to data from the San Francisco Police Department, there's been a 28 percent jump in reported auto burglaries as of 2017.
The SF Examiner gets the credit for this revelation, as it was they who put in a public records request that forced SFPD to give up the numbers. And the numbers are not good, as police say that as of July 2017, there were 17,970 reported vehicle break-ins in San Francisco. That's nearly four thousand more than this time last year, when police say 13,995 were reported.
Hardest hit was SFPD's Northern District, which covers the oft tourist-laden area in this map: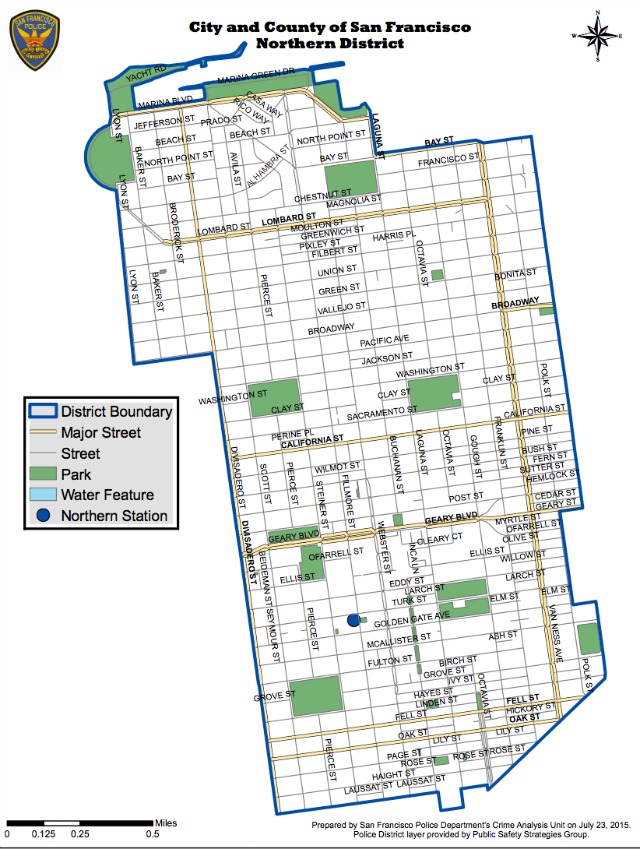 The Ex reports that there have been 4,003 reported auto burglaries in that area so far this year, a 40 percent increase over the figures from 2016.
But the most shocking increase was suffered by those served by SFPD's Mission Station, which covers the area you see in this map:
Reported break-ins of vehicles parked in that zone have tripled since last year, with "a 182 percent spike from 601" reported break-ins this time in 2016 to 1,693 in 2017, the Ex reports.
SFPD spokesperson David Stevenson seemed nonplussed when contacted by the Ex, saying via email only that "The numbers reflect a trend that requires further analysis."
Chief [Bill] Scott has directed the Department to increase its uniformed presence on city streets to deter these and other quality of life crimes," Stevenson said via email, but did not elaborate further.
Supervisor Hillary Ronen, whose District 9 includes some of Mission Station's coverage area, was less circumspect when speaking with the Ex. "I'm not surprised and I'm angry," she said.
"My constituents are angry about the epidemic of car break-ins in San Francisco and my district as well," she said. "It has not felt like the city has taken this seriously enough or has had an adequate response,"
Previously: Will A Set Of $300 Signs Stop SF's Car Break-In Epidemic?