We do not yet have the full schedule for this year's Frameline, a.k.a the San Francisco International LGBTQ Film Festival that is set to run its 41st annual iteration June 15-25, 2017 at various Bay Area theaters. But we do have an announcement of this year's biggest Frameline screenings, including Opening Night, Closing Night, the Centerpiece films, and — most importantly — where all the afterparties are happening.
"Frameline41's Opening, Closing, and Centerpiece films shine a light on LGBTQ heroes in every sense of the word," Frameline executive director Frances Wallace said in a statement. "Whether it be the fascinating story of San Francisco gem Armistead Maupin, the bold Chavela Vargas, iconic macha chanteuse and sexual outlaw, or Alan Cumming capturing the duality between queer generations - Frameline41 presents a Festival that has something for everyone."
Here are a few of the somethings-for-everyone that have been confirmed for Frameline41.
The Untold Tales of Armistead Maupin
Who among us is not fond of once-again San Francisco author Armistead Maupin and his blockbuster semi-fictional franchise Tales of the City? The new documentary The Untold Tales of Armistead Maupin serves as the Frameline41 Opening Night fare, fresh off its successful world premiere at SXSW, and tells tales of Maupin's life in a bounty of celebrity interviews including Sir Ian McKellen, Neil Gaiman, and Amanda Freakin' Palmer.
Opening Night, Thursday June 15, 7 p.m., Castro Theater. Opening Night afterparty will be at Terra Gallery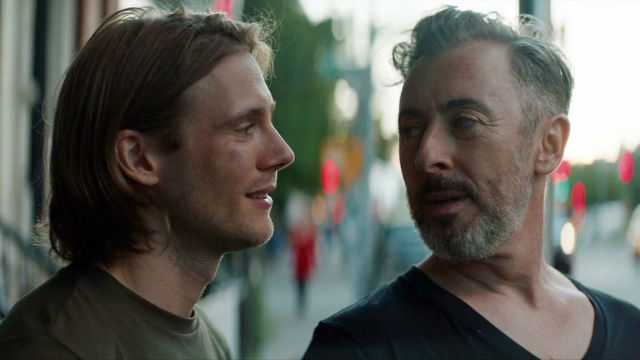 'After Louie'
After Louie
Alan Cumming and Justin Vivian Bond star in your Frameline41 Closing Night offering After Louie, a sort of May-December romance between a grizzled ACT UP veteran and a carefree, PReP-popping hunky youngster. Cumming will be awarded the 2017 Frameline Award, so we take that to mean he will be in attendance.
Closing Night, Sunday, June 25, 7 p.m., Castro Theater. Closing Night afterparty will be at Oasis and feature a performance by Heklina
A Fabulous Trio of Centerpiece Films
Three other Centerpiece feature films are also confirmed for Frameline41, all screening at the Castro Theatre at 6:30 p.m. on their respective weeknight dates. The documentary Chavela (Monday, June 19) tells the life story of macha lesbian and "sexual outlaw" Chavela Vargas whose work was featured prominently in many Aldomovar films. Ernesto Contreras' I Dream In Another Language (Tuesday, June 20) won an Audience Award at this year's Sundance, so it is surely pretty damned good. And Tony winner Lena Hall (Hedwig and the Angry Inch, 2014) stars in Becks, doubtlessly a very entertaining lesbian midlife crisis story.
We expect the complete Frameline41 schedule to drop on Tuesday, May 23. Frameline members can buy tickets to these shows now, while non-member tickets will go on sale Friday, June 2, 2017.
Related: Living Trans In Mississippi Since the 1970s: A Firsthand Account
'Untold Tales of Armistead Maupin', Facebook