In the tech mecca of the Bay Area, Hack Temple seeks to be among its highest, holiest altars. The new would-be place of worship is located in the historic Our Lady of Guadalupe Church, built in 1906 on Broadway in Russian Hill and rebuilt in 1912, then closed in 1991 as its congregation dwindled. The space was converted to a school, St. Mary's, and was finally sold for $2.3 million to a real estate firm and vacated in 2013. Dormant since then, the former house of God found its guardian angel — or, rather, angel investor— in Pavil Cherkashin. A Russian former Adobe and Microsoft exec, Cherkashin is a managing partner at early stage Venture Capital Firm GVA Capital, which bought the church for $7 million last year to convert it to the gospel of innovation.
It's a fitting mission for a techie who penned, last month, a hacking-as-religion "manifesto" in App Developer Magazine. "It's time to build new religions around what we really believe in... technology," Cherkashin writes, proposing a church of "Hacktivism" in an attempted tongue-in-cheek essay. "I'm not sure if I'm supposed to laugh or cringe," one commenter responded, "but I did a little of both."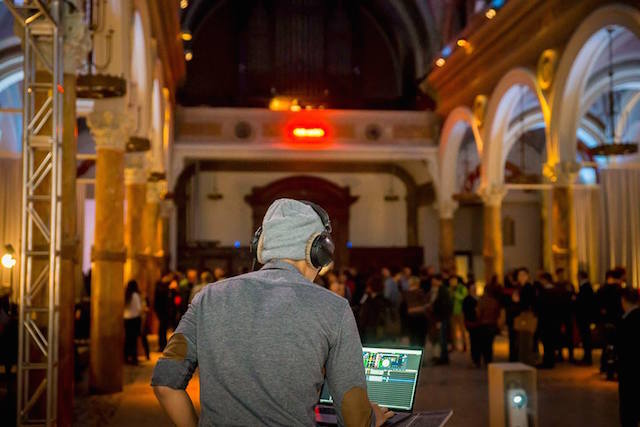 Enter Hack Temple, opened for select events in December on the corner of Mason and Broadway. "For a whole century [Our Lady of Guadalupe] served as a place for people to come with their dreams and challenges, help and support each other and connect," Cherkashin, who moved from Moscow to the US just three years ago, told SFGate after purchasing the space. "We needed a place for an open public forum to inspire free flow of thoughts and ideas on innovation."
Hack Temple spokesperson Clayton Wood tells SFist that portions of the facility are still under renovation after falling into relative disrepair. "When Hack Temple came in, their vision was to breathe life back into the building," Wood says, citing renovations to the historic organ, which is now playable. The goal is to "use its beautiful, unique architecture and design to do some really cool projects." This Sunday, for instance, Hack Temple will turn over its pulpit to an event with TEDx, the popular presentation format that's not unlike a modern day sermon series. After the networking event, participants will take off for a sunset yacht cruise, Wood says.
In particular, Hack Temple will be a place to connect startup founders to larger corporations. "We feel like the current circle of innovation has a lot of work to do, and founders and corporations should be a lot more connected," Wood says. As to Cherkashin's Russian connections, the team hopes that their congregant community will be strongly international, the space an embassy, or asylum, for foreign technologists in the promised land of innovation.
If you're seeking a spiritual experience at Hack Temple, look out for educational events open to the public down the road, especially in the virtual reality and augmented reality space. Next Thursday, the morning dance party series Daybreaker — particularly popular with local millennials in tech — will occupy the space for their latest event, "Twerk Du Soleil." That, in a shocking twist on their early a.m. events, will be held at night — think of it as a rare evening service on a high holiday. (So much for sticking to the Daybreaker brand?)
And a church formal, in case you were concerned, "Twerk Du Soleil" is decidedly not. "Practice your juggling act, throw on that colorful leotard (you know it's been waiting to come out!) and douse yourself in body paint," Daybreaker writes on an event page. Oh my god.
Related: Sunday's Finest: A Non-Religious 'Church Service' With Tartine Bread And Fernet For Communion
Hack Temple via Facebook