Eating on Christmas means stuffing yourself stupid, regardless of your religion, lack thereof, or place on the socioeconomic hierarchy. So we here at SFist broke down San Francisco/Bay Area restaurants open on Christmas Day by price range, culinary genre, and delivery status so you can order food for celebrating Hannukah, feed tourists a fancy meal, or call for delivery so you can lay around in your underwear watching the Warriors game.
To help you find the type of restaurant whose cuisine you crave on Christmas Day, we've grouped restaurants by the following categories arranged in this order so you can just scroll right to the section you want:



Chinese Food on Christmas

Fine Dining on Christmas

Casual Eats on Christmas

Movies and Shows Serving Christmas Dinner

East Bay Restaurants Open on Christmas

Delivery Available on Christmas

CHINESE FOOD ON CHRISTMAS
It's not a given that your favorite Chinese restaurant will be open on Christmas. Mission Chinese Food will be closed December 25, as will Chinatown's Mister Jiu's and the East Bay's iconic Shan Dong. R&G Lounge is already fully booked up for December 25 and Kung Pao Kosher Comedy is sold out, but there are still some excellent Christmas Day Chinese food options available for Jews and gents alike.
San Tung
We should note that San Tung is a very well-reviewed Chinese restaurant open 11:30 a.m. - 3 p.m. and 5:30 p.m. - 9:30 p.m. on Christmas Day. We should also note San Tung has received a Poor Safety Score on Yelp recently.
1033 Irving Street between 11rh Avenue and 12th Avenue, and 1031 Irving Street between 11rh Avenue and 12th Avenue,
Z&Y Restaurant
At the North Beach / Chinatown border, Z&Y Restaurant is open and serving during normal hours on Christmas Day.
655 Jackson St between Grant Street and Kearny Street
Chinatown Restaurant
Janky on the outside and gorgeous on the inside, Chinatown Restaurant is open their normal 10 a.m.-10 p.m. hours on Christmas Day with Cantonese, Szechuan, and fixed menus for $16.95 or $20.95.
744 Washington Street between Kearny Street and Grant Street
Koi Palace
This is the only Daly City restaurant on this list, but Koi Palace merits inclusion thanks to its Christmas Day hours and transcendently tacky interior.
365 Gellert Boulevard between Serramonte Boulevard and Hickey Boulevard, Daly City
Yank Sing
There are two Yank Sings in San Francisco, but they're both open 10 a.m. - 4 p.m. on Christmas Day. One is near the Embarcadero, the other in the Financial District.
49 Stevenson Street between First Street and Second Street, and 101 Spear Street between Mission Street and Howard Street
Terra Cotta Warrior
Also operating with the "mid-day break" of many Chinese restaurants, the Outer Sunset's Terra Cotta Warrior is open 11:30 a.m. - 2:30 p.m. and 5:30 - 9:30 p.m. on Christmas Day.
2555 Judah Street between 30th Avenue and 31st Avenue
Hunan's Home
No frills and usually packed, Hunan's Home will open at 11:30 on Christmas Day and remain open until 9:30 p.m.
622 Jackson Street between Kearny Street and Grant Avenue
Just Go To Chinatown
People, there are dozens Chinese restaurants all over Chinatown that are open on Christmas Day.
Between Kearny Street and Powell Street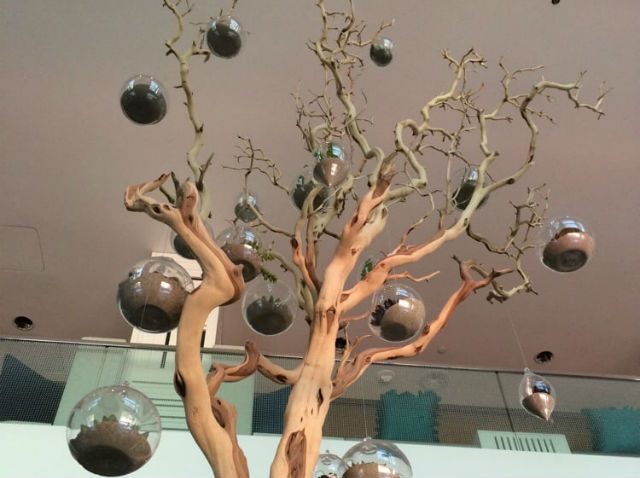 TRACE (Image: Ken H via Flickr)
FINE DINING ON CHRISTMAS
Many fine dining establishments are open to style you out on Christmas Day, especially hotel restaurants, and oh were their publicists happy to alert SFist of their executive chefs' Christmas Day specials.
TRACE
Get your Christmas Dungeness crab fix in elegant style at the W Hotel's TRACE, who are also serving grilled ribeye with oxtail marmalade, seared Black Cod with charred Cipollini and a chocolate mousse bar with sea salt caramel for dessert.
181 Third Street between Mission Street and Howard Street
Ruth's Chris Steak House
More like Ruth's Christmas Steak House, ammirite? They're open Noon to 8 p.m. on Christmas Day.
1601 Van Ness Avenue between Sacramento Street and California Street

Americano Restaurant & Bar
In the Embarcadero's Hotel Vitale, Americano is offering a special Christmas Day three-course prix-fixe menu at $70 per person, featuring Crispy Curry Potato Pancakes, Roasted Duck Breast and Cranberry Brown Butter Tart.
8 Mission Street between Steuart and The Embarcadero
The Grill at The St. Regis San Francisco
A pop-up that's gone permanent, The Grill in St. Regis San Francisco grills up an opulent four-course Christmas Day menu featuring roasted half Maine lobster with braised manila clams, sweet potato fritter and sorrel leaves and Snake River Farm ribeye of beef with yellow beans, celery root purée, hazelnuts and veal jus. It's $115, with an additional wine pairing at $55.
125 Third Street between Mission Street and Howard Street
Campton Place
For a two-Michelin star Christmas dinner, Campton Place has a five-course meal at $158 per person.
340 Stockton Street between Sutter Street and Post Street
Big 4 Restaurant
The fellow at the piano will presumably be playing some Christmas tunes, and Chef Miguel Garcia will definitely be serving a three-course tasting menu from 4 p.m. to 8 p.m. It's $125.00 per person and they say "seating is very limited!"
1075 California Street between Taylor Street and Mason Street
Morton's The Steakhouse
Limited hours on Christmas Day (4 p.m. - 9 p.m.), but Morton's The Steakhouse will still be sizzling.
400 Post Street between Powell Street and Mason Street
The Cavalier
They will probably not have the Cavaliers-Warriors game on at The Cavalier, but the Hotel Zetta restaurant will have a prix fixe holiday menu. Reservations are required.
360 Jessie Street between Mission Street and Market Street
Roy's
The three-course holiday menu for $59.95 is a pretty good deal for food of this quality, though the normal Hawaiian fusion menu will be otherwise limited on Christmas Day.
101 Second Street between Mission Street and Howard Street.
Hornblower Cruise
Christmas dinner on a yacht! Is that classy or tacky? Either way, it's a Churrasco feast with an accompanying seasonal menu. On a boat, motherf******!
Pier 3 at The Embarcadero
L'Olivier (CAUTION! OBNOXIOUS AUTOPLAY MUSIC ON LINK!)
There's a special Christmas menu and you can totally click on that link without the obnoxious music autoplaying as it does on the homepage of L'Olivier.
465 Davis Street between Jackson Street and Washington Street
Cliff House
Both The Bistro and Sutro's are open Christmas Day at the Cliff House, though The Bistro only takes walk-ins so you are probably looking at a lengthy wait. Still, the view!
1090 Point Lobos Avenue between Seal Rock Drive and Balboa Street

1300 on Fillmore
You will probably require reservations for Christmas Day at 1300 on Fillmore, as they're only doing three seatings (2 p.m., 4:30 p.m. and 7 p.m.).
1300 Fillmore Street between Eddy Street and Ellis Street
Zingari
Inside the Donatello Hotel, Zingari is doing a three-course prix fixe for Christmas except they call it a "prezzo fisso".
501 Post Street between Taylor Street and Mason Street
Brasserie S&P
The Christmas menu is $75 a pop and served from 4 p.m. - 9 p.m. at this Loews Regency Hotel restaurant.
22 Sansome Street between Pine Street and California Street
Albona Ristorante Istriano
How about a Croatian or Slovenian Christmas dinner? 'Cause that's what's happening from 5 p.m. -10 p.m. at Albona Ristorante Istriano.
545 Francisco Street between Taylor Street and Mason Street
Beso Bistronomia
For brunch (11 a.m. - 2:30 p.m.) and dinner (3-10 p.m.) there is a four-course prix fixe offered on Christmas Day.
4058 18th Street between Hartford and Castro Street
Scala's Bistro
Italian and seafood hot spot Scala's Bistro is just doing breakfast (8 a.m. - 11:30 a.m.) and brunch (11:30 a.m. - 3 p.m.) on Christmas Day.
432 Powell Street between Sutter Street and Post Street
Fogo de Chao Brazilian Steakhouse
Churrasco feast is in effect from 11:30 a.m. - 9 p.m. at Fogo de Chao.
201 Third Street between Howard Street and Folsom Street
Finn Town (Image: Lesley M.C. via Yelp)
CASUAL EATS ON CHRISTMAS

Finn Town
The hot new Finn Town in the Castro is serving Short Rib and Sloppy Joe specials on Christmas Day (5 p.m. - 12:30 a.m.), but the important thing here is that on Christmas Eve from 5 p.m. - 1:30 a.m. anyone wearing anything red gets a free shot of homemade Fireball! They do not want to run that promotion during SantaCon.
2251 Market Street between Sanchez Street and Noe Street
Bisou Bistronomy
For fine dining flair on a gig economy budget, Bisou Bistronomy is doing an excellent Christmas Day prix fixe that's seven courses for just $70.
2367 Market Street between Noe Street and Castro Street
Wise Sons Jewish Delicatessesn
Of course these guys are open on Christmas Day! But their Ferry Building location is not. Check their three other locations for Christmas Day hours.
3150 24th Street between Shotwell Street and South Van Ness Avenue, 1520 Fillmore between Geary Street and O'Farrell Street, and 736 Mission Street between Third Street and Fourth Street
Fior D'Italia
Pig out Italian style at the classy but moderately priced San Remo Hotel restaurant open Christmas Day from 1-9 p.m.
2237 Mason Street between Chestnut Street and Francisco Street
Mission Beach Cafe
Pie and mimosas, people! They're open til 6 p.m.
198 Guerrero Street between 14th Street and Duboce Avenue
Pinecrest Diner
This fabulous and notorious greasy spoon is always open, including the full 24 hours of Christmas Day.
410 Geary Street between Mason Street and Taylor Street
Cafe Mason
The slightly less greasy spoon at Cafe Mason is also doing 24-hour duty for Christmas.
320 Mason Street between Geary Street and O'Farrell Street
Mangia Tutti
They're only open for dinner (5-10 p.m.), but the FiDi's Mangia Tutti is serving their Italian fare on Christmas Day.
635 Clay Street between Montgomery Street and Kearny Street

Jane
Your healthy, fair-trade vegetarian and salad options, should you want those, are on hand at both Jane cafe locations on Christmas Day.
2123 Fillmore between California Street and Sacramento Street, and 925 Larkin Street between Geary Street and Post Street
Lavay Smith and her Red Hot Skillet Lickers (Image: Dennis Hearne via Facebook)
MOVIES AND SHOWS SERVING CHRISTMAS DINNER
Biscuits and Blues
Whoa, Lavay Smith & Her Red Hot Skillet Lickers are doing a Christmas show with dinner served? Actually, they're doing two shows (7 p.m. and 9 p.m.)
410 Mason Street between Geary Street and Post Street
Alamo Drafthouse Theater
They deliver great food to your seat, and on Christmas Day the Alamo Drafthouse is screening Rogue One, La La Land, Fences, and Manchester by the Sea.
2550 Mission Street between 21st Street and 22nd Street
Sundance Kabuki
The Sundance Kabuki serves really excellent dinner dishes, along with a space-age "beeper" that lets you know when your is ready, which is perfect for watching Rogue One.
1881 Post Street between Geary Street and Post Street

Lungomare (Image: Martin W via Yelp)
EAST BAY RESTAURANTS OPEN ON CHRISTMAS
HS Lordships
It's a big ol' Christmas Day Champagne Buffet with crab legs, ham, and a carving station going from 10 a.m. - 5 p.m., and Santa will allegedly show up at this Berkeley bayside restaurant to visit with the kids.
199 Seawall Drive in the Berkeley Marina
Lungomare
Ham, swordfish, prime rib and all the high-calorie Christmas dishes are served from Noon to 8 p.m. at Oakland's Lungomare.
1 Broadway at Jack London Square
Spenger's Fresh Fish Grotto
Berkeley seafood favorite Spenger's has two non-seafood prix fixe options on Christmas, with a roasted turkey or a prime beef.
1919 Fourth Street between Hearst Avenue and University Avenue

FIVE
Bottomless mimosas are going throughout brunch on Christmas Day (10 a.m. - 2 p.m.) along with a $70 full buffet at the Berkeley bistro. Reservations are recommended.
2086 Allston Way between Shattuck Avenue and Milvia Way
Cafe Colucci
Do they know it's Christmas at the Ethiopian Cafe Colucci in Oakland? They do, because they're closing early at 6 p.m. but still available for lunch and dinner until then.
6427 Telegraph Avenue between Alcatraz Avenue and 65th Street
Saul's Restaurant & Deli
Saul's in Berkeley is happily open from 8 a.m. (!) to 9 p.m. on Christmas Day.
1475 Shattuck Avenue between Rose Street and Vine Street
Ba Le Sandwich Shop
Even earlier than that, Oakland's cult hit, no-frills Vietnamese sandwich shop is open all day, beginning at 7 a.m.
1909 International Boulevard between 19th Avenue and 20th Avenue
Crazy Pepper (Image : Silky S via Yelp)
DELIVERY AVAILABLE ON CHRISTMAS
Crazy Pepper
The Crazy Pepper restaurant is seating on Christmas Day, but I'm guessing none of you are going to hike out to its unfashionable backwoods Excelsior location. Call for delivery, there's a game on.
2257 San Jose Avenue between Geneva Avenue and Seneca Avenue
Pizza Zone N Grill
Despite the trashy name, I would argue that Pizza Zone N Grill delivers the very finest chicken wings in San Francisco. Of course Brock Keeling would disagree. They're open Christmas til 2 a.m.
178 Valencia Street between Duboce Avenue and Market Street
Seniore's Pizza
There are actually six Bay Area locations delivering on Christmas Day (including Berkeley, San Mateo, San Bruno, and Santa Clara), but the Seniore's Pizza shops in the Western Addition and the Sunset are both delivering too.
559 Divisadero Street between Fell Street and Hayes Street, and 2415 19th Avenue between Taraval Street and Ulloa Street
AllStar Donuts
You would need to use Postmates, GrubHub or some delivery service to get AllStar Donuts and their signature garbage burgers delivered on Christmas Day, as the establishments do not deliver. But all four AllStar Donuts locations are open on Christmas, which is just hilarious.
399 Fifth Street between Folsom Street and Harrison Street, 98 Ninth Street between Market Street and Mission Street, 901 Clement Street between 10th Avenue and 11th Avenue, 290 Golden Gate Avenue between Leavenworth Street and Hyde Street

RELATED: San Francisco Might Actually (Maybe) Get Snow On Christmas Eve

Z&Y Restaurant (Image: Al Z via Yelp)