Some justice has been served in the senseless killing of Melquiesha "Mel" Warren, a 23-year-old woman shot dead in a SoMa parking lot in 2013 over a fender bender, following a night in which she'd been celebrating her wife's birthday with friends. 26-year-old Michael Sione Green of San Mateo was found guilty Thursday on counts of murder, attempted murder, firing at a motor vehicle, assault, being a felon in possession of a firearm, carrying a concealed firearm, and carrying a loaded firearm, according to the DA's office in a release. District Attorney George Gascon says, "The jury sent a clear message with their finding of guilt on all counts," and "This act of violence was completely senseless." Green is likely to get a life sentence.
According to KRON 4, "Green bowed his head and wept silently as the verdict was read, while defense attorney Eileen Burke put her arm around his shoulders."
Warren was shot along with her friend, 21-year-old Danisha Bean of Hayward, after they had both been sitting in Bean's car, and they got into a small collision in a parking lot at Sixth and Jessie Streets, near Club OMG, a three-year-old LGBT nightclub catering to younger crowds. Green subsequently spent six months on the run before being apprehended in Florida. His trial began July 13, and jury deliberations last three days.
Via the DA's release:

According to court records, on November 17th, 2013 at about 2 am, decedent Melquisha Warren joined Ms. Bean to walk across the street to a parking lot to retrieve Bean's vehicle following a night at Club OMG in San Francisco's Tenderloin Neighborhood. While backing up, Bean accidentally sideswiped another vehicle. The driver of that vehicle exited and opened Bean's door and began yelling. Ms. Warren exited the driver-side in an attempt to diffuse the situation and to tell the woman that they had insurance. Soon thereafter, Defendant Green shot Ms. Bean once who was still sitting in the driver's seat with her seatbelt on. Ms. Warren exclaimed, "No, wait." In response, the defendant shot Ms. Warren in the face. Ms. Warren then fell to the ground where she died. Green then continued to fire the gun at Ms. Bean about nine to fifteen times, causing bullets to penetrate her left side, thigh, rib, back, the top of her buttocks and front. After the shooting, Ms. Bean sustained serious injuries and was hospitalized for thirty-eight days. On May 16, 2014, SFPD's Homicide and NIU/TSU units took Green into custody in Miami Florida where he was hiding under a fake name, with a significantly altered appearance.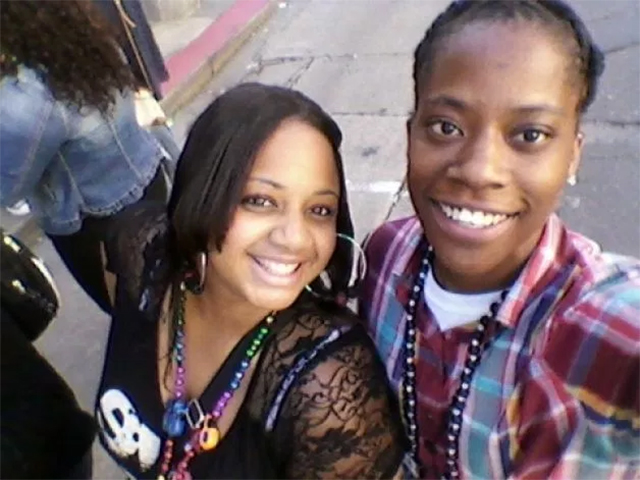 As the Bay Area Reporter tells us, Green will be sentenced on November 1, and he faces up to 82 years in prison.
The Chronicle reported at the time of the murder that Warren had been at the club that night, just six days shy of her 24th birthday, celebrating the 28th birthday of her wife, TiffanyRenee Warren. The couple had been together five years.
Warren was a 2012 graduate of Cal State Sacramento where she majored in criminal justice and minored in philosophy. She was a licensed security guard and had plans to work with troubled youth at the Alameda County Juvenile Justice Center in San Leandro.
Previously: Two Women Shot Early Sunday Near 6th and Jessie, One Dead
Melquiesha Warren (left) and wife TiffanyRenee Warren in an undated photo taken shortly before Melquiesha's death. Photo via Newsone