Houseboat culture in Marin: It seems so romantic! Now you could own one of your very own if you happen to be willing to spend as much as you would for a luxury condo in San Francisco, or even, in some neighborhoods, a house that sits on solid ground. Curbed SF brings us news of two new listings, one for a modernized houseboat with a geodesic dome living/dining room, and another that's a funky low-slung "floating house" that comes with six boat slips as well as a second, small shore-bound house.
The first listing, which is at 59 Issaquah Dock in Sausalito, is a two-bedroom, three-bath houseboat originally from 1965 but clearly updated quite recently, and it sits in Waldo Point Harbor. It's going for $2.8 million, and as Socketsite noted, it may have stunning 180-degree bay views, but it also doesn't come with a boat slip — the berth is rented out at $1,200/month, just to give you an idea of how much these things cost.
It's pretty cool, though, and has two kitchens for some reason.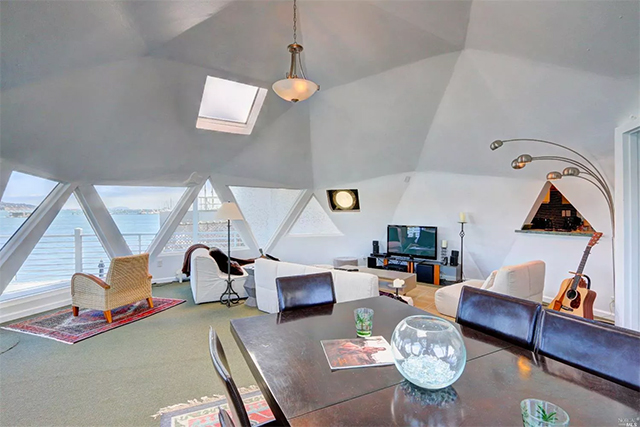 Photo: Estately via Curbed
The second property, listed for even more at $2.95 million, is a little rougher around the edges and thus it's had a a price reduction of almost a million dollars since first hitting the market over a year ago. It consists of a studio cottage on land, six boat slips, and a two-unit floating barge — it could be an investment property for someone, as Socketsite notes, with rent for the on-land cottage and boat slips alone bringing in $100K a year potentially.
The barge is currently owner-occupied, apparently, looks slightly moldy and date, but has a wood-burning fireplace.
$2.95 million, though? For this?
The barge. Photo: MLS
Inside the barge. Photo: MLS
The onshore cottage/studio. Photo: MLS

Previously: Full House House Sells Under Asking, For $4M
Photo: Estately via Curbed