Yes, Pride Sunday itself has become a bit less of a gay celebration in recent years, but with its million or so attendees in San Francisco — and the strong tradition that many LGBT people from hundreds of miles around have of driving into the city to see it and feel a part of the community — you can never say that it isn't an explosion of rainbow-flagged queerness, with some leather, chains, and wigs thrown in. For locals and tourists alike, this is a week of many, many parties, with local companies sponsoring some, and nightlife venues going gay all over town — with gay-specific nightspots all doing nightly events too.
You will need to pace yourself and not go too insane, especially if you want to be mildly awake to see the main event on Sunday — which some will say is still Juanita More!'s pride party — but below I bring you a semi unbiased guide of where some fun can be had over the next five days.
WEDNESDAY 6/22
Floor 21 at the Starlight Room
Juanita kicks off the week's festivities with this installment of her weekly happy hour, DJ'd by Sergio Fedasz on the top floor of the Sir Francis Drake. And for this Pride Week installment, things won't wind down around 9 as per usual, but will go all the way to midnight. 450 Powell Street, 5 p.m. to midnight, no cover
Partytime Lovers Pride
It's a Mission-y party billed as Pride "for lovers," and this no-cover affair features the great VivvyAnne ForeverMore along with DJs Miss Pop, Boy Young, and Cali420 Princess. Make-Out Room, 3225 22nd Street, 9 p.m. to 2 a.m., free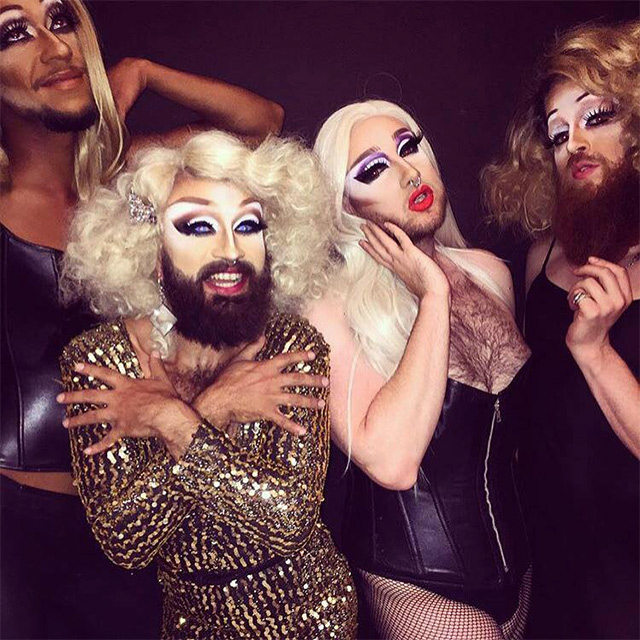 Dick at Night
Before hosting her big Pride party on Saturday, bearded drag queen Grace Towers hosts this funny, oddball drag affair at Moby Dick Wednesday (like every Wednesday), but this week there will be the added theme of pride to get the performers going. Moby Dick, 4049 18th Street at Hartford, $3
Juicy - The River Raid Launch Party
River Raid happens in a couple months in Guerneville, but the gang's all here at Lookout to kick off Pride week — celebrating muscle guys and "big, juicy asses." DJ Juan Garcia will be serving up the beats, and there will be shot boys too. Lookout, 3600 16th Street at Noe and Market, 9 p.m.
THURSDAY 6/23
Lexington Presents: Pride Kickoff At Virgil's
The Lexington Club may be gone, but the spirit lives on in occasional events in other places like this women's affair to kick off the weekend in the Mission. Featuring DJs Jenna Riot (House of Babes, SF/NYC), Chelsea Starr (Portland), and Lady Ryan (Soulovely, Oakland), expect dancing on the patio and lots of lady love. Virgil's Sea Room, 3152 Mission Street, 9 p.m. $5
#ThisIsMe - A Benefit For The Trevor Project
This big benefit, featuring performances by Billboard recording artist Brian Kent, former American Idol contestant Frenchie Davis, the ladies of AsiaSF, local drag stars Honey Mahogany, Donna Sachet, Sister Roma, and Bebe Sweetbrier, and the cast of Beach Blanket Babylon, will be donating proceeds to The Trevor Project, which provides crisis intervention and suicide prevention services for LGBT youth. The party's followed by an after-party at Beatbox, featuring another performance by Frenchie and more. Twitter Headquarters, Market and 10th, $95 and $20 for afterparty
Lights Down Low feat. Horse Meat Disco
Get down in the dark basement of Monarch with British disco DJs Horse Meat Disco, which is co-hosted by the Cub Scout team of Lady Bear and Chris Bowen. Monarch, 101 6th Street, 10 p.m., $15
Pride NightLife at the Academy of Sciences
The big annual affair hosted by Heklina happens again at the Academy of Sciences, with music upstairs and in the aquarium, a drag tribute to both Prince and David Bowie at 8:45, performances by CheerSF, and Juanita More! DJing outside. Also, there's food, booze, and the exhibits are open — and the current planetarium show "Incoming" is pretty rad. Get tickets now, because this will sell out. Academy of Sciences, 6 p.m. to 10 p.m. $15

The Magenta Party
In their brand new, magenta-painted building, local arts non-profit CounterPulse is hosting this benefit, featuring live music from the Center for New Music, films, art, a silent auction, cocktails, and more. Magenta attire encouraged. CounterPulse, 80 Turk Street, 6 p.m. to 9 p.m., $30-$60
FRIDAY 6/24
The Trans March
The local trans community comes together at the beginning of every Pride to show their own pride, strength, and solidarity, and this will be no different. The day kicks off with a youth and elder brunch at Dolores Park at 11 a.m., and the rally with speakers and performers starts at 3 p.m. The group will then march at 6 p.m. from the park, up Dolores and down Market to the location of the Compton's Cafeteria Riots to celebrate that watershed event's 50th anniversary — the anti-police riot occurred at Turk and Taylor in 1966, three years before Stonewall, spearheaded by a group of mostly trans women. Not to be missed.
Shenanigans Pride: Mask4Masc
The cheeky dudes of the Shenanigans crew are throwing a masquerade ball at Oasis, and yes, masks are required. There will be three dancefloors for this one, including a silent disco on the roof, and tunes will be spun by Mark O'Brien (BAAAHS, Polyglamorous), Adam Kraft (House of Towers / Nightsweats), Lord Price (Mystopia), and Becky Knox (LIC & Big Top). Expect some masc/mask good times. Oasis, 298 11th Street, 10 p.m., $15, tickets here
Pound Puppy - Pride Edition
This party, which only loosely caters to the gay puppy play community, will bring a host of alterna-queer boys and men to the Eagle for a night of drinking and dancing — and stuffing money in the go-go puppy's jock. SF Eagle, 398 12th Street, 8 p.m., $20
BAAAHS Presents Ewe Nasty
The sheep-ish BAAAHS crew brings you this sweaty Pride weekend danceathon, which could be part of a progressive and very busy night in SoMa. As they say, "Work boots and skank tanks enouraged, heels and guyliner welcome!" F8, 1192 Folsom Street at 8th, 10 p.m. to 4 a.m.
We're Here, We're Queer, We're… SomeThing
They're once again doing an all-night marathon dance-and-drag affair at The Stud, with the party kicking off at 10 a.m., the drag shows kicking off at midnight, and the party going on, and on, until 8 a.m., or until the last homo goes home. There will, indeed, be shows at 2 a.m. and 6 a.m., but the door closes and the party goes "private" at 4 a.m., so bear that in mind. The Stud, 399 9th Street at Harrison, 10 p.m. to 8 a.m. $12
Steam Pride
The monthly, bathhouse-themed party at Powerhouse is back again, with go-go boys getting wet in the "shower," massages, drink specials, and, as always, the wet towel contest. A portion of the proceeds from the night will be sent to the GLBT Community Center of Central Florida. Powerhouse, 1347 Folsom Street, 9 p.m., $10
Miss Honey Pride
Looking for a Gender Queer Alien Andro Two-Spirit Creature Pride Party? Then this would be it. And, you may have a chance at winning $250 for the best "alien androgynous creature-inspired drag look." DJs VIN SOL (Club Lonely), dAvi A, and Shane One cover the downstairs, while Chelsea Starr and Daddy Rose are upstairs. Monarch, 101 6th Street, 9 p.m., $10-$20, pre-sales here
SATURDAY 6/25
Pink Saturday Unchained
The Sisters of Perpetual Indulgence said last year that they'd probably revive the Pink Saturday name in a new incarnation and location, and that has come to be. They're doing it up in the parking lot across from the Eagle, way outside the Castro, and with plenty of security — they promise. Also, it's a day party, so you'll have plenty of time to do other stuff come nightfall. 12th and Harrison, 3 p.m. to 10 p.m., $10
Dyke Rally and March
Yes, as always, the dykes will dominate the Mission, taking over Dolores Park for an all-dyke affair all afternoon, culminating in the always lively and fun Dyke March. Where it will lead this year is anyone's guess, but it's sure to make some noise. Starting at Dolores Park, 11 a.m., march at 6 p.m.
Alyssa Edwards and Shangela at Beaux
There is of course no Pink Party this year in the Castro, but Beaux is just going to throw their own, featuring Drag Race stars Alyssa Edwards and Shangela alongside local queens Au Jus and Carnie Asada, and featuring DJ Guy Ruben spinning. And for a few extra bucks, there's a VIP meet-and-greet upstairs. Beaux, 2344 Market Street, 4 p.m., show at 7 p.m. $10, or $25 VIP
Pink Mammoth
This outdoor Pride party for Burners has been popular the last few years, and this year features DJs David Harness (Mighty Real), Juan Garcia, Lonely Boy, and more. Mighty, 119 Utah Street, $20-$30
Chromozone
Serious dance music kids should probably consider this mid-Market affair, which will feature three rooms of music from the likes of Byrell the Great (Qween Beat / NYC, Whitney Fierce (BONKERS! / LA), Mozhgan (We Are Monsters), Adam Kraft (NIGHTSWEATS), Daddy Rose (Club Fist!), and others. Also, there will be drag, and hostesses include Grace Towers and Asia SF/Transcendent star Bionka Simone. 60 6th Street, 9 p.m. to 4 a.m., $15-$25
House of Babes
Partially a benefit for Black Lives Matter, this big queer dance party is one after-party option for Dyke March, and promises "the best in hip-hop, trap, twerk and club beats." Performances include NY hip-hop artist Dai Berger and trans New Orleans rapper Katey Red, and the party will include two dancefloors and a large outdoor area with food from Sneaky's BBQ. Public Works, 161 Erie Street, 7 p.m. to 3 a.m., $15-$50
Afterglow
Another Burning Man Pride affair that's been big for a few years is this blacklight-themed party from the Comfort & Joy crew. Put on some Day-Glo and/or just some body paint and go dance and sweat it up at this mostly gay party all the way downtown. Pre-sale discounts are over, though, so it's pricey. Sound Factory, 525 Harrison Street, 10 p.m. to 6 a.m., $80

SUNDAY 6/26
The Parade and Festival
The day kicks off at 10:30 a.m., and if we're lucky and the Apple contingent isn't 80,000 people again, the parade will wind down around 2 p.m. Everyone eventually ends up in and around Civic Center, and yes, there will be much added security this year. Peaches is headlining the main stage, and there are like six different dance areas with their own performers and DJs, including an Indie Oasis stage done by Madrone Art Bar at Larking and Golden Gate, the Women's Stage at McAllister near Hyde, and the African Diaspora Stage and Village at Polk and Goodlette.
Juanita More's Pride Party
Pre-sale tickets appear to be sold out, but there will be plenty at door, Juanita promises, though you probably want to roll up early. Yet again the party is in the courtyard at Jones, and will be a big, fab, well dressed refuge from the Civic Center madness. This year's party benefits Queer LifeSpace, and you can expect performances from the great Miss Rahni, music from DJs Tedd Patterson, Rolo, and Guy Ruben, and more. Jones, 620 Jones Street, Noon to 10 p.m., $45+
Mighty Real - Poolside Pride
Once again there is the competing party from noon to 7 at the former location of Juanita's parties, The Phoenix Hotel. As far as I know, you still can't go in the pool, and they do basically clear that courtyard at 7, but this year features founder David Harness on deck, as well as Ultra Naté and Lisa Moody, now known as the Sugar Girl Squad. There is food on the grill, and fun in the sun while it lasts. Phoenix Hotel, 601 Eddy Street at Larkin, $60-$70
Pride "Pool" Party at Oasis
A cheap and easy daytime escape from the Civic Center festivities is this now annual rooftop party at Oasis, featuring a six-foot kiddie pool, floaties, Sneaky's BBQ, and booze. Oasis, 298 11th Street, 1 p.m. to 6 p.m. Free
Hard French Hearts Los Homos
And another annual tradition now is the Hard French party at Mezzanine, where you can wind down your day (or wind up your night) with music from residents Carnita and Brown Amy in the back alley, and "six clubs in six hours from LA and the Bay" on the main stage, including a live set by Bézier. The crowd will definitely skew younger than at those expensive fetes in the Tenderloin, and this one also goes for hours and hours. Mezzanine, 444 Jessie Street, 3 p.m. to midnight, $25
Electroluxx - Sunday Mass Pride
If you want to head in a Mission direction come evening, this party could cap off your Sunday nicely at The Chapel, where a cuddle puddle is promised, along with face painting, something about virtual reality, and some good DJs on three stages including a silent disco. The featured DJ is Worthy of Dirtybird fame, but there's also Go Bang!'s Sergio Fedasz, Haute Toddy, and Mystopia's Bradley P. 777 Valencia Street, 8 p.m. to 3 a.m. $20 presales here
Honey Soundsystem - Pride
If you've still got plenty of energy and took Monday off, you'll want to head to Public Works for the Honey Soundsystem boys' Pride edition danceathon. It goes into the wee hours, and this year features DJs Avalon Emerson and Shaun J. Wright. Public Works, 161 Erie Street, 9 p.m. to 4 a.m. $15-$25, tickets here.
Grace Towers (bottom left) and the ladies of Dick At Night. Photo: Facebook