In honor of Prince and thanks to the quick suggestion of the citizenry (ahem, Eve Batey), City Hall went purple last night, and some people got down among those rabbits and danced. The arched windows at Bill Graham Civic Auditorium also, purple.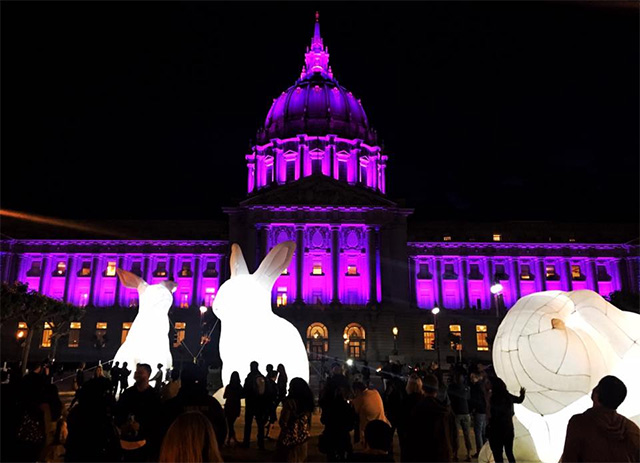 Photo: Rick Camargo
Photo: Eve Batey/SFist
The Bay Area, like many places across the country, collectively shed some tears over the loss of a beloved artist last night — yet another, as Gothamist's Ben Yakas writes, who, like David Bowie, "seemed like a mythological creature, a space alien, an androgynous rock star who touched us and encouraged us to touch ourselves unapologetically," and one who didn't seem capable of human frailty.
Elsewhere in San Francisco, they were playing Prince all night at The Phone Booth in the Mission, and the new colored streetlights in the Castro all went purple for the evening too.
At Foreign Cinema, they took a break from screening the Japanese film I Wish, which had been showing this week, and played Purple Rain on the patio last night instead.
Photo: Gayle Pirie/Facebook
As the Chronicle reports, all the Prince vinyl and CDs flew off the shelves at Amoeba Music, Rasputin, and the Mad Monk Center in Berkeley yesterday in the couple of hours after his death was reported.
Also, Oakland's Oracle Arena, which was one of the last local places Prince graced with his regal presence when he was here in March, will be lit up purple for the next week, as KRON 4 tells us.
Up in Sausalito, a tribute is being planned at the former Record Plant music studio where Prince came to record his first album, For You, in 1977. The place is now called Harmonia, as CBS 5 reports, "a wellness and social club that features yoga and music."
And the Chronicle has this remembrance of Prince, recalling how he "always felt a special connection [to the Bay Area] since first coming here in the early 1980s to play at the Stone on Broadway in San Francisco." Also, "Apart from the usual arena shows, he regularly delighted in playing at smaller venues such as the Fillmore, DNA Lounge and Slim's."
There will be more and more and then some when it comes to Prince parties and tributes, this weekend and beyond. So keep your eyes and ears and peeled.
Previously: San Francisco Fans React To Sudden, Inconceivable Death Of Prince
Photo: Darwin Bell