The fertile funny grounds of the Bay Area have produced homegrown comedy legends like Robin Williams and Margaret Cho, and Gracie Allen, Phyllis Diller, and Carol Channing before them. But there are some standout standups on today's comedy scene in the Bay Area, and we picked out our favorites to feature below. While the material in this write-up is safe for work, many of the embedded YouTube videos below are NSFW. Put on headphones if you're going to play any of these YouTube videos at work. And seriously, you have a workplace that actually lets you play standup comedy out loud at work?
Marga Gomez
GLAAD award winner Marga Gomez has been a legend in the SF comedy scene for 30 years, but she may be best known for the above photo, one of the Internet's top spit-take meme pics. "This photo recently appeared in a Twitter buttsex feud between Kanye West and his ex Amber Rose," Ms. Gomez told SFist. "So proud." When she's not spitting beverage, Marga is working on her new show, "Latin Standards," which will have numerous Bay Area performances.
Next Show: The Punch Line, 444 Battery Street at Merchant Street, March 22, 8 p.m.
Image: Matthias Clamer
W. Kamau Bell
Any comic who's protested at Super Bowl City, been booted from a cafe for Berkeley-ing while black and just barely lost out to Seth Myers for Late Night will be guaranteed a spot on this list. W. Kamau Bell has done all that and more, plus has a docu-series The United Shades of America premiering on CNN April 24 and Semi-Prominent Negro premiering on Showtime April 29. "I live in the East Bay and travel a lot," Bell told SFist, "so give my award to Kaseem Bentley. He's the best."
Next Show: Impact Hub Oakland, 2323 Broadway at 23rd Street, Thursday, March 17, 6:45 p.m.
Image: Kiko Breiz via Facebook



Kaseem Bentley
Very well, W. Kamau Bell. Kaseem Bentley is the well-dressed insult comic playing a giant harp in the above meme photo. "I have no idea what this means but it's funny," Bentley commented.
Next Show: Brainwash Cafe, 1122 Folsom St., Tuesday, March 22, 7 p.m.
Image: Comedy Central
Kate Willett
You can say you knew Kate Willett way back when, because she's about to become basic cable-famous. Catch her in the vignette "Kate Willett describes a sexual encounter at Burning Man" in the most recent "Romance" episode of Comedy Central's This Is Not Happening (online or on demand if your cable provider does that) and on Viceland's Flophouse at 10:30 p.m., Thursday March 17. Ms. Willett now technically splits her time between SF and LA, but we will claim her as a San Franciscan purely for coattail-riding purposes.
Next Show: The Punch Line, 444 Battery Street at Merchant Street, March 22, 8 p.m.
Image: DhayaComedy.com



Dhaya Lakshminarayanan
Silicon Valley nerd Dhaya Lakshminaranayan ditched a job at a VC firm to do standup full time. "Tech workers like to laugh too and I hope that comedy can bring us all together," she told SFist. "What I am saying is I am available for private gigs at your company that provides free food and fancy cucumber and berry waters." On a less bougie note, Dhaya will be performing today at San Quentin State Prison.
Next Show: The Punch Line, 444 Battery Street at Merchant Street, March 22, 8 p.m.


Matt Lieb
If anyone can make a Chobani yogurt ad funny, it's Matt Lieb. Lieb makes other things funny too, like the Viceland show Flophouse and the Uproxx blog Filmdrunk.
Next Show: Club BnB, 2120 Broadway, Oakland, Friday March 18th, 8 p.m.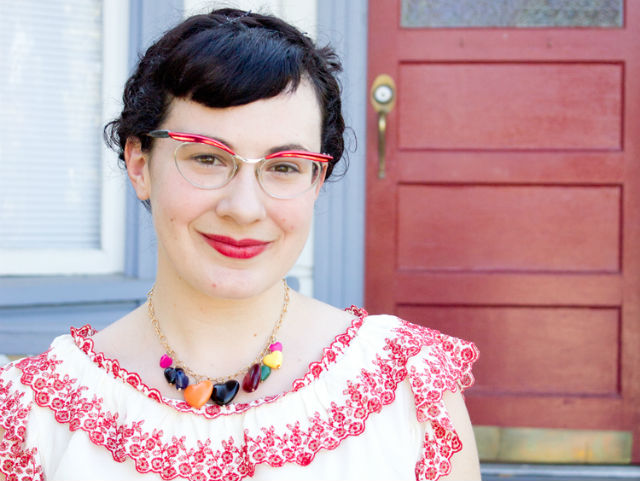 Image: Solonah Cornell
Mary Van Note
When an audience feels uncomfortable at a show, it usually means the comedian is bombing. But some comedians work that certain sweet spot where they intentionally make the audience uncomfortable for humorous effect. Mary Van Note does that better than anyone since Scotty the Blue Bunny was still in town, with a rare combination of innocence and explicit content that hits just the right note.
Next Show: The Punch Line, 444 Battery Street at Merchant Street, March 17-19, 8 p.m.


Nato Green
Nato strikes frequently in the Bay Area, with a regular column in The Examiner, an upcoming movie-riffing show at the Alamo Drafthouse, and a regular podcast on KALW. "I have heard rumors that if Clinton becomes President, Ed Lee would get appointed ambassador to China," Green tells SFist. "As a Jew, I'm supporting Bernie Sanders because we need a crazy Jewish socialist to deal with climate change. But if HRC wins the nomination, I would campaign hard for her just for the chance to get rid of Mayor Lee."
Next Show: Starline Social Club, 645 West Grand Avenue, Oakland, CA, March 26, 8 p.m.
Image: Daniel Schuleman
Irene Tu
Big news! Irene Tu just launched her new site ManHaters.org (It just launched. Like, this weekend). The site promotes her monthly comedy show with Ash Fisher at Oakland's White Horse Inn, and Ms. Tu also hosts the weekly comedy open mic for female and queer comics "Hysteria" that is immediately referenced below.
Next Show: Martuni's, 4 Valencia Street at Market Street, Tuesday, March 15, 6 p.m.
Image: ToriVanGrol.com
Torio Van Grol
PBR-wielding funnyman Torio Van Grol is performing this Saturday to nightcap your St. Patrick's Day parade drunkenness, but he's most excited about an upcoming May 12 benefit show for San Francisco Suicide Prevention. "It's a benefit show for an organization that's important," Van Grol told SFist, "and I get to open for Dana Gould so it's double awesome".
Next Show: Rooster T Feathers, 157 West El Camino Real at South Frances Street, Sunnyvale, Wednesday, March 23, 8 p.m.
Murphy's Irish Pub, 484 First Street East at East Napa Street, Sonoma, Saturday, March 26, 7 p.m. and 9:30 p.m.

Image: Kent Taylor


Lisa Geduldig
One of San Francisco's most cherished Jewish-Christmas-Chinese food traditions is Lisa Geduldig's Kung Pao Kosher Comedy, already scheduled for its 24th annual iteration this coming Dec. 23-25. But if you can't wait til Christmas, you can catch her and a cast of other comics every third Thursday at "Comedy Returns to El Rio" which has been returning to El Rio for nearly seven years.
Next Show: El Rio, 3158 Mission Street at Precita Avenue, Thursday, March 17, 8 p.m. Image: David Wilson