Sadly, San Francisco has never been a 24-hour dining town, and late-night eats are neither easy to come by, nor often all that great. But that is changing (slowly!) In the past we've covered the few-and-far-between post-2-a.m. options (because the 24-hour options are even sparser), and today we bring you a fresh list of what's out there after midnight, though only a few of these places serve past 1 a.m. And it should be noted that a couple new establishments that talked a big game when they opened about serving late — ahem, Monsieur Benjamin and 4505 Burgers & BBQ — have scaled back and started shutting down their kitchens at 10:30 or 11, apparently for lack of late-night demand. Below are the places where you can get a 1 a.m. burger, some awesome crab fried rice, or something else to soak up all that booze.


El Farolito
El Farolito stays steamy until 1:30 a.m. in the Excelsior, 2 a.m. on 24th Street, and 3:30 a.m. by 24th and Mission BART, for those nights when only a burrito will save you from the fast approaching dawn. They're serving all the same great tacos, burritos, and (if it's that kind of drunk) nachos you'll get in the daytime, the exception to that whole "no good things happen between midnight and 3 a.m." adage. — Eve Batey
2779 Mission (at 24th Street)
2950 24th Street (at Alabama)
4817 Mission St (at Russia)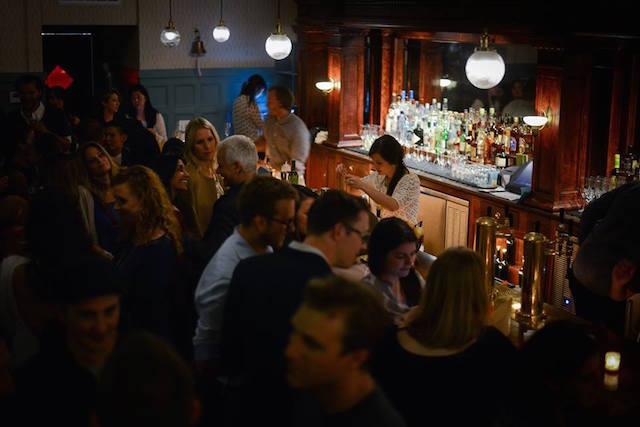 Cafe du Nord
Lingering after a show at the upstairs Swedish American Hall? Still hungry after the tiny portions at Aatxe? Stick around the bar at Cafe du Nord past midnight and you'll be rewarded: The ringing of a bell signals half off champagne and oysters. Some Cafe du Nord die-hards have grumbled over the historic venue's recent revamp with a wall separating the bar from the music. But under the stewardship of the Bon Vivants barmen and chef Thomas McNaughton, it's hard to complain about the menu. Be sure to admire that new coat of polish on the 107-year-old backbar while you graze on bar snacks and dine on entrees the burger du nord or their excellent cioppino (which you'll want to soak up with a parker house roll). —Caleb Pershan
2174 Market Street between Church and Sanchez Streets, Serves till 2 a.m.
Photo: Jay Barmann/SFist


Tosca Cafe
True to form with their New York restaurants like The Spotted Pig, owner Ken Friedman and chef April Bloomfield keep the kitchen going until 1 a.m. at this North Beach gem, and the bar is open until 2 a.m. Duck in here for some fantastic meatballs and foccaccia, a plate of stellar pasta, or just some of their excellent cold antipasti (and foccaccia). Your hangover will thank you in the morning. — Jay Barmann
Kitchen open until 1 a.m. 242 Columbus Avenue near Broadway



Photo: Thomas Hawk


Orphan Andy's
Named one of Playboy's 10 favorite late-night diners in the country a couple years ago, this Castro mainstay is where to go for a griddle-greasy patty melt or a chicken fried steak after dancing all night at Badlands or Beaux. It's cozy and pretty much constantly crowded (you'll likely find a line at the door by 1:30 a.m.). And with breakfast 24 hours a day, you can't go wrong with an omelette and fries to soak up all those vodka sodas. — Jay Barmann
3991 17th Street (at Castro)



(Photo: Daniel Chodusov )


New Sun Hong Kong Restaurant
This place is my late-night Chinatown favorite, and given that it's pretty close to the North Beach shitshow it therefore attracts many of its drunks post 2 a.m. They serve until 3 a.m. seven days a week, the waitstaff is brusque but efficient, and the Yelp reviews contain a lot phrases like, "Surprisingly, I actually have been here sober once." They honestly do have good food, though, especially the chow fun, the porridge, and this Hong Kong-style "special black-pepper pork chop" that is effing delicious. — Jay Barmann
606 Broadway (at Columbus)




Nopa
Most people know that Nopa's kitchen serves until 1 a.m., making it a bougie destination right at that point in the evening when money is no object. Their burgers never fail to hit the spot, and the bar here is a scene right up until last call most nights of the week. It also ends up being the sort of place where you see a lot of restaurant industry people grabbing dinner after the dinner shift. — Jay Barmann
Serves until 1 a.m. 560 Divisadero at Hayes
(Photo: Adam Fagen)


Marcello's Pizza
Another Castro institution, Marcello's is typically open until 2 a.m. at which point they're trying to offload whatever slices they still have left. But in general they are far and away the best pizza spot in the neighborhood, with delicious house combos like bacon, potato, and cheddar; and black olive-pepperoni. The slices are thin and crisp up nicely after a few minutes back in the oven, and this place is often a carnival after last call, as you might expect in this 'hood. — Jay Barmann
420 Castro (at Market)



Photo: Grubstake


The Grubstake
It's a diner partly built out of an old streetcar, and it's been a favorite of drag queens, hustlers, and party monsters for well over four decades. (It even gets a mention in Bambi Lake's underground hit, "The Golden Age of Hustlers.") They make a solid burger, and a perfect patty melt, and you should definitely check out the Portuguese menu on the back, too. Sadly this place might not be long for this world, but it's an institution, so you should have a post-drinking feast here while you still can. — Jay Barmann
1525 Pine (at Polk)



Photo of Beretta's interior from their website.


Beretta
Long known as a cocktail destination, it's also the top late-night choice for diners forgoing the usual post-midnight burrito or pizza. A full dinner menu until 1 a.m. means that you can sit down to their vaunted cioppino at 11:15 p.m. on a Tuesday like you live in a real city or something! But don't be surprised if even at a late hour you're packed in like their fantastic Monterey sardines en saor: being dropped from the Chron's Top 100 hasn't cut down on the crowds at this Valencia Street joint one bit. Makes you think! — Eve Batey
1199 Valencia Street at 23rd Street



(Photo: Thomas Hawk)


Sam's Pizza and Burgers
It's really Mike Shawa fixing your burger at Sam's. But, good-natured guy that he is, Mike/Sam doesn't seem to mind the confusion with his uncle, who opened the short-order joint in 1966. After all, Sam gave Mike his first job, which is also presumably his last, because although the Quality Meat Company chuck has remained the same, Mike's now pushing 70. Yet thanks to a drunken, off-the-cuff Anthony Bourdain endorsement, the divey North Beach counter hasn't slowed down a bit — and neither has Mike. Sam's is the logical conclusion of a night at Spec's or Mr. Bing's, so write off that double cheeseburger with crinkle-cut fries as a preventative hangover measure. Last, keep in mind that there's probably a reason why no one mentions the pizza. —Caleb Pershan
618 Broadway between Stockton Street and Grant Avenue, Serves till 3 a.m.



Photo: Instagram


Alta CA
Another of the swankier late-night options — with a high-end bar to boot — is this member of the Daniel Patterson empire. The late-night menu is not necessarily all late-night-snack-ish, and tends to look more like fancy dinner, but the chicken liver toast pretty tasty, the burger is awesome, and you can't go wrong with an ice cream sundae. Also, late on Sundays, they're doing a pop-up series this month with guest chefs. — Jay Barmann
Serves until 1 a.m. 1420 Market Street near Van Ness



Photo: Facebook


Trick Dog
This stellar, often crowded Mission bar deserves kudos for keeping their kitchen open just as long as the bar is, with the last call for food at 1:30 a.m. So if you end up there and another carefully mixed beverage seems like too much, too late, just remember you can order some thrice-cooked fries and beef tartare instead. — Jay Barmann
Serves until 1:30 a.m. 3010 20th Street at Florida



The Vestry
When that show at the Chapel leaves you thirsty and that third nightcap at the bar leaves you starving, don't go anywhere, because you can still grab a decent meal at the Vestry. Maybe steamed mussels or braised pork wasn't your original idea for late night food, but the lighting is forgiving when compared to the harsh fluorescent glow of that taqueria you passed. Lest you worry about the Valencia Street prices, knock back a few more old cubans before you get the bill. -Caleb Pershan
777 Valencia Street between 18th and 19th Streets, Serves till 1 a.m.



(Photo: Tom Verre)


Yuet Lee
Speaking of fluorescent lights after a night at the bars, this diner-style Chinese spot is not going to do you any favors. They're known for their salt-and-pepper fried squid, spare ribs, and barbecue pork chow mein, and everything comes with a good dose of MSG. It's cash only, they're open until 3 a.m. nightly, except Sundays, and they've been featured on The Travel Channel, Martha Stewart, and in Saveur. — Jay Barmann
1300 Stockton (at Broadway)


Honorable Mentions:

The Lucky Penny has never served the greatest food, but it's a venerable, solid 24-hour diner that's gotten us through more than one late night. It might also get replaced by a condo development, so go there while you can.
The Pinecrest Diner is a great place to go any hour of the day (it's open 24 hours) to watch the tourists chow down, unaware of the Diner's murderous past.
Nizario's, Golden Boy, Victor's Pizza, or whatever other mediocre pizza place in your general vicinity is, let's face it, better than nothing.
Bob's Donut & Pastry Shop is on Twitter and Instagram, so now you know what the carbs you scarfed down last night after stumbling out of the Cinch looked like. It's the best smelling thing on Polk Street, all day, every day.

via Facebook