Are you on the run from an assault charge and in desperate need of a place to crash? Are you in the witness protection program or escaping an abusive home and seeking a quiet corner in which to lay low, perhaps in Chinatown, where no one will think to look? Then I have just the apartment share to show you. This furnished wonder just popped up on Craigslist and comes complete with your very own bunk bed (with stuffed alien!) and a futon, which goes underneath.
The ad states plainly that this is a "living room," and for a mere $725 you can live in this comically cluttered, rather tiny little space which has a "Hospital one block away," just in case your heart stops beating when you realize that this is what your life has come to — or in case you accidentally swallow a bottle of Ativan while sitting on that futon watching a M.A.S.H. rerun.
Did I mention utilities are included?! Yes, which makes this quite a deal. And guess what else is included! The master tenant has done you the service of making the below video tour in which he walks you through his entire DVD collection, which you will have access to, along with his SAT prep books. "I got a discount because I used to work at Blockbuster," he explains. Thus you can enjoy Erin Brockovich and Eyes Wide Shut over and over again while popping those Ativan.
He takes us on a grand tour of this phat pad which also includes a squalid kitchen complete with a bicycle he "bought from an infomercial" that he never uses, and a bucket filled with some unidentified liquid.
And there's a "balcony" that is actually a fire escape with "a view of the whole city," including "a bank" and "another bank."
He adds, "You may watch the virtual video tour as many times as you please."
Among the other amenities, "10 minute walk to Academy of Art University... Post Office 2 blocks away... Wells Fargo 1 block away... HSBC Bank across the Street... Bank of America one block away... Chase Bank 1 block away... Citi Bank across the street." So many banks!
I really wish I were making this up, but I am not. And this is not a brilliant performance/video art piece, though if it were, I would be giving it high marks. I'm afraid this is real, and I'm not going to judge this poor soul for not keeping the tidiest house. But I am going to suggest that he try to be wary of serial killers and con artists, because those are the only people who are going to respond to this ad.
Last but not least, this is the bathroom, where there are more mysterious buckets.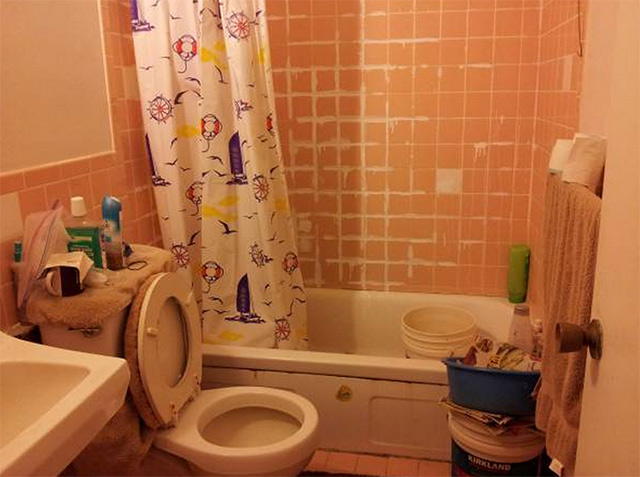 Best of luck, friend! There's a six-month minimum lease but that hardly matters, because you'll have ended things long before that. At least you'll have Julia Roberts to keep you company.
All previous editions of Apartment Sadness.

A close-up of one of the many nearby banks.