We've already shared what we think are the best and most reliable brunch standbys around town, some of which have been slinging waffles and eggs Benedict to the hungover hordes for over a decade. Now it's time to make sure you're aware of all the new kids on the block, brunch-wise, so that you can keep your weekly brunch playbook full of surprises. Below are the 14 best bets among the newest spots to start brunch service in the last six to eight months.

Marla Bakery
Right now, Marla Bakery's less-than-four-months-old brunch service only runs from 10:30-2:30 on Sundays, but we're told today that in "coming weeks" they expect to expand their brunch to Saturdays, too. Highlights include a remarkable baked egg dish, an English muffin that's a far cry from those things you get in that plastic bag, and sweet options like a ricotta pancake and challah French toast that seem designed to put you into a postprandial coma. Gloriously, they take reservations for nearly every seat in their tiny dining room (tiny, perhaps, because it's dominated by a massive oven from which their baked goods emerge), so you're not venturing all the way down Balboa on a hope and a prayer. Tip: use Open Table to reserve your spot, don't call — while service is friendly in person, staff can be a bit... harried on the phone. When you're done eating your brunch, take advantage of some of that huge oven's bounty and take home a loaf or two of Marla's bread, which is some of the best you can find in San Francisco. — Eve Batey
3619 Balboa Street between 37th and 38th Avenues

Loló
With a move to Valencia Streeet, the quirky and colorful Jaliscan-Californian restaurant from chef/owner Jorge Martínez debuted its brunch menu last summer. Morning tapas items include chicken confit "tinga" tostadas with bacon, chipotle peppers, and roasted tomatoes, croissant french toast with maple syrup and mixed berries, and crispy chilaquiles with tomatillo sauce, guajillo pepper, oaxaca, cotija cheese and queso fresco with sour cream. Also on offer are Bloody Marias and an IPA micheladas. Your check arrives in a kid's soccer cleat, with a bunch more decorating the bathroom walls.— Caleb Pershan
974 Valencia Street between 21st and Liberty Streets
Shanghai dumpling with barbecue chicken Cherylynn N. via Yelp/a>


Chubby Noodle
At the Marina's Chubby Noodle, brunch is an all-you-can-eat and all-you-can-drink affair. Logistically, that's $37 for 90 minutes of free reign over 15 different dim sum dishes and four bottomless drink options, switching as you wish. This sister to the slightly-secret Chubby Noodle location inside North Beach bar Amante arrived last year by way of Don Pisto's owner Pete Mrabe. They just rolled out their brunch as of January, which includes stuff like breakfast jook with smoked bacon, egg, and charred garlic, and lots and lots of dumplings. You'll also find a rubber ducky in your mimosa glass, in case you weren't won over. — Caleb Pershan
2205 Lombard Street at Steiner Street
Photo: Instagram


Les Clos
SoMa's newest wine geek hangout serves breakfast all day, every day, with dishes like a classic Croque Madame; a French omelette with chorizo, cheddar, and shallot; and a smoked salmon tartine with creme fraiche and capers. But the weekend brunch menu (not yet viewable online) includes some special items like fried chicken with poached egg on top. They also serve great pastry, Sightglass coffee, and there's no better hair of the dog than some lovely Champagne, or a crisp glass of Alsatian white, or any of the other 40 wines available by the taste or glass.— Jay Barmann
234 Townsend Street near 3rd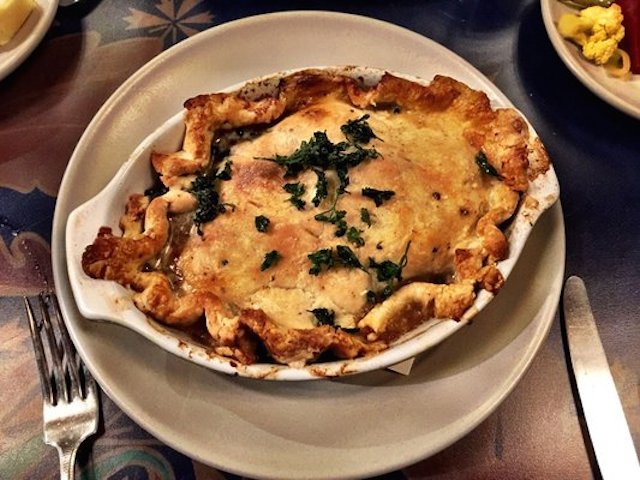 Beef short rib pot pie Edward L. via Flickr


Huxley
The new Tenderloin joint, which was among our 15 Best New Restaurants, has foodies throwing around terms like "gem" and references to 'hood-defining restaurants like Nopa. Such comparisons could carry over to brunch, where offerings include whole wheat french toast with walnuts, pears, and foie butter, and "wake and bake" pot pie with beef short rib, rutabaga, and fried egg. House made ice creams also grace the morning menu and come in flavors like Sightglass coffee. But with a mere 25 seats and plenty of buzz, swarms from the brunching class are to be expected. — Caleb Pershan
846 Geary Street at Larkin Street
Meat & Three's pulled pork and sweet potato hash with a biscuit and two eggs: Terri R./Yelp


Brenda's Meat & Three
An offshoot of constantly-packed Tenderloin hotspot Brenda's French Soul Food, Meat & Three opened last fall in the Divis spot previously occupied by BlueJay Cafe. And just as the original Brenda's swiftly emerged as an SF brunch power to be reckoned with, so has Meat & Three, with hardcore Southern faves like biscuits and gravy, ham and eggs, and sweet potato pancakes that acolytes see in their dreams. Hungry brunchers start lining up on Saturdays and Sundays just before Meat & Three opens at 8 a.m., and are still wandering in as brunch service ends at 3, so be prepared for a bit of a wait. But rest assured, it's worth it. — Eve Batey
919 Divisadero Street, between McAllister and Golden Gate
French Toast Soldiers at Marlowe. photo credit: Marlowe


Marlowe
Just when I thought I couldn't love Marlowe any more than I already did, they went and launched brunch. The menu's got all of your standard, totally breakfast-appropriate favorites — deviled eggs, oysters, the burger — plus new treats to gorge on like a tomato baked egg with chickpeas, artichokes, and harissa; a Dungeness crab and rock shrimp crepe topped with hollandaise; and French toast soldiers with coffee creme anglaise and Mexican chocolate sauce for dipping. Obviously, you'll need a brunch cocktail, too, like the Marlowe Reviver, a restorative concoction of blood orange, lemon, Fernet, and prosecco. — Lauren Sloss
500 Brannan Street at 4th Street
Breakfast burger at Causwells. photo credit: Caitlin Kerton


Causwells
Causwells is exactly the kind of Marina restaurant we tend to be snotty about, but it's so damned delicious that we find ourselves swallowing our snark and making reservations, again. Their brunch fits the bill of hearty, flavor-packed American grub that we can't get enough of - the almost aggressively savory menu has hangover busters like biscuits and gravy and pastrami hash. But we think the best move is to go for their killer burger, brunchified, and topped with bacon, egg, and aioli. Why yes, it does taste quite lovely with a mimosa. — Lauren Sloss
2346 Chestnut Street, between Divisadero and Scott Streets
Nutella Crepe from Sprig. photo credit: Sprig


Sprig
The only thing harder than having to wait forever for brunch is having to get up out of bed to get it in the first place. Thankfully, the good people at Sprig understand this problem and have added weekend brunch options to their mobile delivery deal. Meaning, you don't have to deal with people (other than greeting your delivery person), it's reasonably priced, and apparently, healthy… though frankly, it sounds a little too delicious for us to believe that. This weekend, you can get a black bean breakfast burrito or a sausage and smoked gouda strata, while their upcoming Valentine's weekend has a "Breakfast In Bed" theme and includes sweet and savory crepes (Nutella with strawberry and banana and asiago with spinach, leek, and roasted potatoes, respectively) and duck confit hash with oyster mushrooms, greens, and sweet potatoes. You should definitely add a side order of sous-vide egg to your meal — you crack it open upon delivery to reveal a brunch-coating runny yolk, as explained by this gif. — Lauren Sloss
Sign up and download the app here.
The Torija on Beso's brunch menu. Photo: Facebook


Beso
This Spanish off-shoot of nearby Bisou launched its brunch program in the late fall, and you can find stuff like hangar steak and eggs with shishito peppers and salsa verde; the traditional Spanish omelette called a Tortilla Espagnola, with potatoes, onion, olives, and garlic aioli; or a Spanish version of French toast called a torija (pictured) which comes topped with vanilla ice cream and orange segments. See the full brunch menu here, available weekends from 11 to 3.— Jay Barmann
4058A 18th Street near Hartford
Breakfast sandwich at Souvla. photo credit: Luke Beard


Souvla
My new favorite breakfast sandwich in town is a gyro. Specifically, Souvla's gyro — a fine mess of scrambled eggs, tender lamb, garlic yogurt, feta, vegetables, and lemon sauce, all wrapped up in a pillowy-soft pita. Their other brunch options are worth seeking out, too — like Yanni's Loukaniko is a traditional Greek pork sausage, served open-face on pita with salty halloumi cheese, hard boiled egg, and harissa yogurt. Or, go for the sweet stuff in the form of Greek Toast, cinnamon-sugar pita drizzled with sour cherry syrup with a side of frozen Greek yogurt, for good measure. — Lauren Sloss
517 Hayes Street between Laguna and Octavia Streets
Adam's Bonanza at Rye Project. photo credit: Rye Project


Rye Project
Say what you will about the state of San Francisco bagels — our smoked fish game is strong. This is particularly the case now that Rye Project, one of our fave sandwich shops, is open on Saturdays. Get your bubbe-approved classics like New York nova lox, whitefish salad, and smoked trout on a bagel (good bagels! Seriously!); or go all in with "Adam's Bonanza," a platter of all three fishes, fixings, and two bagels. Oh, they also always have matzo ball soup on Saturdays which, in addition to being Shabbat-appropriate, is one hell of a hangover cure. You can also get hot dogs there on Saturdays, in styles ranging from Chicago to chili cheese.— Lauren Sloss
180 7th Street between Natoma and Howard Streets
The oeufs en meurette at Monsieur Benjamin. Photo: Marianne Masculino


Monsieur Benjamin
This 2014 newcomer added their Parisian-style brunch to the Hayes Valley scene in December, with lots of indulgent savory stuff to choose from like salmon tartare, potato and leek croquettes with gruyere, and oeufs en meurette (eggs poached in red wine sauce) with duck confit and sauce au poivre. There's also some truly rich sweet stuff, like rhum babas with foie gras, and a pecan tarte with creme fraiche sherbet. See the full menu here, and note that brunch is only served from 11 a.m. to 2:30 p.m. — Jay Barmann
451 Gough Street near Grove
Shakshuka at Shakewell. photo credit: Shakewell


Shakewell
We've been digging on Shakewell's Mediterranean-African-Spanish thing that they've been working since they opened. So it should come as no surprise that their brunch is as full-flavored and creative an affair as dinner. Keep things classic with their take on shakshuka, eggs baked in spicy tomato sauce with feta; cure what ails you with a fried bourbon bread pudding, topped with huckleberry maple syrup and creme fraiche; or get weird with an "octo-dog," a grilled octopus tentacle (!) served in a bun, and dressed with olive salad and saffron aioli. — Lauren Sloss
3407 Lakeshore Avenue near Trestle Glen Road, Oakland


Related: The 10 Best Brunch Spots In San Francisco (and One In Oakland)

Chilaquiles Tiffany L. via Yelp