Make no mistake, that is the name. TBD. It's kind of a joke, you see, and a play on sister restaurant AQ two doors away — AQ being the abbreviation you sometimes see on menus where the fish price should be, meaning "as quoted."
Tonight marks the official opening of TBD, from the team of owner Matt Semmelhack, chef Mark Liberman, and chef de cuisine Alex Phaneuf. They've had a week or so to work out kinks with some soft-opening events, and the idea is to create a more casual, laid back atmosphere than at the more ambitious AQ.
Central to this is an impressive wood-fired grill in the open kitchen, where you'll see things spit-roasting, grilling, and simmering. See the full menu here, and note the sections: Raw, Grill, Smoked, Plancha, and Hearth & Embers. In the latter section you'll find things like stews, soups, and braises, with a current dish being a Hunter's Stew with rabbit, Oloroso sherry, and whey. So yes, more casual, but still a far cry from most anything else you can get in this sleepy section of SoMa.
As for drinks, there is no full liquor license, however bar manager Tim Zohn is getting away with some low-alcohol drinks he's referring to as "loopholes" because they're all either beer-, vermouth-, or sherry-based, with some upping the booze ante using heavy amounts of bitters — which are higher in alcohol but legal here so long as they're in little bottles. There's also an interesting selection of wines and sherries too. See the full booze selection here.
Decor is spare and camp-inspired — in keeping with all the open flames — with bare wood, antique lanterns, plaid thermoses, and camp blankets slung over the group banquettes at the front.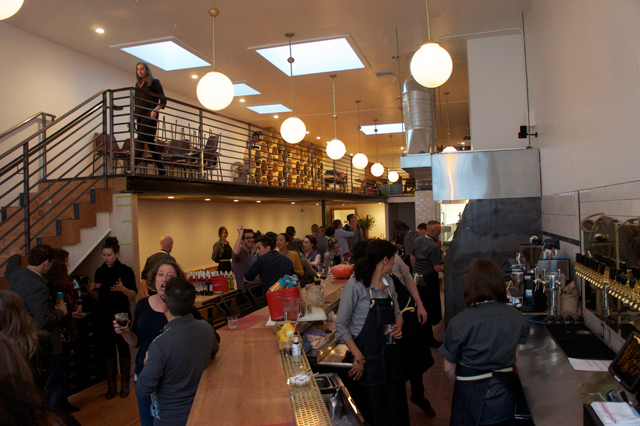 TBD - 1077 Mission Street near 7th - Reservations here