Despite California's reputation for lacking proper pizza prowess, we here in San Francisco are exempt. Seeing as how our food is (arguably) the best on the country, it stands to reason that our pies also rock. Here are our offerings of the City's best pizza, including a couple that might not be on your radar.
Una Pizza Napoletana
Much has been said about this place — it's only open 4 days a week, there's nothing on the menu but pizza, atmosphere is nil, there's often a wait — but pretty much everyone agrees that Anthony Mangieri's wood-fired, Neapolitan pies are perfect. The dough is perfectly seasoned and delicious, and always well blistered from that oven. The sauce: tomato heaven. And with just a modest dose of cheese and maybe a few cherry tomatoes, the result is a comforting, unimpeachable paradigm of pizza. Neapolitan pizza, at least.
210 - 11th Street (at Howard), S.F.; 415-861-3444
Arinell Pizza
So good they filmed a hardcore porn here, Arinell remains one of the best places in the City to grab a slice on the quick. Located on Valencia, this small and simple joint stays open late to appease the dunk masses dying for their sodium fix. Though they offer Chicago style, the real star here is the thin crust offering. Large slices, super hot, and paper thin before thin was popular with ink-sleeved foodie pizza makers of the now. Take an entire pie home today to go full Liz Lemon on it tonight. It's totally worth it.
In San Francisco: 509 Valencia (at 16th Street)
In Berkeley: 2119 Shattuck (at Addison)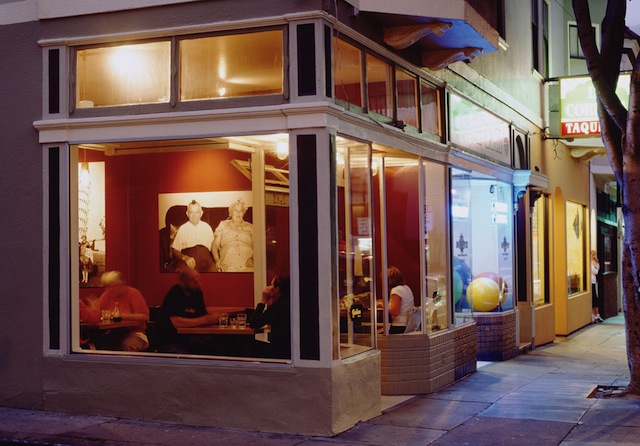 Storefront of Gialina's (photo: Gialina's site)
Gialina
If you're passionate about pizza, you shouldn't mind the trek to Glen Park to try one of the best spots in town, which Sharon Ardiana opened a few years back much to the delight of Michael Bauer. She's since expanded with Ragazza on Divis, which is almost as good, but something about the consistency in quality of the pies at Gialina keep it a notch above in our book. Go for the extraordinary, egg-topped Amatriciana, or Bauer's favorite, the Atomica, or any of the rotating seasonal pies, and you'll see what a great dough recipe and a hot gas oven can do.
2842 Diamond (at Bosworth), S.F.; 415-239-8500
Pretty perfect pizza at Pauline's (photo: Andrei Riskin)
Pauline's
Pauline's is special. First of all, it's been around on Valencia Street for 26 years, since long before Valencia became what you know it as now. And the pizza they make is San Francisco style, if we had to define it, with a thick, yeasty crust that bulbs out at the edges and is baked crisp on the outside and chewy on the inside — a bread lover's dream, really. They use an array of fresh, seasonal toppings from their own gardens, their salads are huge and great, the wine is reasonably priced, and their signature pesto pizza is the bomb. Added bonus: It's never that hard to get in, and if there's a wait, you can hang out in the wine bar next door.
260 Valencia (at Brosnan), S.F.; 415-552-2050
House-made lamb sausage pie with dandelion greens, tomato, ricotta, and pecorino (photo: Deflina's Facebook)
Pizzeria Delfina
Now an elder statesman in the explosion of elevated Neapolitan pizza, Delfina's pizzeria has turned out fresh ingredients atop of thin, blistered (gas-fired) crust to hungry diners since the dawn of time (i.e., the late '90s). Try for the sidewalk seating and opt for a classic margherita pizza or go for the fennel sausage pizza: It's the stuff of Mission legend.
Pizza Hacker pie. (Photo: reidspice)
Pizza Hacker
Without the need for flashy pop-up antics, Jeff Krupman/the Pizza Hacker lets his dough speak for itself: It's a riff on Tartine's country white bread flecked with smoked salt and topped with a rotating cast of classics or locally sourced combinations. We like the "Yo, Vinny!" with 4505 sausage, peppers and a drizzle of chili oil, or the lemony arugula pie. After getting his start cooking with a modified Weber grill on the sidewalk, Krupman's pizzas have become a Thursday and Friday staple on Divisadero's happening pizza corridor and can also be enjoyed al fresco every day at the Forge in Oakland.
Thursdays and Fridays, Vinyl Wine Bar 359 Divisadero (at Oak)
The Forge, 66 Franklin Street in Jack London Square, Oakland
LIttle Star's offering. (Photo: John)
Little Star
Little Star's Chicago-style deep dish restores our faith in pies that, who are we kidding, should really be considered casseroles. Their cornmeal crust is light, but sturdy enough to stand up to an inch-deep pile of toppings and chunky tomato sauce. We like the Classic with sausage mushrooms and peppers because it makes us forget why we ever doubted deep dish in the first place.
In San Francisco: 846 Divisadero (McAllister) or 400 Valencia (at 15th Street)
In Albany: 1175 Solano (at Stannage)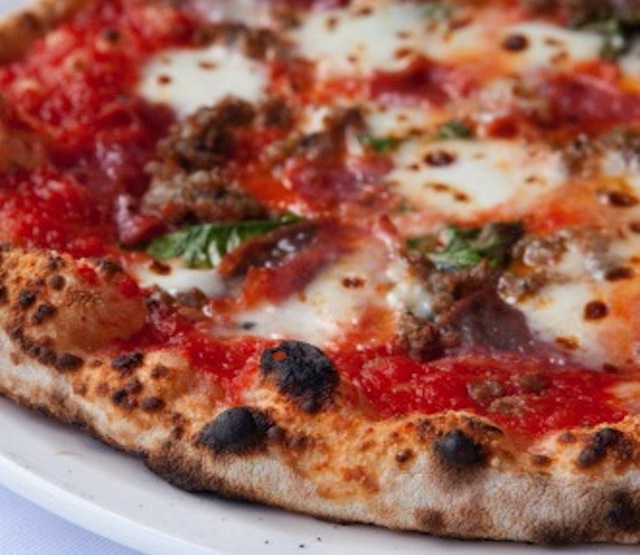 Margherita Extra (photo: Zero Zero's site)
Zero Zero
Bruce Hill's Neapolitan-tinged pizza comes in a variety of styles, some of them boasting the names of popular SF streets -- e.g., the Castro (sopressata, house made sausage, tomato sauce, mozzarella, basil) or the Geary (manila clams, tomato sauce, garlic, bacon, pecorino, parsley, Calabrian chile). But the real stars of the pizza menu is the Margherita Extra, a VIP version of their regular Margherita, featuring tomato sauce, basil, Annabella Buffalo Mozzarella, Grana Padano, and De Padova extra virgin olive oil.
826 Folsom (at Fourth Street), S.F.; 415-348-8800
The prosciutto and arugula at Pazzia. (Photo: Jimmy H / Yelp)
Pazzia
Though possibly off your radar, this Third Street gem in SoMa deserves better attention, especially when it comes to their pizzas. The Margherita is a great choice, sure; but for those of us who relish a stinky cheese (and an odiferous refrigerator when it comes to leftovers), we strongly urge you to check out the gorgonzola pizza. It's an experience, to say the least. And a wonderful one at that. Be sure to look for Massimo, Pazzia's friendly and charming owner.
337 Third Street (at Harrison), S.F.; 415-512-1693
(Photo: Brock Keeling)
Capo's
This Chicago style pizzeria has it all: red booth, goblets of wine, Al Capone pics on the wall -- everything you'd expect from a North Beach pizza place. But it's also home to some of the most wondrous, deep-dish pizza pies in the City. Each pie, in fact, comes in variety of styles from which to choose: deep dish, stuffed, cast iron, and cracker thin. We recommend the cast iron or deep dish for some of the best morning leftovers your greedy little mouth will ever experience.
641 Vallejo (at Columbus), S.F.; 415-986-8998
Honorable mentions
Casey's Pizza (truck)
Delarosa: 2175 Chestnut (at Pierce)

Del Popolo (truck)
Giorgio's: 151 Clement (at Third Avenue)
Tony's Pizza Napoletana: 1570 Stockton (at Union)

Jay Barmann, Andrew Dalton, Rose Garrett, and Brock Keeling contributed to this article.
A slice from Arinell's. (Photo: Shanan)