Just as everyone who showed up for Question Time with Ed Lee at yesterday's Board Meeting started to nod off to the Mayor's smooth-as-felt, Kermit the Frog voice, Board President David Chiu skipped ahead to the closed session item on pensions, "out of respect for the Mayor's schedule." Apparently they have zero respect for our schedule because the secret pension discussion took over an hour. And those benches outside the People's Chambers are not ideal for napping. Still, we'll award +1 to Mayor Lee for his crack at David Campos. That means he only has 999,999,999 to make up after his last appearance. Harsh, we know, but Lee should understand that it ain't easy inheriting a huge deficit.
Returning from the closed session, the meeting resumed with Jane Kim who apparently didn't do her homework and left her amendments to the Twitter Tax break legislation off of the distributed materials. Yikes! How embarrassing!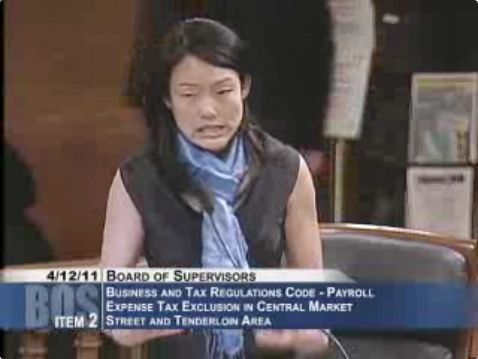 Still, no one seemed to give a shit about the amendments which adjusted the tax break area slightly and put responsibility for annual progress reports on the shoulders of the City Administrator - the item finally passed with the same 8-3 vote as last week. Snooze.
After President Chiu steered the meeting towards special commendations, Supervisor Kim recognized The Eagle Tavern as a "cultural institution" and honored the bar for the money they've raised for various causes during their Sunday Beer Busts. While Kim gets to claim geographic jurisdiction over the Eagle, David Campos and Scott Wiener chimed in to express their demographic support. In this case, heartfelt support outweighs the icky feeling that comes with tagging along on a colleague's commendation, so we'll allow it and donate +1 across the board (pun intended?) to those three. Still, the Eagle needs action more than commendations in order to be rescued, so we won't award any points just for being gushy either.
Eric Mar commended Modern Times bookstore, another local business and gathering place that won't be around much longer. Another cute commendation, for sure, but mentioning the great discounts you can currently find at Modern Times maybe wasn't the best "on the bright side..." point you could make. Later, during a lengthy hearing regarding a T-Mobile cell site in North Beach, Mar seized the opportunity to wave his Android phone around in the air and talk about how much he loves it. Of course Eric Mar has an Android phone. What a nerd. +1 for encouraging bookish communities, -1 for being tardy and awkward. Zero points for Eric Mar. Cool phone!
D11 supe John Avalos took the reigns for the discussion of the non-resident admission fee at the Botanical Garden: he talked about German tourists who passed on the garden because it was too expensive, a local woman who didn't carry ID and was denied entry and that one time he had to ride his bike "back up the hill" when he forgot his wallet (a story that had absolutely nothing to do with the Botanical Garden aside from explaining why some of us might not always have identification on our person. Anyway, his kids love the Botanical Garden! And as he said, this issue "affects all of San Francisco." Sure, it affects the entire wallet-losing population of San Francisco. Those of us with plant allergies and/or readily available proof of a San Francisco zipcode probably aren't affected so much. -1 to John Avalos for forgetting his wallet.
Overall the Botanical Garden discussion went on for far too long when you consider we're basically just talking about charging tourists for stuff we locals get to do for free. (That's the definition of a tourist - look it up.) But David Chiu raised a good point: "We don't live in a perfect world," he said, "we have structural budget deficits as far as the eye can see." Just think though, if you lived in the Botanical Garden, you would live in a perfect world. And there wouldn't even be tourists there because they can't afford it. But that's our joke, not Chiu's so he won't get any points for it. Besides, we're still pissed the closed session took priority over tin hats and public comment. -1 for David Chiu.
On the other side of the Botanical Garden fence, we'd say Supervisor Mirkarimi's speech was a waste of breath, but that would be a waste of blog inches because we know he'll still talk forever next week. And anyway, Ross managed to work in a zinger to describe his displeasure with the fee. Something to the effect of: "We let visitors park for free all day in city parks, but we charge the to look at plants." POW! The board just got MirkaREAMED. (Ugh, sorry.) +1 for Ross Mirkarimi.
While all this was going on, Scott Wiener, probably still exhausted from a long night barhopping from the Eagle to Skylark, was spotted getting dangerously close to falling asleep sitting. The Castro supe didn't have the luxury of dozing off during the closed session so he perfected that ol' college classic of gently closing one's eyes and hoping no one would notice. Since some of us on the editorial staff spent years trying to perfect this technique, we desperately want to give Wiener 10 points for not ending up with his head on the desk, but in the world of real grownups we just can't bring ourselves to condone this sort of behavior. The board was nice enough to hold off on voting for his off-leash dog area item until he could get a nap in though. -1 for Scott Wiener. We're still big fans, but grab some coffee, dude!
Malia Cohen was relatively silent except for when she spoke in favor of the admission fee at the Botanical Garden. We would normally ding her a point or two for peppering her public speeches with a whole lot of "uh..." and "um...", but honestly she needs the practice in front of a room, so we'll allow it.
After public comment and some breezing through the trivial items, the nearly 6-hour meeting wrapped with Ross Mirkarimi taking the top spot this week, all thanks to that diamond in the rough of his notoriously long speeches. Our previously leader, Scott Wiener wavered a bit, but in the end didn't change. Carmen Chu, Mark Farrell, Sean Elsbored were present, but like...not really. Meanwhile, the nerd patrol holds court at the bottom: Eric Mar has some ground to make up, but not nearly as much as Mayor Lee.
Final Ranking: (this week's points in parenthesis)
5 Ross Mirkarimi (+1)
4 Scott Wiener (+1,-1)
4 Sean Elsbernd (No change)
4 Mark Farrell (No change)
2.5 Carmen Chu (No change)
2 David Campos (+1)
1 David Chiu (-1)
1 Malia Cohen (Meh)
0 Jane Kim (+1)
-1 John Avalos (-1)
-2 Eric Mar (No change)
-999,999,999 Mayor Ed Lee (+1)
Tardy: Eric Mar.