SFist Already Dominates San Francisco Keywords SEO for Local Service Businesses in San Francisco
Reaching over 20% of San Franciscans on a monthly basis, SFist already interacts your target audience! Our software helps identify users on our websites who are more likely to be interested in your business. We then encourage the user to introduce themselves in the form of an inbound lead. By pre-ranking for your most highly-targeted keywords, our SEO experts have already done the leg work for many service-based businesses looking to expand their clientbase in the San Francisco Bay Area. When you sign up, we often already have actionable leads for you to work with.
Free Consultation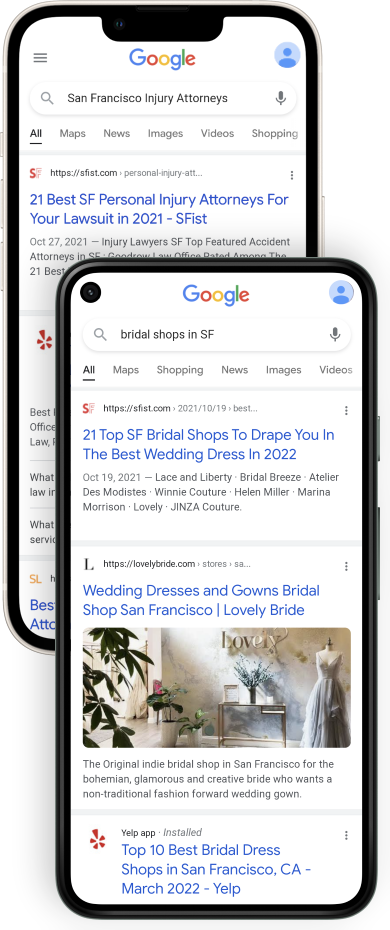 Where SFist Ranks For Services in SF
Don't Believe Us? Search For Yourself...
Best Grocery Delivery SF #1
Landscaping Companies SF #1
Thousands of Other Keywords ...
SFist Is One Of The Largest Publishers Of SF News Local SEO Services
in the SF Bay Area
SFist's online marketing specializes in inbound Lead Generation for companies in San Francisco. For onsite SEO projects, we partner with search experts who have been leaders in the industry for over a decade.
Free Consultation
SFist's Page Readership Is Approx. 2M Per Month