San Francisco surely draws in crowds from far and wide. Our city is among the most popular tourist destinations in the world. So where does SF go for a regional 'staycation?' One adventure is surely wine county. Visitors and residents alike are sure to enjoy one of this list of the top wine tours and limo car services in Sonoma, Napa & SF. Why is this list free?
Leone Wine Tours provides custom wine tours in Northern California. Customers can book a tour that visits one winery, or several wineries, in a day. Many of the tours offered consist of wine tours with a picnic in the vineyard, but customers can customize the tour as they wish. Leone Wine Tours serves many of the wine-growing areas around San Francisco: Healdsburg, Sonoma, Napa, Russian River, and Santa Rosa. The process begins with a phone call to work with the customer on itineraries and wine preferences. The company also throws birthday wine tours for clients.
Edge of the World
#2 of 15 Top Wine Tasting Transportation
★★★★★
Edge of the World is a wine tasting touring company that specializes in the Sonoma Valley wine country. The company will accommodate up to 10 people per private tour, resulting in a small, personalized experience. With over 30 years of experience amongst its employees, Edge of the World will work with customers to fine-tune a custom tour. The general wine tour option will stop at 3 different Sonoma wineries, a lunch stop, and a photo stop and visit at the Golden Gate Bridge. Tasting fees are covered by the price of the tour, as well. Private tours, meanwhile, offer many more opportunities to customize the experience to fit the group's desires.
Terrific Tours
#3 of 15 Leading Sonoma-Napa Car Service
★★★★★
Terrific Tours, based out of Santa Rosa, offers a wide selection of wine tour options. It has private wine tours as well as Sonoma and Napa Valley wine tours. The company sets itself apart in its educational aspect: it strives to inform tour guests on how to taste wine as well as the winemaking process. It also handles wine shipping and concierge services. Tours depart from various locations throughout the San Francisco Bay Area, including Sonoma Valley, Mendocino wine country, Napa Valley, and San Francisco. Its fleet of vehicles includes luxury vans, SUVs, and a bus charter option. Additionally, the company will accommodate family trips throughout the various regions.
The first thing customers will notice about Painted Ladies Tours is the vehicles they use for their tours. Classic VW buses, custom painted and updated, are used to shuttle customers to various areas around the Bay Area. Painted Ladies Tours offers city tours, Muir Woods and Sausalito tours, as well as wine country tours. Its wine country offering travels through Sonoma Valley. This tour begins at either Union Square or Fisherman's Wharf, across the Golden Gate Bridge, and then onwards to Sonoma. Customers visit 3 different wineries, including one that offers a cave tour. Guests are supplied with lunch at an Italian winery, where they are served a multi-course meal. The tour then ends back in the city.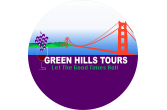 Green Hills Tours is a tour provider that services the San Francisco Bay Area. It specializes in a private or small group, semi-private tours. Customers are driven in a Lincoln Navigator luxury SUV. The tours are customized by the customer, down to the varietals of wine and different wineries that guests prefer. Green Hills Tours will pick up customers at their hotels. Most wine tours visit 3 or 4 different wineries in Sonoma or Napa Valley. The company strives to strike a balance between scenery, wine quality, and flexibility of the itinerary. It advertises both a private and semi-private wine tour. The company is also family-owned and operated.
Max Napa Tours
#6 of 15 Leading Wine Tasting Transportation
★★★★☆
Max Napa Tours offers residents and visitors to the San Francisco Bay Area sommelier-led tours primarily to Napa and Sonoma Valleys. It has been operating in the region since 2004. The company visits a wide range of wine country regions, including Napa, Sonoma, Russian River, and Alexander Valley. The tour guides are also certified sommeliers and have extensive knowledge of wines, wineries, and the area. The type of vehicles used by Max Napa Tours is luxury SUVs. These come equipped with leather seating and complimentary water. The company will pick customers up at their hotels in the wine country or the City.
SF Excursions
#7 of 15 Top-Notch Sonoma-Napa Car Service
★★★★☆
SF Excursions offers a full suite of tours but specializes in wine country excursions. The company offers a pre-set itinerary through its Sonoma Wine Country tour. This tour visits 3 or 4 wineries throughout the day and comes with champagne, orange juice, and water. Guests are provided picnic lunches, as well, from Sonoma Market. Another alternative is the private wine tour. In this option, guests create and/or modify the itinerary to their liking. The tour runs between 6-8 hours in duration and will pick up and drop off customers at their hotels or vacation rentals. SF Excursions has an online booking form as well, to add convenience for guests.
Green Dream Tours is a tour operations business that visits both the Napa and Sonoma Valley wine country regions. The company carries passengers in luxury vehicles and services small groups exclusively. The Napa tours stop by three boutique wineries for tastings. These tastings are included in the price of the tour. At one of these wineries, guests are treated to an in-depth lesson about the process of winemaking. These tours are available year-round, and group sizes are capped at just 14 people. Sonoma wine country tours also treat guests to tastings at three wineries, but with a picnic lunch above a vineyard also included.
Frisco Limo
#9 of 15 Leading Wine Tours
★★★★☆
Frisco Limo is a full-service concierge service that provides various wine tours. It offers tours to Napa Valley, Sonoma Valley, and Livermore Valley. The company will work with customers to establish custom itineraries for all of its wine tours. Lunch is integrated into the itinerary, as well, and can also be arranged by customer preference. Frisco Limo has certain wineries that it incorporates into its regular tour, but customers can choose any winery they want to be part of the tour. The company supplies guests with a free quote and strives to achieve total customer satisfaction. Frisco Limo has a wide range of luxury vehicles to choose from for customers interested in a wine tour.
Five Emerald
#10 of 15 Top-Notch Wine Tasting Transportation
★★★★☆
Five Emerald is based in San Francisco and serves the greater Bay Area. The company prides itself on its affordability and quality and keeps pricing transparent for the customer. It offers wine tours with a specialization in tours to Sonoma Valley. Five Emerald's vehicle of choice for its wine tours is the luxury Cadillac Escalade ESV, which will transport up to 6 passengers on their private wine tour. The company has been in business since 2001 and strives to achieve customer satisfaction. It guarantees that all tours are of high quality and the company offers a 100% money-back guarantee on all of its services.
Epic Limo SF
#11 of 15 Best Sonoma-Napa Car Service
★★★★☆
Epic Limo SF is located in the city of San Francisco and provides a varied assortment of tours, including to the wine country. Guests will arrive at different Napa and Sonoma Valley wineries in style. The company's stretch limousines will transport couples up through small groups on their excursions. The price of the wine tour includes amenities such as champagne, soda, water, taxes, and any gratuities. Guests can customize their trips, or they can utilize the knowledge of the company to help tailor their itinerary. Since 2012, Epic Limo SF has been providing luxury ride service throughout the Bay Area. The company provides a quote and online booking option to customers, as well.
Avenue Limo
#12 of 15 Best Wine Tours
★★★★☆
Avenue Limo is a full-service limousine service that offers wine tours to many different Bay Area regions. It has a 24/7 online booking tool so that customers can quickly and conveniently arrange for a tour. It provides private wine tours throughout Napa Valley and Sonoma Valley. It also transports guests to the Lodi Valley for additional winetasting opportunities. Other locations that Avenue Limo provides wine tours include Amador and Livermore Valley wine country. Drivers will offer suggestions to customers for wineries to visit in each of these locations. Guests can choose from several different vehicles in the company's fleet for their wine tours. These consist of limousines, sedans, luxury mini-buses, and SUVs.
Vantigo is a tour service provider that uses two restored 1971 Volkswagen buses to shuttle passengers around the San Francisco Bay Area. These buses are available for private charter, as well. As each bus seats 7 passengers, groups of up to 14 people can travel up to the wine country together for a private wine tour. With wraparound windows, guests can enjoy the slower pace of the VW bus while enjoying the Napa Valley scenery outside the vehicle. Itineraries can be customized and tailored to meet the demands of customers, and Vantigo will cover any extra fees or tolls that may come up during the excursion.
Bacchus Wine Tours
#14 of 15 Leading Sonoma-Napa Car Service
★★★★☆
Bacchus Wine Tours is in operation in the Bay Area and provides custom wine tours across the region. It specializes in the Napa and Sonoma Valleys, and offers additional wine country tours in northern Sonoma County, as well. The primary vehicle that Bacchus Wine Tours uses on its wine country tours is the GMC Denali XL. Seating up to 7 passengers in comfort and luxury, this vehicle will whisk guests between wineries in style. The vehicles are equipped with premium audio systems, also. The company is transparent and affordable in its pricing structure for wine tours, and no hidden fees or taxes are added unbeknownst to the customer.
Cork Dork Tours
#15 of 15 Top-Notch SF Wine Tours
★★★★☆
Cork Dork Tours is a wine tour and ride service provider, serving the entire San Francisco Bay Area. The company has a complete online booking process, where guests can choose their tour, vehicle, and dates and times seamlessly. The company offers tours throughout the northern California wine country. It will work with customers to develop customized itineraries within the Napa and Sonoma Valley wine regions. It transports guests in style and comfort between various wineries, depending on the tastes and requests of customers. It guarantees customer satisfaction in all of its tours, as well. Rates are up-front and clear, and descriptions are provided as to what is included in the price of the desired tour.
WHY THIS LIST IS FREE TO USE
The above list includes Wine Tours that SFist believes actively provides superior services. In some cases, they are among the most successful teams in San Francisco. In some cases, variable, sponsorship listing fees or commissions effect the ranking position of the teams, but every one has a history of providing great services. To learn more about SFist's classifieds listings read more here.
---
SFist / Best of San Francisco / Top Party Bus Companies / 15 Best Wine Tours