Day Two of Outside Lands 2023 saw major crowds show up for Lana Del Rey and Foo Fighters, as well stellar sets by Maggie Rogers, Conan Gray, and Alvvays, a raucous good time at the Dolores' stage, and a surprise special guest on the main stage.
Saturday was mostly socked in with fog out in Golden Gate Park, with the sun only barely threatening to break through early in the afternoon. The day began with ABC 7's Dan Ashley and his band, called Dan Ashley, doing the opening rock-and-roll set on the Panhandle Stage just after noon.
Simultaneously, Geographer, a.k.a. the sixteen-year-old band founded in San Francisco by singer-songwriter Mike Deni, was playing over on the Sutro Stage — and Deni sounded great though he said he was feeling under the weather and couldn't hit all the high notes.
It was the second day in a row that Outside Lands organizers closed the SOMA dance tent due to issues with the floor buckling — apparently whatever fixes were made after a similar problem Friday afternoon didn't do the trick. And on Sunday, organizers announced that the tent had come down and SOMA is now going to be "an open-air house party" all day and night Sunday.
There were plenty more opportunities to dance Saturday, especially during a pop-music-heavy DJ set by DJ Rubella Spreads at the Dolores' stage, which was curated by the Oasis nightclub all day and featured multiple drag shows. While Father John Misty played to a fog-misted, and devoted fanbase on the Lands End Stage, DJ Rubella Spreads was spinning all the hits and drawing a large crowd that spilled out onto the grass outside Dolores', getting the crowd bouncing to Robyn, Beyonce, ABBA, and more.
Oasis' Princess drag show, which usually happens later on Saturday nights at the actual nightclub, brought out Rupaul's Drag Race star Adore Delano for a 6:15 set. And over on Panhandle stage 90 minutes later came Drag Race winner Bob the Drag Queen — who was a last-minute fill-in for Trixie Mattel, after Mattel had to cancel.
"You know how they say you don't have to get ready if you stay ready?" Bob said to a large, adoring crowd. "They called me and said 'Can you pull a show together in three days?' And I said, 'I don't know but we're about to find out.'"
Maggie Rogers, who played at Outside Lands on the Sutro Stage six years ago, has become a much bigger star in the intervening years and played an early evening set on the main stage Saturday. Her voice sounded clear and terrific throughout, and the murmurs from the crowd all basically said the same thing.
"This song makes me feel like a motherfuckin' pop star," Rogers said after finishing a performance of her first hit "Alaska" — but it seemed ironic since many of her other songs have since made her a bona fide pop star.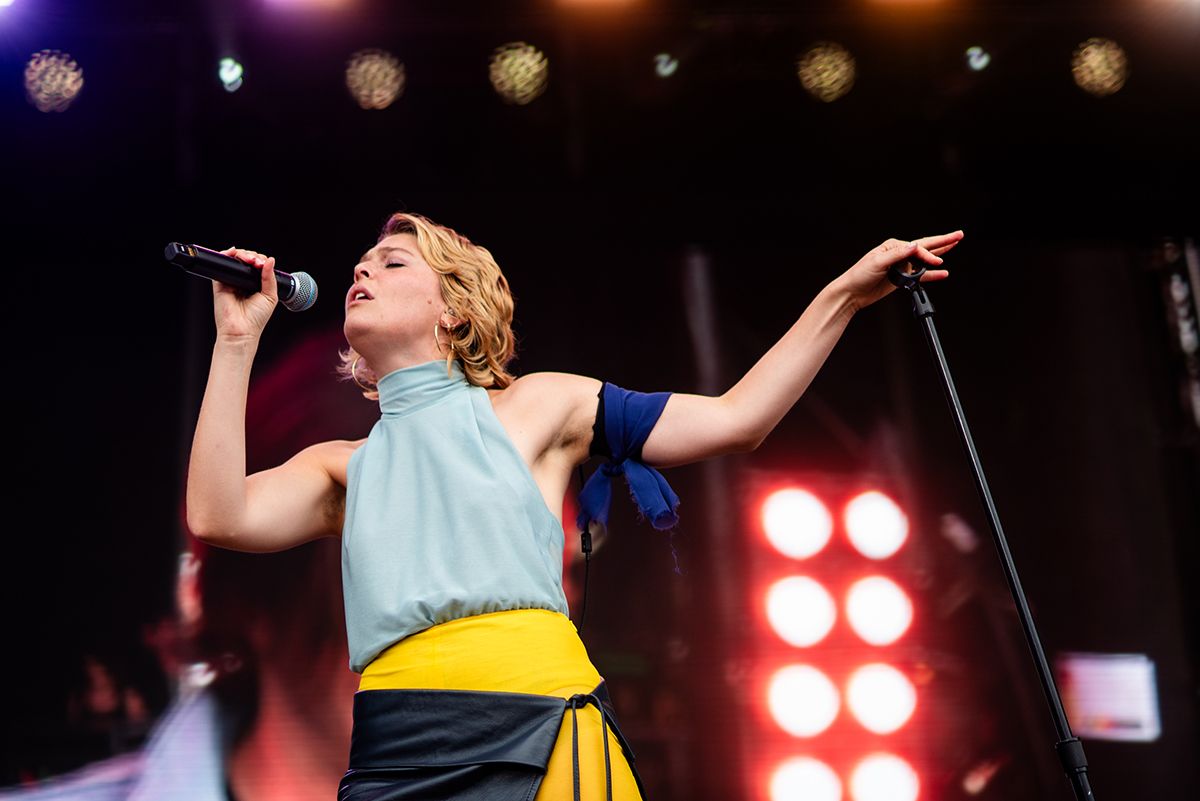 Singer-songwriter Conan Gray, also a late addition to the lineup, put on a fantastic evening set on the Twin Peaks Stage, serving essentially as the opener for Lana Del Rey and all the fans who squeezed in early for prime spots up front there.
Fans had to split up at the end of the day between the Lana Del Rey camp — which was massive, by the way — going to the Twin Peaks Stage and Foo Fighters fans sticking to the Polo Field. Everyone who wanted to keep the dance party going, though, headed over to Sutro for FISHER.
Lana Del Rey came out just before 9 p.m. with her swoon-y, emotive hits, and at times it was hard to even hear her over the ardent crowd singing along. By the time she brought out "Young and Beautiful," the crowd was practically taking over in an enormous, melancholy chorus.
The greatest surprise act of Outside Lands 2023 (so far) was Foo Fighters busting out pop singer Michael Bublé in the middle of their set, to perform Bublé's jaunty bubble gum hit "Haven't Met You Yet." The Foos had more cameo fun later in the set when they brought up Dave Grohl's 17-year-old daughter Violet, who's already one hell of a vocalist and guitar player, to play a few numbers from their recent albums, "Shame Shame," "The Teacher" and "Show Me How."

"We've got a lot of fucking songs and 28 years to fit into two hours," Grohl told the crowd. "We're going to play all night, or at least as long as they'll let us." (This is perhaps a reference to the time he got the 10 p.m. power cut-off at Bottle Rock 2021 during his surprise appearance in the Guns 'N' Roses finale.  
The Land's End stage was completely enveloped in a heavy fog for the entire Foo Fighters two-hour set, visibility was poor. That might have ruined the performance for many big Outside Lands acts that rely on dancers, visual effects, or stagecraft. But the Foo Fighters don't even attempt any stagecraft. They had no intention except to just to come out and jam for two hours, and that is exactly what they did.
This is the Foo Fighters first tour since the 2022 death of their drummer Taylor Hawkins, and obviously, some of these songs hit a different way in that context. The band knows this. They did "There Goes My Hero" as an acoustic, slowie tearjerker, with a moving piano solo by keyboardist Rami Jaffee. "Aurora" was specifically dedicated to Hawkins, just before the band wrapped up with the obligatory close-out of "Everlong." But we also got wacky, unexpected covers of the Ramones' "Blitzkrieg Bop," Devo's "Whip It," and the Beastie Boys' "Sabotage."
More photos from Day Two, below.
Joe Kukura also contributed to this report.