It's not just sideshows, as every major crime category shows sharp increases in Oakland, with spikes of 20%, 40%, or even 90% in specific crime categories compared to before the pandemic.
This week we reported on an eight-year-old boy shot in an Oakland freeway shooting who is now likely permanently paralyzed from the neck down by the gunshot injuries. The youngster obviously had nothing to do with the two vehicles firing shots at each other, and nor did two-year-old Jasper Wu who was killed in a similar I-880 Oakland freeway shooting in November 2021. And Oakland's rampant car break-in problems made headlines again when a CNN reporter had her crew's car windows smashed Wednesday, though there was not even anything in the car to steal.
Whether it's violent crime like homicides or petty crimes like car break-ins, the Chronicle has a new study showing that Oakland crime is up in every category compared to crime rates before the pandemic.  
Our @susieneilson looks at Oakland's worrying crime rates:

"As of early July, homicides were up 80% compared to 2019 & assaults & robberies were up by 40% & 20%, respectively. Car break-ins were up by nearly 90%, while vehicle thefts more than doubled." https://t.co/Fxu0VgxRkN

— Demian Bulwa (@demianbulwa) August 4, 2023
The graphics above break it down by category. Aggravated assault is up by 20% compared to this point in 2019, while robberies have increased by 40% over that same period. Homicides are up by 80% compared to this time in 2019, while car-break-ins are up by 90%, and car thefts have completely doubled compared to the same period in 2019.
This woman told a harrowing story of being carjacked in the Oakland hills. She asked what's being done to stop these kinds of crimes. pic.twitter.com/O5mhtWSRUF

— Darwin BondGraham (@DarwinBondGraha) July 28, 2023
Many will inevitably blame Alameda County DA Pamela Price or Oakland Mayor Sheng Thao for these crime spikes, but both have been in office barely seven months, and we're talking about trends that go back more than three years here. And it's fair to point out that the Oakland Police Department has been something of a complete mess for the better part of 20 years, so that may factor into criminals' recent brazenness.
Thao's office said in a statement to the Chronicle that they were "working with community partners and across agencies to ensure we are doing everything we can to both prevent violence and hold people accountable for carrying out crimes in our city."
Gov. Gavin Newsom will send California Highway Patrol officers and automatic license plate readers to Oakland after receiving a request from Mayor Sheng Thao amid increasing concerns of crime https://t.co/1WZYlZAk4m

— Sarah Ravani / سارا (@SarRavani) August 2, 2023
And for her part, Mayor Thao did ask for and receive California Highway Patrol deployments to help combat car thefts, highway violence, and sideshows. She's also ramping up the use of license plate readers to catch scofflaw vehicles. It remains to be seen whether any of this affects crime rates, but she is at least trying new tactics and strategies.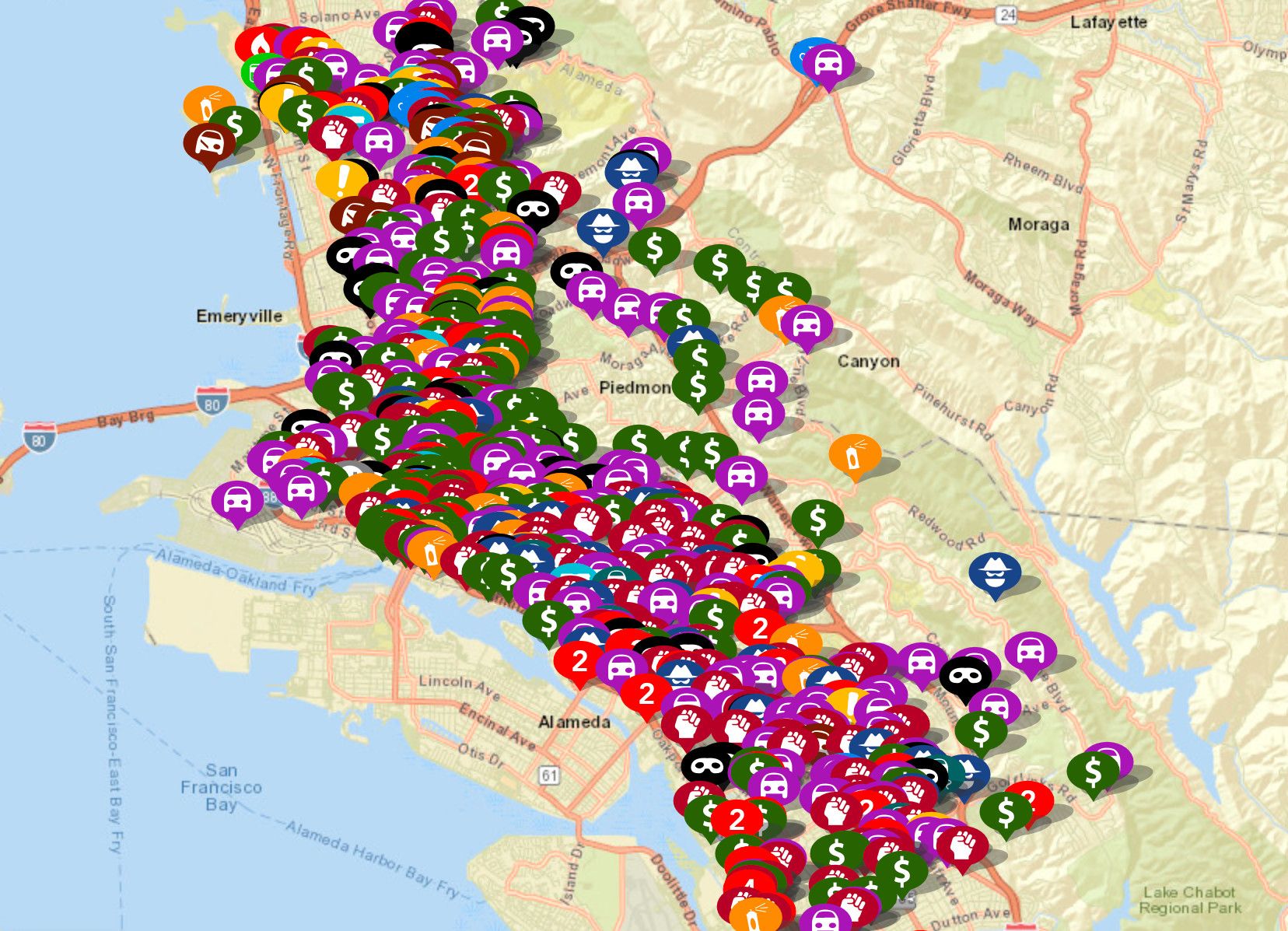 And boy could Oakland use new tactics and strategies. The above crime map is linked on the City of Oakland crime data page, and you can barely see any Oakland underneath all those homicides, robberies, assaults, and more marked by the little icons. And that data represents Oakland crime over just the last seven days.
The Chron speculates this could be a pandemic hangover, as through much of COVID, people had less to do and were far more likely to be unemployed. The increasing prevalence of ghost guns might be playing a role too. But it's difficult to see how any "Defund the Police" sentiment could be a variable here, as the Oakland Police Department budget has increased by 2% this year, and now stands at nearly $360 million annually.
Related: Oakland Residents Fume Over Crime at Community Meeting With DA, Oakland Police [SFist]
Screenshot: sainero25 via Youtube