Lizzo gave festival-goers a stellar show Saturday night at BottleRock — performing what many said was the best set of the three-day festival, which wrapped up on Sunday. But she felt she had to comment on some signs that were posted outside of one downtown Napa home where the homeowner has apparently gone all in on the Fox News/Republican narrative about "wokeness" being our greatest enemy.
Appearing as the second Black female headliner at BottleRock after Megan Thee Stallion in 2021 — the lineup of the fest has tended to skew a bit older and whiter, generally, than other music festivals, because: Napa — Lizzo took the JaM Cellars Stage at 8:15 p.m. Saturday just as 80s pop stars Duran Duran were starting their set on the Verizon Stage.
As the Chronicle reports, as she was introducing her song "Special," Lizzo made references to the signs she saw on the nearby home on her way in, which reportedly said "Choke the Woke," "America: Love It or Leave It," and "Cancel Cancel Culture."
The signs, posted along the Silverado Trail near the entrance to the festival, raised the hackles of police and code-enforcement authorities, too, as the Napa Valley Register reports.
"I saw some signs that were very unfriendly towards people like me," Lizzo said, per the Chronicle. "I saw signs talking about how they want to cancel people like me. Silence people like me. Choke people like me. And they right across the street. So we gonna sing this one more time so they can hear it, because maybe they haven't heard it in a long time."
She later draped herself in an LGBTQ Pride flag, declared "Drag is not a crime!," and repeatedly told the audience "This is a safe space," per the Chronicle.
Lizzo was joined on stage by a five-piece, all-female band, three backup vocalists, and the nine backup dancers she calls the Big Grrrls.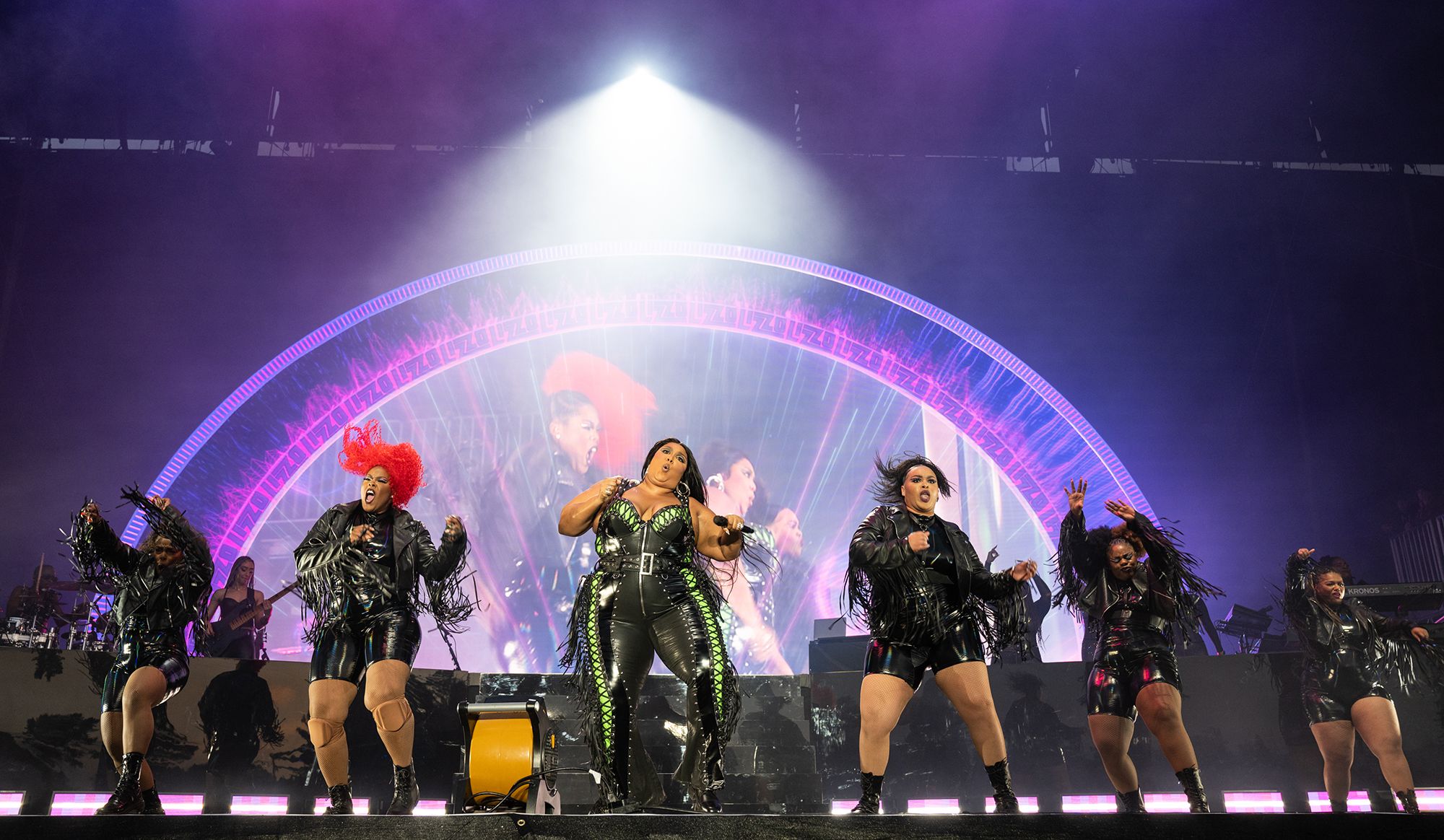 Lizzo also performed her hits, like "About Damn Time" and "Truth Hurts," and she gave the crowd a couple of covers: Lauryn Hill's "Doo Wop (That Thing)" and Chaka Khan's "I'm Every Woman."
BottleRock closed out Sunday night with performances by Red Hot Chili Peppers — who last performed at this festival in 2016 — and festival newcomer Lil Nas X.
The set by out-loud-and-proud queer rapper sounds similar to the one he and his dancers performed in October at Bill Graham Civic Auditorium, including a dance-break medley of Rihanna, Beyonce, and Megan Thee Stallion songs.
As the Chronicle put it, following the festival's close, "The juxtaposition of Red Hot Chili Peppers' and Lil Nas X's headlining sets, in addition to a queer-friendly performance by Lizzo on the main stage on Saturday, May 27, proved how far BottleRock has evolved since its 2013 inception."  But, they add, unlike bigger festivals like Outside Lands, "this Wine Country event remains rooted in its rock 'n' roll foundation."
KRON4 has a photoset from the festival here.
Top image: Lizzo performs on Day 2 of BottleRock Napa Valley Music Festival at Napa Valley Expo on May 27, 2023 in Napa, California. (Photo by Steve Jennings/WireImage)