As a visual representation of where we stand in terms of drought and water resources, you can't do much better than Lake Oroville, the man-made reservoir in Butte County that is the second largest in the state.
Photos of Lake Oroville, with boats floating in what looked like a puddle of water with looming, dry, bathtub-ringed banks hovering above them, have popped up on our screens the last two consecutive springs and summers. Last summer, the reservoir dipped well below 40% of its capacity, amid a historic drought that saw much of the state under some sort of water-use restrictions.
The last time we saw the lake full to the brim was four years ago, in the spring of 2019. And a $1 billion emergency fix to repair its heavily damaged spillway had just been partially finished. That damage had occurred when the reservoir last filled up in February 2017 and needed to let out some water in a hurry, leading to the unprecedented use of an "auxiliary spillway" that was little more than a dirt berm, and led to the emergency evacuation of 188,000 downstream residents one Sunday night.
But other years, like 2015, 2021, and 2022, it's been the "poster lake" of the drought, and agencies like Getty will dispatch a photographer up there to show everyone that California is running low on water again. The photos below are from August 2022.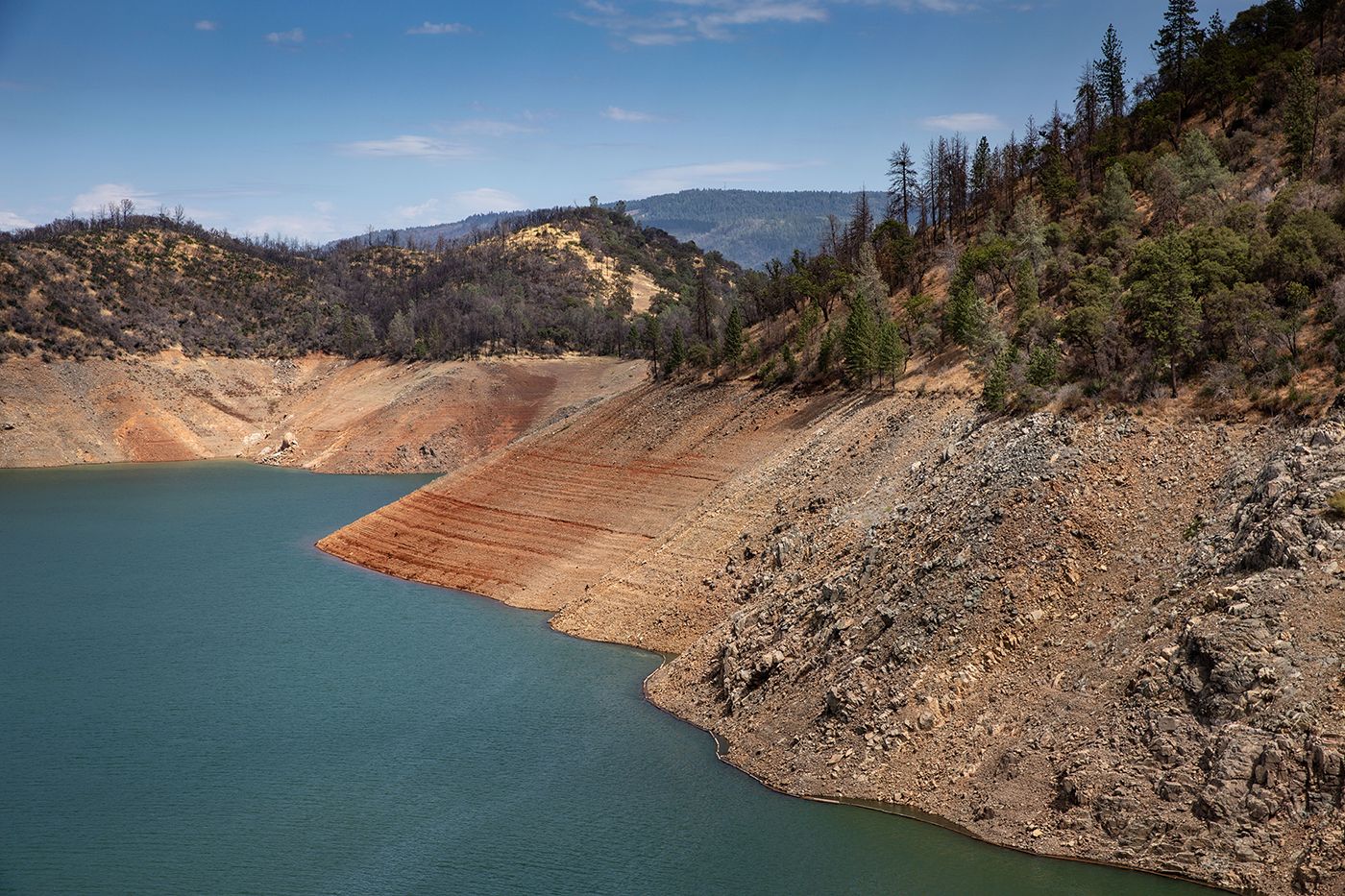 The situation has been bad enough that it required a boat ramp to be rebuilt and extended last year so that it could reach the newly low levels of the water.
But now, after all that rain in January, Lake Oroville is up to 63% of its capacity and counting — with a huge source of water, the runoff from Sierra snow, still to come in March and April.
The latest visuals, from the California Department of Water Resources (DWR), show us what experts have been saying: We are not yet out of the drought, but we are at least on our way out, maybe.
As Bay Area News Group reports, Lake Oroville is currently holding 2.3 million acre-feet of water, and it has risen 182 feet since its late September low. The reservoir's total capacity is 3.54 million acre-feet.
The good news is that snowpack in the Sierra is near 200% of average for early February in multiple locations, but this could rapidly dissipate if it isn't replenished. In other good news, they're getting some more snow up there today.
"Does our big January actually bust the drought in California? It's too soon to tell," said DWR Director Karla Nemeth. "We need to take the lessons of the most recent couple of years in which we've seen the peak snowpack date change, in which we've seen runoff conditions drop off dramatically, and in which we've seen storm conditions shut down and then be followed by excessive dry periods."
Previously: California Reservoir Levels Steadily Rising After All These Storms, According to State Agencies