According to Pew Research, San Francisco is #4 in the USA when it comes to overall Thai population, and we are the metro with the second largest percent of Thai people of any major city in the country - following only Washington, DC. As such, it's not entirely surprising that our city has some of the best Thai masseuses around. This list is San Francisco's top spas for Thai massage therapy. Why is this list free to read?
2462 Mission St. San Francisco, CA - Bhuddha Raksa Traditional Thai Massage is a massage clinic that provides traditional Thai bodywork. This high-quality, therapeutic massage is carefully designed to restore balance and health in the body. Thai massage therapy can help reduce chronic pain and stress, improve physical function and stability, and even enhance athletic performance. It provides an individualized experience focusing on restoring the body's natural energy flow while addressing specific concerns like injury, illness, or stress. The massage therapists at Bhuddha Raksa Thai Massage San Francisco use a combination of traditional Thai massage and acupressure as well as yoga and tai chi, leading to deep relaxation. Visit the clinic to learn more about the various forms of traditional Thai massage available and to schedule your appointment. Bhuddha Raksa Traditional Thai Massage is locally owned. For more information, visit their website.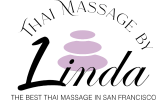 Thai Massage by Linda
#2 of 14 Top Thai Massage Spas in San Francisco
★★★★★
2040 Union St 2nd Fl, San Francisco - Thai Massage by Linda is the perfect place to go if you want a relaxing and unique massage experience. Their talented masseuses offer traditional Thai massages that will leave you feeling refreshed and rejuvenated. They are located in San Francisco and offer convenient appointment times so that you can come and see them when it is most convenient for you. SF Thai Masseuses Linda offers an unbeatable massage experience that you will not find anywhere else. If you are looking for a massage that will relieve your tension and help you relax, Thai Massage by Linda is the perfect place for you. Their massages are designed to help improve your circulation and give you a sense of well-being. They offer a variety of massage packages, so you can choose the one that best suits your needs. Contact them today to book an appointment.
39 Polk St. & 518 Taylor St, San Francisco - Siam Orchid Traditional Thai Massage is a California-based Thai massage studio that provides its clients with traditional, authentic, healing Thai massages. They offer individual and group massages, scrubs, and facials within their studios. Siam Orchid Traditional Thai Massage has plenty of options for anyone looking for an effective way to relax or rejuvenate themselves through massage therapy. Whether you're new to the world of massage or an experienced professional, you'll feel relaxed and revitalized by a session with this studio in San Francisco. You can also choose from a wide range of individual or group treatments that are offered on-site. So whether you're looking for relief from stress at work or want to relax before or after an event, it can help you get the desired results.
Ohm Thai Massage
#4 of 14 Top-Notch San Francisco Thai Massage Parlors
★★★★★
2275 Market St, San Francisco - Ohm Thai Massage is a California-based San Francisco Thai Massage Spas that offers the best massage therapies, services, and amenities. They boast an eclectic aesthetic that includes not just traditional Asian designs like chopsticks and lanterns but also features more contemporary elements like geometric lines and colors within a mix of white accents. The Spa is tucked away in the heart of downtown San Francisco, California. Ohm Thai Massage has been providing the best massage therapies in San Francisco. They have a couple of unique and exclusive massage therapies not found anywhere else: Ohm Signature Massage, Ohm Muay Thai Massage, Thai Aromatherapy Massage, Traditional Thai Massage, Thai Therapeutic Massage, Deep Tissue Massage, Thai Deep Tissue Massage + Foot Reflexology, Swedish Massage, Office Syndrome, Thai Foot Reflexology, and Mobile Massage. All of these services are available for an affordable price. This Massage parlor is a great place to go if you want to experience the best massage in San Francisco.
41 Sutter St, San Francisco - House of Rejuvenate Massage is located in San Francisco's Financial District. They offer a variety of services and treatments to help their clients achieve their goals using massage therapy techniques. The studio is located in the basement of the Chancery Building, which is a small building with a lot of character and is very quiet. They believe that proper massage and bodywork should not be a luxury that only a few can afford. Instead, it should be a part of a person's overall wellness maintenance. Through their services, the House of Rejuvenate Massage aims to provide a safe environment where people can connect with their bodies and learn more about wellness. Their goal is to create long-lasting relationships with their clients, regardless of their age, gender, and disability. Anyone using their specialized bodywork and massage services will be able to keep their body in tip-top shape.
255 King St Suite C, San Francisco - Thy spa is a serene, beautiful place that offers luxury treatments at an affordable price. The staff is attentive, and the facilities are top-notch. It is the perfect place to relax, rejuvenate, and escape the everyday hustle and bustle. They offer services such as facials, massages, and body wraps. Their services are sure to leave you feeling refreshed and invigorated. They are open late, which is perfect for those who need to unwind after a long day. Thy spa is a perfect choice.
1769 Folsom St, San Francisco - Since 2016, TubTim Siam Thai Massage has been providing San Francisco with the best Thai massage experience. This type of massage is commonly referred to as "nuat phaen" in the Thai language. Their goal is to provide their clients with an experience that is both relaxing and effective. They use an ancient healing system that involves assisted yoga and acupressure. This type of massage can help ease the stress levels in your body and improve your overall health. It can also help you maintain a balanced mind and body. The result of their services is to make their clients feel rejuvenated and relaxed. The services offered by TubTim Siam Thai Massage include traditional Thai massages, oil massages, foot reflexology, and deep tissue massages. The traditional massage uses no lotions or oils. With their oil massages, they provide a choice of a Swedish massage or a Thai Aroma Massage. Reflexology is a way to gently manipulate your feet by putting pressure on certain areas of your foot to create an effect on other areas of your body.
2305 Van Ness Ave, San Francisco - Atlas Massage Center is a California-based massage therapy service provider. The business was founded in 2009 and provided a wide range of services like Swedish and Deep Tissue massage, Acupressure, and Reflexology. They also offer treatments such as sports, prenatal, couples, trigger point release, and more to help the client get relief from their pain or discomfort. Services include: Swedish massage – promotes relaxation through long sweeping strokes that cover the entire body. It focuses on the whole body while relaxing knots on muscles and softening muscles. Deep tissue massage – is best for pinpointing and releasing tightness and muscle knots. It helps to free adhesions that restrict movement and blood circulation. Prenatal massage – relaxes the mother-to-be's mind and body and helps prepare her for labor and delivery. Sports massage relieves pain, maintains flexibility, improves endurance, improves performance, repairs sports injuries, and reduces tension. Acupressure and Reflexology – it is especially effective in pain management and restoration. Through its wide range of services, Atlas Massage Center differs from other massage therapy services in various ways, including its trained therapists and professionals. They also give the option to choose a therapist based on the client's comfort level or needs.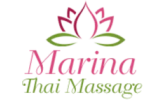 Marina Thai Massage
#9 of 14 Top San Francisco Thai Massage Parlors
★★★★★
3288 Steiner St, San Francisco - Marina Thai Massage is a California-based massage clinic that provides customers with some of the best traditional Thai massages. They can provide exactly what you want if you're looking for a no-frills and no-nonsense massage experience. They offer authentic Thai massages, which are customized according to individual needs. Their therapists also provide spinal adjustment, cupping, and reflexology techniques to help relieve muscle tension or pain. All their services are tailored for your individual needs and can help you feel relaxed, comfortable, and refreshed. Whether you want to relieve chronic aches and pains, improve your flexibility and range of motion, or need to relax after a hard day's work, Marina Thai Massage has the expertise required to get the job done. They are committed to offering the best working conditions and pay scales possible. Knowing that the time you spend in their hands will be special, they strive to create a welcoming, relaxing atmosphere designed for your comfort.
4328 Geary Blvd. & 1711 Haight St - Iyara Traditional Thai Massage is a California-based company. Iyara is comprised of therapists and therapists who are Thai natives. The massage technique they practice is focused on traditional Thai Therapy, which is geared toward relieving pain and restoring wellness. Iyara has been in business since 2000, when they started their business with just two practitioners at their office in Burlingame, California. Today Iyara has expanded to 17 offices throughout Northern California, with over 60 practitioners employed there. Iyara Traditional Thai Massage offers many massage services as follows: Thai Massage, Chinese Massage, Ayurvedic Massage. Each of these massage modalities is different. For instance, the Thai style focuses on pressure points while the Chinese massage is focused on stretching and relaxation. Ayurveda is a traditional healing system that is used in India and Thailand. Based on the ancient Hindu Ayurvedic practice, Ayurveda is believed to improve overall wellness through the use of a system of massage. The treatment rooms at Iyara are spacious and decorated with Thai flair. The walls are brightened with oversized prints and paintings, which provide a calming visual. The massage tables might differ due to the variety of approaches that Iyara has taken to their business.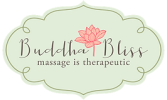 873 Sutter St Ste B, San Francisco - Buddha Bliss provides therapeutic massage services at their Lower Nob Hill location in San Francisco. They will concentrate on your body, voice, and thoughts using their years of experience and training to customize your massage using various methods. From high-ranking executives to pregnant women, triathletes to college students, they provide the treatment you need and don't avoid "difficult" situations. Buddha bliss therapeutic massage is dedicated to assisting you in getting rid of your troubles so that you may have an active, full life. They maintain a spotless home and adhere to a rigorous hygiene regimen to take every preventative measure against the Corona Virus. Humidifiers with HEPA filters and LED lights may assist purify the air and destroy germs and viruses. Each therapy room is equipped with operable windows for ventilation. The rooms are cleansed and disinfected after each session.
180 Howard St G4, San Francisco - Rincon Chiropractic Acupuncture and Massage is a California-based family wellness clinic dedicated to creating positive health outcomes for all. They aim to maximize your ability to live, work, and play with increased energy and vitality. They offer chiropractic care, acupuncture services, deep tissue massage therapies, and various healing modalities, such as cupping treatments that can help alleviate pain, spasms, or headaches. At Rincon Chiropractic, they serve patients from birth through old age to be able to restore function in every body system. Rincon Chiropractic Acupuncture & Massage is also committed to educating its patients about the benefits of wellness, prevention, and nutrition. They are dedicated to providing a friendly and comfortable environment where their patients can feel supported, respected, and cared for.
1453 Valencia St, San Francisco - La Nee Thai Massage is a health and wellness center offering clients several types of massage therapy services. They believe massage will help you live a happier life. Their business is located in San Francisco, California. While they accept walk-ins for massage sessions, it is best to set up an appointment so they can be fully prepared to take care of you. While it can be very challenging to maintain a healthy and balanced lifestyle due to the demands of work and domestic life, La Nee Thai Massage feels that massage therapy can help you relieve some of the pain and stiffness that you have become used to. Some of the massage services they offer include traditional Thai massage, prenatal massage, herbal massage, aroma oil massage, and reflexology appointments. Their goal is to help you feel relaxed and refreshed after a massage session. They work hard to ensure you feel comfortable coming back for further sessions.
Suchada Thai Massage
#14 of 14 Leading Thai Massage Spas in San Francisco
★★★★★
690 King St. & 38 Bryant St & 3699 17th St, San Francisco - Suchada Thai Massage is a company in San Francisco that offers massage and other services. It has three locations located in Embarcadero, the Design District and Dolores Park. Its locations have an ambiance in which traditional Thai and modern design are mixed along with artwork and music. This ambiance makes you feel like you're basking in the beauty and peacefulness of a Thai temple. The therapists at Suchada Thai Massage received their massage training in the United States. They have also received training in Thailand. This company offers Thai massages at its Embarcadero and Dolores Park locations. They also offer other types of massages, such as Thai Foot Reflexology, Swedish and Deep Tissue/Trigger massages. Its Design District location is an herbal spa where customers can enjoy a spa with natural plant-based ingredients. Additionally, it has a dry sauna.
WHY THIS LIST IS FREE TO READ
The above list includes SF Thai Massage Spas that SFist believes actively provides superior services. In some cases, they are among the most successful teams in the region. In some cases, variable, sponsorship listing fees or commissions effect the ranking position of the teams, but they are still known to have a history of providing great products or services. To learn more about SFist's classifieds listings read more here.
---
SFist / Best of San Francisco / 14 Best SF Thai Massage Spas
To place the above badge on your website, click the code below to copy to clipboard:
To place the above badge on your website, click the code below to copy to clipboard: