The key witness for the prosecution in the crazy-sensational murder trial of wealthy Hillsborough heiress Tiffany Li and her boyfriend Kaveh Bayat — the man who prosecutors say disposed of the body of 27-year-old Keith Green after Li and Bayat killed him in April 2016 — is now in police custody in San Mateo County after allegedly using Instagram to contact a witness for the defense.
We learned yesterday that the trial, already delayed a year for health reasons (Li was allegedly diagnosed with breast cancer in September 2018), was being delayed until next week for mysterious reasons, and this arrest is apparently the reason, per the Associated Press.
Defense attorneys for Li now say that Olivier Adella — the six-foot-five-inch MMA fighter and former "bodyguard" to Bayat, pictured at center below, who's been cooperating with prosecutors since 2016 — is an unreliable witness after he communicated with an ex-girlfriend on Instagram. That ex-girlfriend is a witness for the defense who has been reluctant to testify, attorneys say, because she's afraid of Adella. She was to testify about his being abusive when they were romantically involved.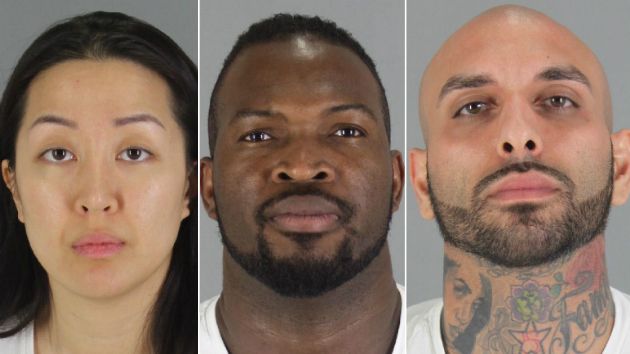 As the Mercury-News reports, defense attorneys suggest that Adella is in fact responsible for the murder of Green, and that Li and Bayat had nothing to do with it. Prosecutors have long held that Li had motive — she was last seen arguing with Green at a Pancake House about custody of the two children they have together. The pair had recently broken up, and Green had been kicked out of the mansion in Hillsborough where Li — the heiress to a Chinese construction fortune — has been living since being released on $66 million bail two years ago.
Green was last seen by roommates on the evening of April 28, 2016, when he left his apartment to meet Li at the Pancake House in Millbrae, strangely leaving his wallet and keys behind. According to Adella, Li and Bayat showed up at his apartment door that night after Green had already been fatally shot in the neck. Green's body, he said was in the passenger seat of a car, and Bayat allegedly instructed Adella to "take out the trash." Green's body was found two weeks later off a dirt road in Healdsburg.
Li, 33, and Bayat, 32, appeared in court Thursday, as the Mercury News reports, as did Li's wealthy mother, who "followed the proceedings with the help of a Mandarin interpreter." With the jury out of the room, the defense presented evidence of Adella's misconduct, and he ended the day in handcuffs and in custody.
Dek Ketchum, Adella's lawyer, told the court that the Instagram messages were the result of "bad judgment." Adella reportedly contacted the witness to tell her he knew she was cooperating with the defense, but Ketchum says he said nothing to intimidate or discourage her.
This insane case will no doubt garner major attention as the trial begins next week, and as the wealth of the Li family gets thrown behind trying to prove her innocence.
San Mateo County District Attorney Steven Wagstaffe says that prosecutors have not yet decided whether Adella — their star witness — will still testify. Adella made a deal with prosecutors in which he pleaded guilty to a lesser charge, accessory to a murder.
Previously: Hillsborough Murder Suspect Tiffany Li Expected In Court Next Week