by Katie Sweeney
For many people, Memorial Day weekend means one thing: BottleRock Napa Valley. Over 120,000 people flooded downtown Napa for the seventh edition of the annual music and food festival, presented by JaM Cellars. The three-day festival featured headliners Santana, Mumford & Sons, Neil Young, Pharrell Williams, and Imagine Dragons. And although Sunday started with rainy weather, by the afternoon, the skies had cleared up, and the bacchanal music extravaganza came to a glorious end.
Here are my nine key takeaways from BottleRock 2019.
Friday is the best day. If you're going to attend only one of the three days, go on Friday. There was a sense of excitement in the air that wasn't present in the following two days. The anticipation leading up to the music festival was apparent, and everyone was in a good mood. Plus, the staff was friendlier, the bathrooms were cleaner, and the muddy fairgrounds less trodden than on Saturday and Sunday.
If you're going to splurge, get Platinum not VIP. Music festivals are not cheap, and this year, there were four different ticket options for three-day passes: general admission ($359), VIP ($799), Skydeck ($1599), and Platinum ($4250). The difference between GA and VIP is minimal. VIP offered more seating options, covered viewing lounges, and bathrooms with mirrors and hand lotion. VIP also had a smaller acoustic stage where artists like Gary Clark Jr. performed. Although it's significantly more expensive than VIP, if you want to experience the best of the festival, platinum is the way to go. Platinum ticket holders had the chance to meet artists, unlimited access to food and drink (on Saturday afternoon there was a caviar and Krug pairing), and unparalleled views of the stage — and everything is all-inclusive. The platinum lounge, the only indoor event space at the festival, was catered by Estate Events by Meadowood. What's better than platinum? An invitation to a suite, with stunning views of the stage and crowd, private bar, and endless food and drink options, but by Sunday I was still trying to figure out how to get into one.
Photo-booth activations were everywhere, but free drinks are hard to come by. Almost every brand had a personalized photo booth. Truly, the hard seltzer brand from Sam Adams/Boston Beer Co., was surprisingly popular and had a fun booth with a live 3-D photo station. JaM Cellars' photo activation was glitter-themed with a life-size fake unicorn that revelers could sit on and scantily clad girls were glitter-bombing passersby. Sterling Vineyards featured a swing and a fake backdrop. If you wanted to post a branded photo on your Instagram account, there were endless options. However, if you were desperate for a free drink, you'd be hard-pressed to find one. The bar staff was given strict inventory orders, and glasses were marked, so nothing more than seven ounces was served.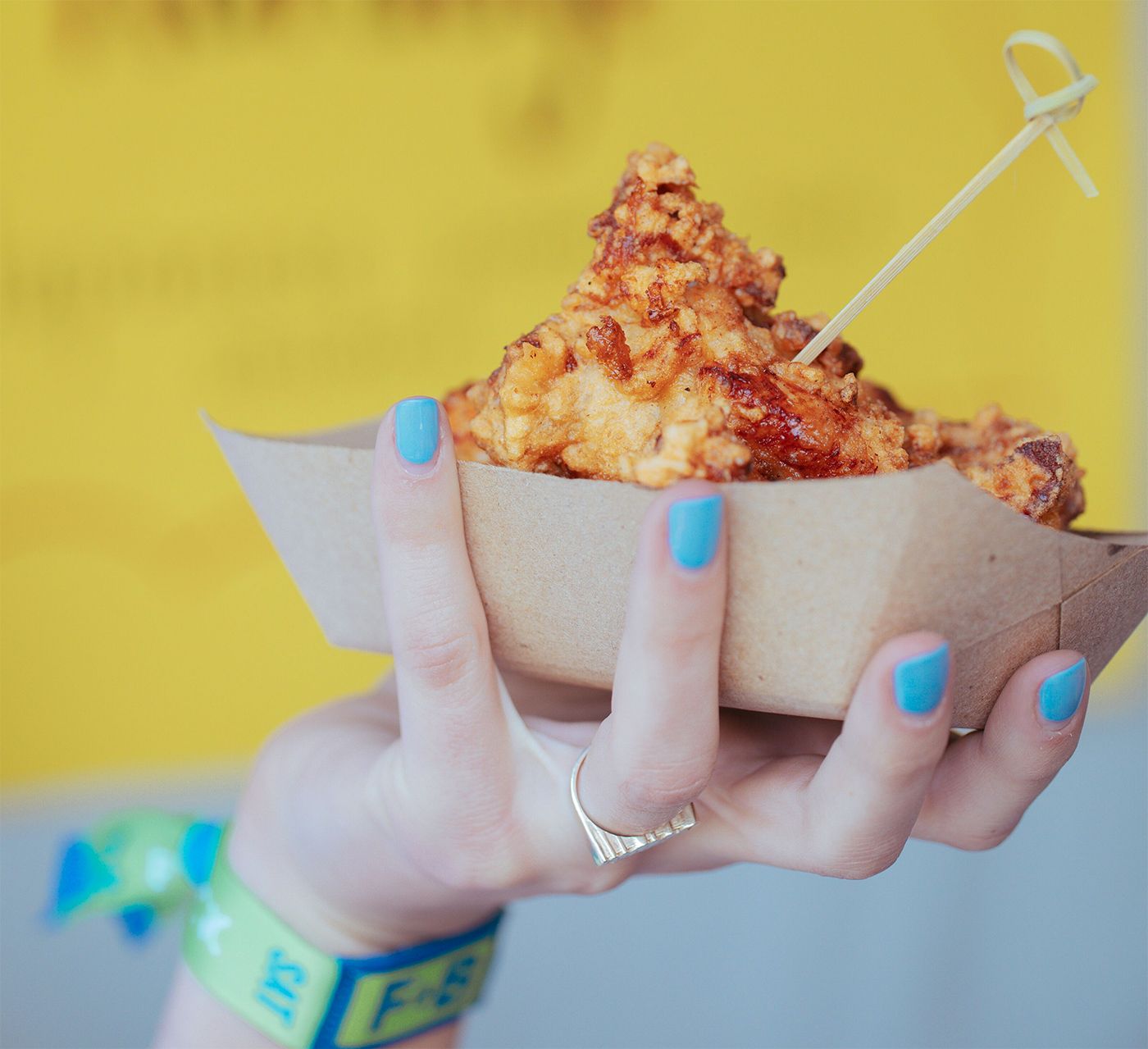 Thomas Keller nails festival food. If BottleRock were to produce a perfume, it would be the mouthwatering scent of Ad Hoc's buttermilk fried chicken. Carry around a 12-piece bucket of Keller's fried chicken, and you'll become fast friends with anyone and everyone at the festival — yes, I'm speaking from experience. Some chefs will try to recreate an iconic dish, like Keller's fried chicken, on a large scale and the results can be disappointing. Not so with all of the chef's festival offerings. The chicken came piping hot with moist, succulent meat and delicious crunchy skin. At his La Calenda booth, Keller served the best elote (Mexican street corn with mayonnaise and cotija cheese) I've had in a long time, and he gets bonus points for a vegetarian-friendly taco (wild mushrooms with garlic, poblano peppers, and queso fresco) that was to die for.
We live in scary times. The festival's low point occurred mid-afternoon on Saturday. During Madison Beer's 5 p.m. performance at the Bai Stage, there was a gun scare. In the middle of her set, while she was covering Radiohead's Creep, she stopped singing, confusedly asked, "What is happening?" and was promptly whisked from the stage. She heard someone shout the word gun. Reacting on instincts, many members of the crowd ran for their lives in a mini-stampede. People were visibly shaken, and it was a sad reminder that attending a music festival in 2019 means you risk being present for a mass shooting.
Antoni Porowski can do no wrong. Queer Eye's culinary expert was the highlight of the culinary stage by Williams-Sonoma's programming. Joined by Imagine Dragons' Ben and Daniel, the charismatic chef joked and taught the crowd how to make green chutney. When host Liam Mayclem encouraged Porowski to remove his shirt, Antoni politely declined but told fans that plenty of shirtlessness could be found on his Instagram page.  
Female musicians were underrepresented. There were no female headliners, and the entire lineup felt lacking when it came to lady singers. Jenny Lewis, Shannon Shaw, and Elle King were among a small handful of solo female artists who performed early in the lineup. While Flogging Molly and Shannon and the Clams performed in the later evening sets, these groups are dominated by men and have a single female member. It was sad for a festival in Northern California, an area that champions inclusion and liberalism, to have no female headliner. Trisha Yearwood appeared at the culinary stage where she demonstrated how to make pimento cheese, but it would have been more fun to see her sing.
One Republic's frontman is a superb songwriter. Lead singer Ryan Tedder's day job is that of songwriter, a fact that he announced to a packed crowd at the main stage on Friday. He was given three hours to write a song for Beyonce and performed the resulting hit, Halo, along with other tunes he's penned, Adele's Rumor Has It and The Jonas Brothers' latest release, Sucker, before singing One Republic's most famous song, Apologize. It made for a fantastic and different set that had the crowd going wild.
Pharrell is king. BottleRock's best performance was Pharrell Williams moving set on Saturday night. While Tedder had to explain to people that he wrote and produced hits, Pharrell simply had to play a sampling of virtually every major song from the past 15 years — Blurred Lines, Hot in Herre, Rock Your Body, Get Lucky, Hollaback Girl, Beautiful, Milkshake — to remind the crowd of his musical prowess. While Happy would have been the obvious choice to close his set, which featured backup dancers and fantastic choreography, his closing performance of Freedom was surprising and moving. With the words "Freedom is the right to choose" displayed on all the jumbotron screens, Pharrell took a strong stance against some state's anti-abortion sentiments. It was a wildly pro-female performance that concluded with an encouraging cry to fight back. "You have that power," Pharrell said addressing the women. "Thank you for not getting discouraged. Thank you for existing. Thank you for standing together and thank you for continuing to give us mankind ladies, we love you."
Below, a few more photos.