Though people may line up for Bi-Rite Creamery even in the frigid depths of a foggy July night — I'll never understand it! — SF's Indian Summer, and maybe a few days in May, are the only appropriate times to be eating ice cream if you ask me. But you didn't ask! I know there are ice cream fiends impervious to the temperature who want their double scoops no matter what time of year it is, and for them, allow us at SFist to recommend the following scoop shops that you may or may not have on your radar, as our city's best. — Jay Barmann
Bi-Rite Creamery
Sure, the Dolores Park-adjacent location is all too often besieged by a line of hungry fans, at pretty much all hours that they're open. But hardcore fans will tell you that is because Bi-Rite Creamery scoops some of the best ice cream in town, with favorite signature flavors like Salted Caramel — the shop's most popular flavor — Olive Oil, and Balsamic Strawberry. Bi-Rite sticks to small batches and uses only organic eggs, milk, and cream from Straus Family Creamery, keeping it all local. And if the line really is your biggest deterrent, then your best bet is to head to their Divisadero location, where inside the market, there's only occasionally a line during prime sunny hours. —Jay Barmann
3692 18th Street and 550 Divisadero Street
Who's up for a Mini adventure tonight?

📸 By: @wespeso #MiniIceCreamSandwich #CREAMnation pic.twitter.com/gx9iP68sCD

— CREAM (@CREAMNATION) September 17, 2017
CREAM
This branch of the Berkeley mainstay opened in the Mission in 2014 and it maintains a solid presence on this busy block of 16th, having earned its place amongst some of the Mission's best. It's absolutely worth a stop if you find yourself in the Mission in the midst of another ridiculous heatwave. They cashed in on the "hey, let's mix one pastry with another pastry" trend with their "Do'sant" ice cream sandwich, which is a combination of a donut and a croissant. Surprisingly (at least to me), it's pretty good, especially wrapped around some Cin-ful Churro or Caramel Cinnamon Chill ice cream. Also check out their soy ice cream options: Soy Mint Chocolate Chip and Soy Blueberry. The latter pairs well with their Snickerdoodle cookie, too. — Jessica Lachenal
3106 16th Street at Valencia

Garden Creamery
Few San Francisco storefronts personify cuteness quite like the colorblock corner of 20th Street and Lexington that houses Garden Creamery, a former food truck that graduated to brick-and-mortar status in February of this year. Pasteurizing all of their ice cream in-house (they now have a house!), Garden Creamery has an exceptionally inventive menu of treats that also ventures into semifreddo popsicles, vegan sorbets, and Rice Krispy-treat sandwiches. With an emphasis on wildly-colored Asian fusion flavors and desserts, Garden Creamery also unveiled their churro-style Chimney Cones with much fanfare — though be warned, these are only available on Saturdays from 2-4 p.m., and a line will form for the special weekly occasion.
— Joe Kukura
3566 20th Street, between San Carlos Street and Lexington Street
On occasional featured flavor, Guinness Gingerbread. Photo courtesy of Humphry Slocombe.
Humphry Slocombe
Much like Three Twins, Humphry Slocombe is beloved in San Francisco almost as much for their clever marketing and flavor-naming as for their ice cream. Co-owner and head ice cream-maker Jake Godby has made a habit of keeping up a hilarious Twitter presence for his ice cream shop from the start, and the flavor array has included brilliant stabs at Michael Jackson (Jesus Juice, which is Coke and red wine, don't you know), Elvis (the Elvis [the fat years] sundae is made with banana ice cream and bacon peanut brittle), and just flat-out funny names like Secret Breakfast (bourbon and cornflakes) and After School Special (vanilla ice cream with chocolate-covered potato chips and caramel, a flavor that Jimmy Fallon might have ripped off when he got his own Ben & Jerry's flavor). But, as their ongoing success — cookbook and second location and all — suggests, the ice cream itself is damn good, right down to their simplest signature flavors, like Blue Bottle Vietnamese Coffee. —Jay Barmann
2790A Harrison Street at 24th, and 1 Ferry Building
The Bitter Little Tart. A slushy cocktail of pink grapefruit sorbet and 3 Italian vermouths. Can u say bittersweet?🤓 pic.twitter.com/kbFZWu17ti

— the ice cream bar (@icecreambarsf) February 9, 2017
Ice Cream Bar/Castro Fountain
Both are 1930's-style soda fountains from Juliet Pries, serving the phosphates, lactarts, malts most of us only know from old movies and period-set TV shows. Only the Ice Cream Bar offers adult-only alcohol-infused "remedies," (though Pries hopes to score a Castro liquor license eventually). While their most popular creations are at both places, they each have their own menus. My favorite Ice Cream Bar item is the Keller's Farm (cornmeal shortbread, crème fraîche and Morello cherry ice creams, cherry sauce and rosemary syrup), while visitors to the Castro Fountain rave about the Harvey Milk(Shake) (roasted pineapple syrup, passion fruit syrup, eggs, cream and tart cherry syrup.) —Eve Batey
Ice Cream Bar: 815 Cole Street
Castro Fountain: 554 Castro Street
Yelp user Vivian L. gets ready to dig into a cone of Joe's Wasabi ice cream.
Joe's Ice Cream
Richmond District residents worried that it was game over for Joe's when they were bounced from the plum Geary Boulevard corner spot they'd occupied since since 1959. But there was a happy ending for the award-winning homemade ice cream makers when they moved to a new location half-a-block away and actually got more popular. Fave flavors from their list include Irish Coffee (try it in a Coke float), Ginger, Root Beer Swirl, and, for the adventurous, Wasabi. —Eve Batey
5420 Geary Boulevard
Little Giant's Ugly Sweater flavor. Photo courtesy of Little Giant
Little Giant
They have just a tiny scoop shop on Claude Lane in the Financial District, but Oakland-based Little Giant packs a lot of flavors (12 at all times) into that wee space, with signatures like Fernet and Coke, Drunken Fig (white rum and Mission figs), Cardamom Raspberry, and Ugly Sweater (Jameson whiskey, pineapple, cranberry, M&Ms). Even in a land of kooky ice cream flavors, Little Giant goes hard on the whimsy, and most importantly, the ice cream itself is delicious. — Jay Barmann
214 Sutter Street at Claude Lane; main location at 1951 Telegraph Avenue, Oakland
Marco Polo's durian and sesame ice cream. Photo: Sandra S/Yelp
Marco Polo Italian Ice Cream
Some folks say that ice cream was introduced to the Western world by explorer Marco Polo, who first tasted it when he visited Asia. While that's likely a myth, historians do confirm that those alive during the Tang Dynasty (618 - 907 AD) are some of the first folks on the books to eat ice cream, then "cow, goat or buffalo milk that was heated with flour." While you won't find any buffalo milk ice cream at Marco Polo, you will find flavors that hearken back to the concoction's Asian roots, like mangosteen, guava, durian, soursop, lychee, black sesame, and more. The staff is generous with the tastes, making it a great place for folks timid about venturing beyond the standard chocolate and vanilla (though they do have those flavors, too). And with 1277 Yelp reviews (1171 4-5 stars) it's clear that Marco Polo is one of the city's most beloved ice cream institutions. — Eve Batey
1447 Taraval Street, between 24th and 25th Avenues
(Photo courtesy of Mitchell's)
Mitchell's
Mitchell's, along with Swenson's, is San Francisco's most old-school of ice cream shops, dating back over 60 years in the outer Mission. But despite its age, the place has always been ahead of the curve with innovative flavors like horchata, avocado, Mexican chocolate, lychee, Peruvian lucuma, and two flavors made from types of Filipino coconut (buko and macapuno). Just because it's bright purple, don't shy away from the delicious ube (made with purple yams imported from the Philippines), and you'll never go wrong with their rich and delicious chocolate ice cream either. —Jay Barmann
688 San Jose Avenue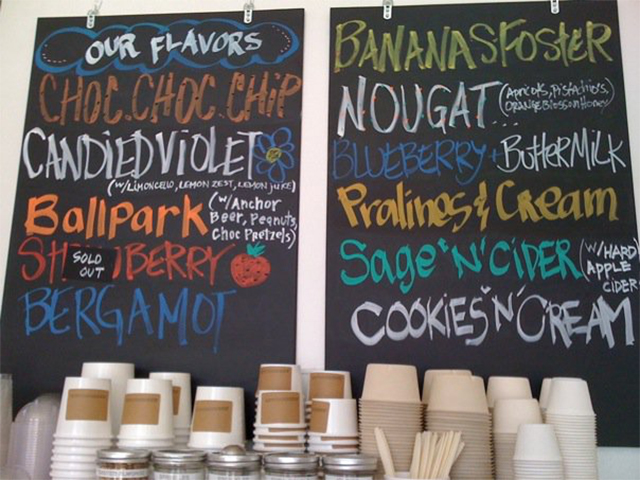 Photo: Facebook
Mr. & Mrs. Miscellaneous
This shop's been a Dogpatch staple since its opening in 2010, and it maintains a lot of what made it wonderful then, which includes a great menu of flavors that changes almost daily. Like that oft-referred-to box of chocolates, you don't really know what you're going to get until you open up that door and walk in. But you won't regret doing so, because damned if everything they do isn't great. Check out their Sloe Gin flavor, made with "sloe" (blackberries) gin and lemon zest. I love their Lemon Sherbet, too. If you (like me) enjoy eating cold things on cold days, then don't hesitate to stop by when the holidays roll around, as they roll out their super popular Eggnog holiday flavor around then. — Jessica Lachenal
699 22nd Street between 3rd St & Illinois St
Yelp user Sharon Y. went for Polly Ann's Side By Side sundae with Jasmine Tea ice cream, chocolate yogurt, marshmallow sauce, chocolate shell, and Oreo bits.
Polly Ann Ice Cream
"Did you spin the wheel?" is the first thing the Polly Ann faithful will ask when you tell them you went to the perennially-packed ice cream joint. Yes, for the daring (or perhaps just the indecisive) there's a wheel you can have a Polly Ann staffer spin to make your choice for you. Polly Ann has a collection of around 500 flavors, about 50 of which are available at any given time. They range from the classics (chocolate, vanilla, etc), to intriguing mixes like "Bumpy Freeway," to Asian flavors like Black Sesame and the notorious Durian. An Outer Sunset standby since it first opened in 1950, Polly Ann's patrons are a mix of area residents, students from nearby Saint Ignatius High School, and visitors braving the fog for a scoop of "Star Wars." Now spin that wheel! —Eve Batey
3138 Noriega Street
Photo: Instagram
Salt & Straw
This Portland-born ice creamery has already made a splash in Los Angeles, and just opened their first SF shop in Pacific Heights earlier this year, with a second on the way in Hayes Valley. Their homemade aesthetic is definitely infused in their ultra-creamy, old fashioned-style ice cream, with flavors that are anything but. As TV food guy Andrew Zimmern has said, "They have some brilliant, brilliant ice cream... [and] every flavor reeks of Portland." Here in SF, they're making nods to the local scene, having recently made a limited edition flavor using Sightglass Coffee, and an SF-only flavor made with Mexican cinnamon, ancho chili, and cajeta — a caramel made with goat milk. And their signatures like Sea Salt With Caramel Ribbons, and Almond Brittle with Salted Ganache, are hard not to love. — Jay Barmann
2201 Fillmore Street at Sacramento; opening soon at 580 Hayes at Laguna
The Derby Pie shake at Shakedown. Photo: Caleb Pershan/SFist
ShakeDown
Two-year-old ShakeDown, a scoop shop in the TenderNob that's cropped up in the increasingly foodie vicinity of Huxley and Liholiho Yacht Club, offers some standard ice cream flavors and scoops, but also some kookier creations like PennsylTucky (bourbon ice cream with swirls of walnut chocolate chip cookie pie) and Jacker Crack (popcorn infused ice cream with swirls of dulce de leche and crushed peanut brittle), and shakes made with these flavors, like the Derby Pie shake that SFist raved about not long after they opened. As the Tenderloin/TenderNob come up in the world and gentrify, the 'hood obviously needed a homegrown ice cream shop to call its own, and ShakeDown is a fine addition. — Jay Barmann
835 Geary Street at Larkin
Photo: Facebook
Smitten
With a couple of new locations under their belt, Smitten's risen in popularity, mostly because they offer a pretty neat novelty with their particular ice cream: It's made to order, with staff mixing up your flavors in their custom-made liquid-nitrogen churning machine. This supposedly results in a "smoother" texture to your dessert, and I honestly find that kind of hard to argue with — it's pretty damn smooth. Give their seasonal flavor, Sweet Corn with Berries a whirl (in a handmade waffle cone, duh). Also their Earl Grey is definitely a surprising treat on a warm day. Seriously. If nothing else, just go and gawk at the clouds of mist that their liquid nitrogen tanks kick up. It's like watching Bill Nye make ice cream. — Jessica Lachenal
432 Octavia Street between Linden and Fell
904 Valencia Street at 20th
2404 California Street at Fillmore
2268 Chestnut Street
Photo: Foodspotting
Swensen's
The artisanal, hours-long-wait bent of the contemporary San Francisco ice cream scene might make you long for the home and hearth parlor feel of a Friendly's where you can dig right into a gooey sundae covered with whipped cream. Swensen's Ice Cream delivers on that unpretentious, old-school front. Yes, Swensen's is a chain, but our Russian Hill parlor is the original Swensen's that started it all. Sure, old school has its drawbacks — Swensen's is still cash-only, and the parking situation is notably bleak. But their lame, totally behind-the-times ethic carries a powerful charm, and the vintage neon sign and tile board menu take you right back to the store's opening in 1948. — Joe Kukura
1999 Hyde Street, between Union Street and Warner Place
Photo taken at the "new" Three Twins 2/28/13 by Justine W/Yelp
Three Twins
Pints of Three Twins ice cream have become your "Think globally, shop locally" alternative now that Ben & Jerry's has been gobbled up by evil corporate conglomerate Unilever. Three Twins is still a local phenomenon, born in San Rafael but with a (tiny) Haight Street location, and a presence in SFO, Berkeley, and beyond. They haven't rocked the boat lately with any controversial flavors like Sergio Romo's 'Illegal' Mexican Chocolate or their saucy LGBT flavors for Pride 2014, but as the America's first organic cream shop chain, Three Twins still should be counted in the cream of the crop.
—Joe Kukura
254 Fillmore Street at Haight, and available at Safeway, Whole Foods, etc
Image: Maleah M. via Yelp