Roller derby rolls back into action this weekend, as Bay Area Derby gets ready to kick out the jams for its 2017 season. Formerly known as the B.ay A.rea D.erby Girls, the Bay Area's all-female roller derby league has their season opener Saturday night at a new, more public transit-friendly outdoor location at West Oakland's 16th Street Train Station. As the cult-hit roller derby league pivots into its 14th season, SFist butted heads with some of the badass females who will roll hard, crack skulls, and compete for the title in the 2017 B.A.D. season.
"Roller derby is a sport that is completely homegrown, and managed, run, and competed in by women," said Pomba, co-Executive Director of Bay Area Derby. "It's 100% real. It's not your grandma's roller derby where it's like fake wrestling and fake punching."
"They're hard-hitting, very physical, very athletic games to watch," she said. "And I think that's what people want to see."
All-women roller derby bouts in the Bay Area date back to at least 1939, according to Peter Hartlaub's fascinating 2011 retrospective in the Chronicle. Old people like me will remember a 1970s late-night TV series called RollerGames that was essentially fake, and involved a lot semi-sexual catfighting and hair-pulling among female competitors. Legit roller derby had a brief run on ESPN in the mid-1980s, and a more mainstream roller derby squad called the Bay Area Bombers has held occasional men's and women's bouts in recent years. But Bay Area Derby is a more modern, punk rock incarnation of the sport that was established in 2004 as part of the Women's Flat Track Derby Association that has now spread nationwide and has leagues in nearly two dozen countries around the world.
Above we see a nice musical montage scene depicting the 2016 championship match between the Oakland Outlaws and the Richmond Wrecking Belles. There are two other teams in the Bay Area League (the zombie-outfitted San Francisco ShEvil Dead and the Berkeley Resistance). Skaters compete under pseudonyms like "Chili Con Carnage" and "Snakes Anna Plane", the teams often practice together, and the all-stars eventually represent the Bay Area in regional and national competitions. "We're all contributing to one league, and under that league umbrella the four teams are competing against one another," said the Berkeley Resistance's Rosemary Gardner, who competes under the name "Rosie Cheeks".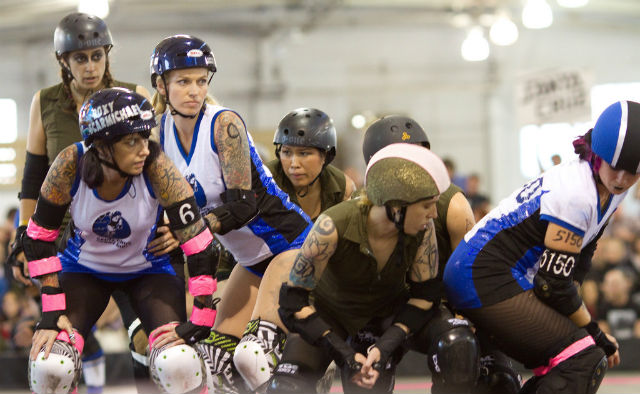 Image: Michael Dunn via Flickr
The sport can be a little confusing if you haven't seen it before. Each team has a "jammer" and four blockers, so there are ten women skating on the track at any given time. You can notice the jammers because they have a star on their helmet, and they're the only ones who can score points by passing their opposing jammer. The goal of the blockers to stop the opposing jammer from scoring points, while creating offensive opportunities for their own jammers. As many as five points can be scored in a jam. But enough of my mansplaining these ladies' sport.
"It's not the traditional kind of sport where there's an end zone or there's a basket," Rosie told SFist. "If you think about it as 'where's the ball?', the jammers are the ones who are able to score, and the opposing blockers are those points that they're trying to gain."
For the derby girls, this is not simply a weekend entertainment stunt. "We don't just show up on game day. Like any other competitive sport, we spend the majority of our time in practice," Rosie said, noting that most skaters practice three to four times per week while also doing a complementary regimen of weightlifting, running, or crossfit. "Cross-training is really important."
Image: Masonite Burn via Flickr
This quirky mashup of genuine athletic competition and a satirical reboot of the old-style fake roller derby has made the contemporary version a hit for more than a decade. "Roller derby is definitely here to stay, and the momentum is still building for this sport," Rosie said. "It's exploded over the past decade. The growth is immense, and it doesn't seem to be slowing."
This year Bay Area Derby will begin men's roller derby sessions, and ladies can still try out for the league later this spring. "We really want to encourage people, even if you don't have any skating background or even any previous sport experience," Pomba said, noting that skate packages and gear are available for newbies to borrow. "Roller derby is for people of all identities, all backgrounds. We highly encourage anyone to reach out to us if they're interested in joining."
The 2017 Bay Area Derby season begins Saturday, March 18 at 5 p.m. when the Oakland Outlaws take on the San Francisco ShEvil Dead at the 16th Street Train Station. Tickets are available online.
Related: 'Totally Free' Gives You A Peek Into The Lives Of SF's Roller Skate Community
Image: Masonite Burn via Flickr