Well here's an unsettling tale about a would-be Christian who made himself unwelcome at a number of Bay Area churches by skulking around and being way too friendly with underage girls. As CBS 5 reports, Santa Clara Sheriff's deputies arrested 35-year-old Rajeev Sanhi early Thursday morning on suspicion of stalking in connection to incidents involving at least four but as many as 19 girls in towns around the South Bay, as well as the Los Angeles area. Churches, authorities say, were one of his main stalking grounds, and he had been connected with suspicious behavior in Saratoga, Los Altos, San Jose, and Los Gatos.
One 14-year-old girl said she was repeatedly approached by a man, identified as Sanhi, who kept offering her gifts like show tickets, or cash, and followed her home. A neighbor who wished to remain anonymous tells ABC 7 that she called the cops on Sanhi after she saw him harassing a group of teen girls and shouting obscenities at them.
All of this would be creepy enough even without the "shrine" authorities say he had to over a dozen girls on the wall of his house, as shown in the video above, and this totally professional looking, not at all insane website in which he seems to be promising to provide "advice" and "Jesus makeovers," and posts a bunch of photos of attractive young male celebrities like Steph Curry and Justin Bieber who say they are Christian.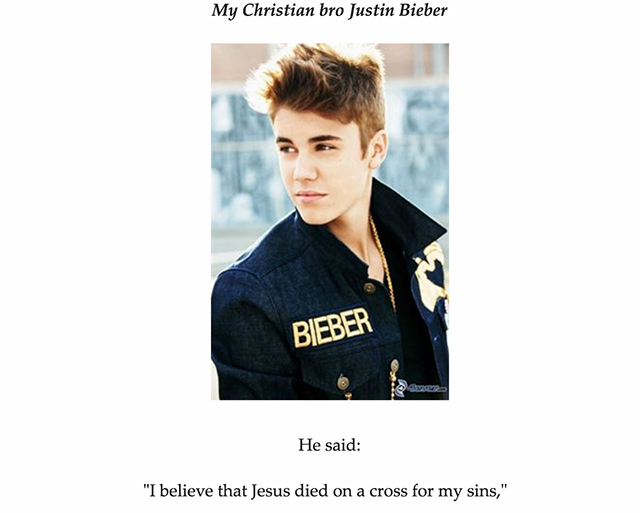 There's also a section of the site called "Raj Loves..." that has a byline of "Kimberly" which suggests maybe he paid a young woman to type this section? It's mostly a long list of his many likes which include "Makeovers," "giving," "cars," "Jesus," and in language that would seem to be pandering to young teens, "I love the color lime green and pink is just so awesome."
Also: "I love Safeway, my favorite, so original, Whole Foods is super amazing, they have the biggest organic section.Trader Joe [sic] has great prices."
Sanhi has not been accused of anything besides stalking and this creepy behavior — making asinine websites is, unfortunately, not a crime. Still, Santa Clara County Sheriff Laurie Smith tells ABC 7 the shrine, etc., is "pretty serious stuff," and she sees his actions as "cultivating [potential victims], trying to earn their trust."
He'll be appearing in Santa Clara County court on Thursday, at which point bail may be set.
Santa Clara County Sheriff's detectives are still seeking more info about Sanhi, or to hear from more of his potential victims — of which they believe there are more they have not identified. Anyone with more details is asked to call them at (408) 808-4500.

One of many bizarre items on Sanhi's website.