It's that time of year. You feel disgusting. Hopefully your New Year's weekend hangover has worn off by now — hopefully!! — and it's time to take stock, regroup, contemplate the direction your life has taken, and perhaps start off 2017 with the liberating and purposeful feeling that a detox can bring. Perhaps you're taking the month off of drinking — I've done and written about that before, and I feel your pain! — or maybe you're just kicking off an exercise and weight-loss plan to atone for everything you ate over the holidays. Or perhaps you're just looking to clean house a bit and start the new year off without any objects or pieces of clothing that don't bring you joy. Whatever you decide, we have some suggestions for you in the local sphere. — Jay Barmann

Stop Bar Hopping, Start **Juice Bar** Hopping
When pressed together in an alchemical process called "juicing," ordinary fruits and vegetables have the power to change your life, and even the lives of those around you if you share with them, in excruciating detail, how wonderfully your juice cleanse is going. There are lots of ways to approach this. First you, can stock up: Head to Pressed Juicery, an LA-founded chain with local outposts in Noe Valley, the Westfield Mall, on Union Street, and elsewhere. They even saw you coming this month with discount packages for the new year, such as their popular three-day cleanse. If you're just looking to try some juice and see what the fuss is about, your best bet is Sidewalk Juice. It's unpretentious and chill and tastes good and has friendly staff at their two Mission District locations (on 21st Street between Valencia and Lexington Streets and 24th Street at Folsom Street). I'm partial, because I'm very basic, to Project Juice, which has locations all over town. Try their "shots" to recall the way the booze you've now sworn off once felt, or just enjoy a standard juice cleanse. Last, if you're like me and enjoys smoothies because they're basically milkshakes, try their "Buff Beatnik," a drink whose name makes me feel pleasantly healthy and bohemian. That's well worth the $10 it costs.
Can Can Cleanse
I speak from experience when I tell you that juice cleanses are cleansing, and also monotonous, and for many of us are not worth the price of a Vitamix blender. For (slightly) less than the price of one of those high-end blenders, or the price of buying a bunch of individual juices at fancy juice bars, you could instead take the lazier route and have your whole cleanse delivered to your door by Can Can, a local company launched several years ago by Teresa Piro — the gimmick being that each serving comes in a reusable canning jar. Though there is a green-juice option available, the nice part about the Can Can cleanses is that the variety — each day comes with a schedule of juices, tea, nut milks, and savory soups, so that within the monotony there's at least a little bit to look forward to. (Parsnip soup never tasted so amazing until you've been drinking mostly juice and tea for a few days.) The one-, two-, three-, and five-day cleanse options are basically $69 a day, or about $9 per juice, but you don't have to lift a finger beyond finding space for the jars in your fridge. And if you wan to be really hard-core (without juicing the fruit and vegetables yourself), there's a 10-day option as well, with multiple deliveries, and a slight cost savings per day. Enlightening revelations not included. — Jay Barmann
Digital Detox
Have you been feeling like a slave to your smartphone for the better part of a decade? Join the club! More and more people are recognizing that the devices in our pockets and purses that we once saw as miracles of technology are draining us of the ability to be present with others, or even to enjoy the world as it exists around us. Enter Digital Detox, the SF-based organization with the motto, "We help you slow down. We remind you to look up." They host full-scale retreats in the Bay Area in May, as well as their "summer camp for adults," Camp Grounded, and regular "unplugging" events like the one described in this Atlantic piece. But do you really need an event or retreat to make you put your down your phone for an hour, or a week? Maybe you should try deactivating your Facebook, deleting your games, and getting all your news from a paper source (or your work computer) for a little while and see how it feels. Go hear some live music without documenting it. Go to dinner and leave your phone at home. There was a time before cellphones, everyone, and it was a glorious time. You could wake up without knowing what was happening in the world immediately, and if you were late, people just waited for you. — Jay Barmann
Do Yoga Somewhere Special
Outdoor Yoga SF invites yogis to take their practice out of the studio and into nature's studio, which is, like, the world around you. Wherever they hold class, be it Golden Gate Park, Crissy Field, or Baker Beach, you'll leave better in touch with your body and your surroundings. It's $10 a class, with participants wearing headphones and being guided through movements with words and music. Of course, if this wet weather persists, you might be advised to stay indoors. In that case, there's always Yoga on the Labyrinth at Grace Cathedral: All bodies and faiths are welcome for gentle yoga on the at the center of the beautiful church, and live music and song typically accompany class. That's held Tuesdays at 6:15 p.m., and be forewarned that there's often a rush just before it begins.
Take An Urban Hike
Who needs to drive outside of the city when there are spectacular trails in our own backyard? One that seems particularly appropriate to launch a cleanse, because of the giant cross on top of it, is Mt. Davidson, the tallest point in San Francisco. The cross, by the way, has caused plenty of controversy in its time, and is now a memorial to the victims of the 1915 Armenian genocide. If, instead of taking in the city views, you wish to be completely surrounded by tress, Mount Sutro Forest is your place. Also known as UCSF's Mt. Sutro Open Space Reserve, it's a 61-acre oasis maintained by the university directly south of their Parnassus Heights Campus. Here's the trail map, and look out for the "mystery trail," which holds a fun surprise for hikers (no spoilers!)
(Photo: Troy/Third Uncle)
Go On A Bike Ride
When's the last time you went on a bike ride? Like, just hopped on two wheels and rode around this great city of ours? And no, we're not talking about commuting to work, but rather a leisurely ride on your own schedule to a destination of your own choosing. Getting outside and on a bicycle is a great way to clear one's thoughts and cleanse any and all holiday detritus — mental or physical — that has accumulated over the past few weeks. Don't own a bike? Rent one via Bike Share. Not sure where to go that isn't work or a bar? Check out our list of the 12 best bike rides in the Bay Area. (Don't like cycling? Go for a run). Now is the time to sweat out all that garbage as you purify your body and mind in preparation for what is sure to be a perfect (perfect!) year. — Jack Morse
Throw Some Stuff Away (or Sell It)
If you're an adult who's lived in the same place for more than a couple of years, chances are you've accumulated crap you no longer need, want, or use. You've probably seen ads for that service LetGo, which is just a quick and dirty version of eBay or an app-based Craigslist — both of which work just as well for selling stuff. And Craigslist has the "Free Stuff" section, which is also swell, because sometimes you have something you know no one will buy, but you also don't just want to clutter up the sidewalk and hope someone will grab it — which only works if you live on a well-trafficked street, and it isn't actually legal! Please take advantage of Recology's Bulky Item Recycling program if you just want to toss stuff — they'll gladly come take up to 10 items for free if you tell them what it is and when to come. Lightly used books are bough by places like Aardvark on Church Street, Green Apple Books on Clement, and Adobe on 24th Street. SCRAP is an awesome place to donate old art supplies, office supplies, yarn from when you thought about taking up knitting, etc., all of which will be creatively reused by local schools and art programs. And let's say you have a garage or basement full of discarded metal, wood, gardening supplies, or other crap from some previous tenant — it can all be donated to Building REsources, and they'll even come pick it up if there's a lot of it. And, of course, if you have really old clothes, you can just take them to Goodwill (while it lasts), or if they might be worth something, Crossroads or Buffalo Exchange might give you some cash for them. — Jay Barmann
Photo courtesy of SF Zen Center
San Francisco Zen Center
Maybe this is the year you take things a step beyond simple yoga, and learn about the practice of Zen meditation. The San Francisco Zen Center, at the edge of Hayes Valley, is a perfect place to start, with Thursday public meditation sessions that last 35 minutes, classes for beginners, Sunday meditation for beginners, and Saturday all-day meditation. Meditation is more about cleansing the mind than it is about thinking, and it's harder than it sounds. But the SF Zen Center was founded 54 years ago and has a home in a Julia Morgan-designed building on Page Street, and you may just feel at home there. — Jay Barmann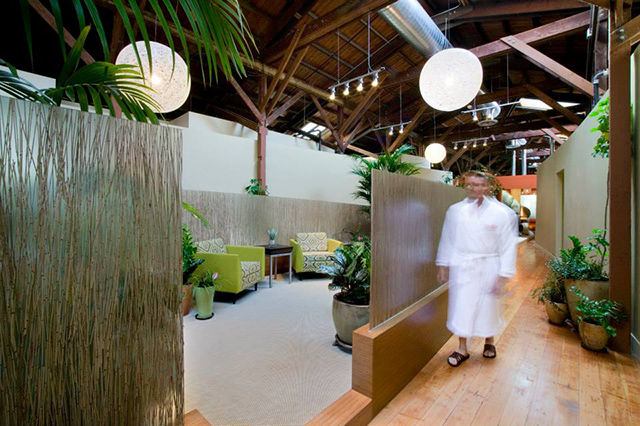 (Photo credit: David Wakley Photography via SenSpa)
Spa Day
Many cleanses involve some sort of effort on your part — abstaining from red meat, constant juicing, or pouring all those PBR's down the drain. Why not welcome 2017 with something more, well, passive? If that sounds about right to you, then a spa day is probably in order. Thankfully, San Francisco has many great styles of steamy relaxation to choose from, and we put together a list of the 13 best. Soak the day away at Archimedes Banya with friends, or get some "you time" on at International Orange. Want some Shiatsu to pound you into shape? Hit up SenSpa. Basically, when spas are an option, you have no excuse not to start 2017 with a cleanse. — Jack Morse
Photo courtesy of DigitalDetox.org