San Francisco has long had a significant Russian-American community, centered around Little Russia in the Outer Richmond, a neighborhood which is consequently home to a number of Russian restaurants. And as you may or may not know, Russians tend to celebrate a holiday a lot like our Christmas in a secular fashion on New Year's Eve — something which happened naturally after Soviet rule wiped Christmas off the calendar, and families wanted to keep their traditions intact. Thus on Novy God, or Russian New Year's, there's a decorated fir tree, a Santa stand-in named Father Frost, and an exchange of presents at midnight during a big feast of dumplings, pickles, caviar, vodka, and herring.
After learning today that some of the Russian diplomats accused of being spies in the San Francisco consulate are being sent home to Russia just ahead of the New Year's Eve celebration — and among them is the consulate's chef — and perpetuating the theory that President-elect Trump has been in cahoots — and not just in bed, business-wise — with the Russians all along, we bring you a few ideas for where to find Russian-style Novy God celebrations and celebration foodstuffs in San Francisco. Because maybe it won't be long until SF is rechristened New Vladivostok.
Red Tavern
The unassuming Red Tavern on Clement Street is home to some of the best dumplings, borscht, and potato zrazy you'll find in the city. They typically close at 10 p.m. but they may stay open a bit later on Saturday, and they have banquet-style menu options as well, starting at just $45 per person.
2229 Clement Street between 23rd and 24th Avenues
Napoleon at Cinderella Cafe & Bakery. Photo: Karen L./Yelp
Cinderella Cafe & Bakery
Well known for their inexpensive and generously sized beef and cheddar piroshkis, Cinderella is a popular spot in Little Russia, serving food all day — though they close at 7 p.m. Coincidentally, the Chronicle's Anna Roth just highlighted the neighborhood this week, specifically calling out Cinderella's meat dumplings, called pelmeni. Also good: the borscht, and all the pastry.
Photo: Facebook
Russian Renaissance Restaurant
The most old-school of Russian spots in Little Russia is this restaurant, operating since 1959, and serving up its own versions of pierogis, Georgian "pizza," and beef Stroganoff (studded with pickle spears atop mashed potatoes), as well as things like sauteed eel, pickled herring, blinis, and more.
5241 Geary Boulevard between 16th and 17th Avenues
Katia's shashlik. Photo: Mona W./Yelp
Katia's Russian Tea Room
Though she hinted to the Chronicle she might retire soon, Katia Troosh has been running her Inner Richmond tea room and restaurant for over twenty years, serving up perfect versions of pelmeni, borscht, shashlik, savory blini, and the potato dumplings known as vareniki. And her desserts stand out, too, in particular her Napoleon, and her chocolate walnut torte.
600 Fifth Avenue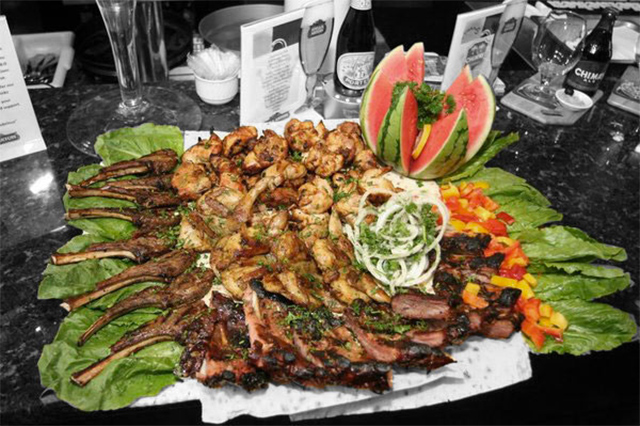 Mixed grill at Bistro Gambrinus.
Bistro Gambrinus
Outside Little Russia and the Avenues, there's this Eastern European spot at Fulton and Masonic that is serving up some good versions of pierogis, goulash, Stroganoff, and Russian sausage, as well as grand mixed grill plates that pair great with beer.
1813 Fulton Street at Masonic
Photo: Wendy B./Yelp