In atmosphere, the difference between the former St. Vincent and the new occupant of its former Valencia Street home is night and day. Like, quite literally, St. Vincent, which was dark and masculine, wasn't very inviting until the evening, when it took on a warm glow. Now, in its stead, Barzotto (1270 Valencia Street), a casual, order-at-the counter Italian restaurant, beckons afternoon diners who will want to linger into the evening. Currently, lunch and dinner menus are the same.
Owner Marko Sotto, a former operations director for restaurateur Adriano Paganini, made sure that was the case. "We want to feed more people," Sotto tells SFist, a philosophy that extends to Barzotto's counter-order format and the prices it allows for. As is the case with an increasing number of San Francisco restaurants like Little Gem and Souvla, a waiter-less system saves on labor costs and means lower prices for customers.
Specifically, at Barzotto, diners place their order at the front of the restaurant and in lieu of a number are given an electronic tracker to bring to an open table. Dishes are around $12, and portions generous. Michelle Minori is at the helm in the kitchen — formerly the executive sous chef for Thomas McNaughton's Ne Timeas Restaurant Group (Flour + Water, Central Kitchen), she knows her pastas, and also offers fresh pasta to go. Wine is $10 a glass across the board, and every bottle costs $40.
"San Francisco is still an expensive place to run a restaurant," says Sotto, admitting that "in comparison to [places] in other cities that are doing something similar, our prices might be higher. But this was what I thought was the best way to lower the cost to the guests, with the hopes that that cost will bring more people in. We want the people who are cooking the pasta to come in after work and be able to order the pasta."
Bucatini at Barzotto. Photo: Caleb Pershan/SFist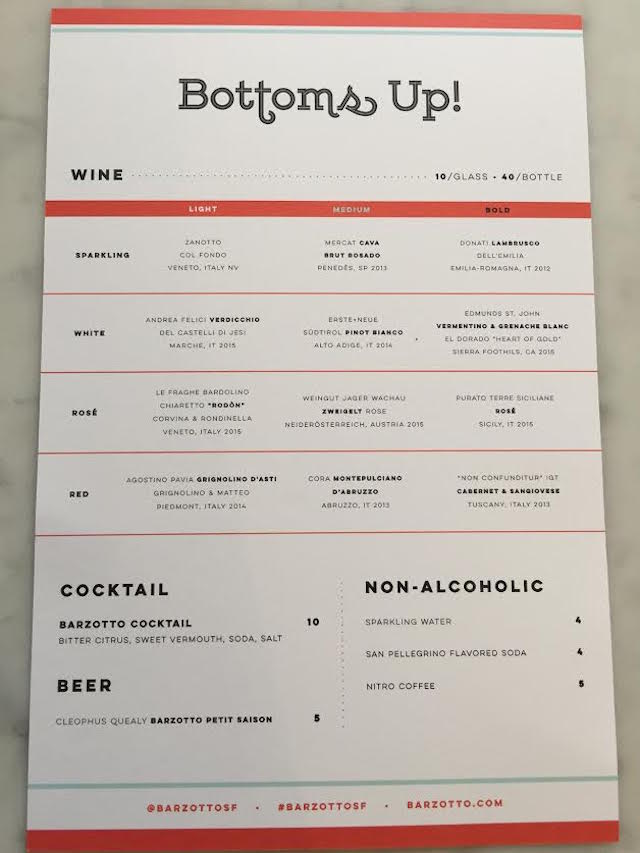 Barzotto - 1270 Valencia Street (at 24th Street) Wednesday to Sunday, 11 a.m. to 10 p.m.
Previously: This Week In SF Food: Barzotto Takes St. Vincent's Spot, 10 Years At Nopa, And More

For budgetary reasons, SFist editors and contributors occasionally accept complimentary meals from restaurants and their publicists. More often, we pay out of pocket for our meals. While we refrain from writing formal reviews, we make every effort when giving opinions about restaurants to be objective, and to focus more on food and ambiance than service in order to make up for any possible bias.

Caleb Pershan/SFist