Liholiho Yacht Club chef Ravi Kapur, who landed himself on Food & Wine's best new chef's list this year (the July issue should hit stands any second if it hasn't already), has a new surprise for San Francisco drinkers and diners. If you haven't noticed most everything in the food world is announced months — or years — before it's set to debut, usually to be heavily delayed from there. Not this time: Kapur took a page out of the Beyoncé playbook and "dropped" a new basement cocktail bar, Louie's Gen-Gen Room, without telling anyone until this week. It opens tomorrow, Thursday, and has been hosting friends and family the last two nights, under the radar.
The Liliholiho folks considered making a private room out of the small space by the wine cabinets and kitchen, but as Kapur tells SFist, "I wanted to be more democratic than that." With its 24 seats open to public reservations for parties up to 4 people (and yes, private parties that book further ahead, though there may be a limit to those), Louie's Gen-Gen Room will offer a wholly different food menu from upstairs, and new drinks from barman Yanni Kehagiaras, including the mega-delicious Young Coconut with Avuá Cachaça, falernum, coconut water, lime and green Chartreuse.
Meanwhile, co-owner Jeff Hanak (Nopa, Nopalito) will be pouring wine by the glass, or you can get a whole magnum of bubbles or rosé if you'd like.
Making bar bites downstairs has some limits because there's no ventilation hood for a real stove, but Kapur got creative and decided to install a couple of waffle irons. So, in addition to salads, he and his squad will make a variety of waffles, including, on the opening menu, a savory furikake waffle topped with avocado, uni, walnuts, and lemon on top. And the waffles are all gluten- and dairy-free, made with a mix of rice, corn, and potato flours.
A poppy-seed waffle topped with nectarine jam, American ham, and fresh nectarine. Photo: Jay Barmann/SFist
Kapur topping off the furikake waffles with uni and avocado. Photo: Jay Barmann/SFist
When asked about the style of the menu, Kapur says, "It's not Hawaiian at all." He said he wanted to get away from the more "heritage-driven" style that's come to define the menu at Liholiho, and you'll see some of the broad range of influences and decidedly California style that he developed as opening chef at Prospect.
As for the name, the building was once home to a grocery store called Louie's Market, and "Gen-Gen" evolved out of the word "genuine." "Louie's Genuine just sounded too trendy," Kapur said. "So it's just a made-up word."
Also different from the upstairs, food-wise: more cheese. Also hitting that waffle iron is a grilled cheese sandwich made with Nicasio reserve.
And look for his spin on Crab Louie, which in this case is a blue crab salad served in Little Gem lettuce cups, as well as a throwback to 1960's cocktail fare in a potato chip topped with French onion, hard boiled egg, chive, and trout roe.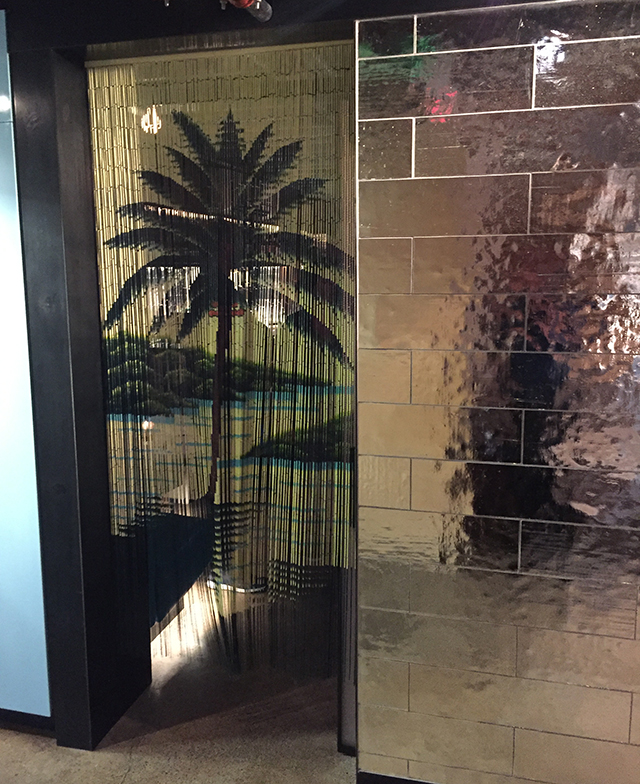 You enter the space through this beaded curtain in the restaurant's basement. Photo: Jay Barmann/SFist
The smoked sturgeon with avocado Green Goddess dressing in the foreground. At the rear, beef carpaccio with fennel and fresh horseradish. Photo: Jay Barmann/SFist
Louie's Gen-Gen Room - inside Liholiho Yacht Club, 871 Sutter St. at Leavenworth, by reservation only
Jay Barmann also contributed to this story.
Louie's Gen-Gen Room via Facebook