Though we try at SFist to make a point of not recognizing the National ___ Days that were invented by trade groups and publicists to get the media to cover their products, but I'm making an exception today, because: doughnuts. It's National Doughnut Day, and yes we still spell it that way, and yes there are good ones to be had around San Francisco. Old Fashioneds, cake doughnuts, crullers, and beignets even.
This top ten list from a couple years back still stands, but for a few important must-haves:

The Jelly Donut
This old-school spot at 24th and South Van Ness is a neighborhood mainstay where, almost without fail, the lady behind the counter will toss in an extra doughnut hole or two no matter what you order and do with a little smile. Sometimes she just throws in entire free doughnuts. The maple old-fashioned is always a good bet, as is the crumb cake doughnut.
3198 24th Street at South Van Ness

Bob's Donuts
Surely you know about Bob's by now. But if you do not, this family-run operation on uppper Polk Street makes, quite possibly, the best doughnuts in town and continues to put the more hipster-ish places to shame. The basic glazed are to die for and refreshed 24-7, the apple fritters are amazing, and the jelly is the bomb. And a little bit of local trivia: Bob's and its onetime owner-manager, the late Eleanor Ahn, gets a shout-out in the Sun Kil Moon song "Glenn Tipton."



Photo: xmatt on Flickr.


Dynamo Donut + Coffee
Speaking of hipster spots, this place, along with Humphry Slocombe ice cream nearby, presaged the gentrification of 24th Street in the last decade, but nobody can deny they make a decent doughnut, and in some original and usually delicious flavors. Best known for the maple glazed bacon apple doughnut pictured above, they do a whole ton of other notable flavors like chocolate rose and lemon thyme, and today you'll even find three gluten-free varieties: I'm Not a Gluten Carrot Cake, I'm Not a Gluten Chocolate with Raspberry, and I'm Not a Gluten Lemon Buttermilk.
2760 24th Street between York and Hampshire



Photo: souldoubt on Flickr.


Happy Donuts
With multiple locations around the city, you can't really go wrong with this old-school chain, though a lot of people will tell you the Noe Valley location is the best. Old-fashioneds are the safest bet, but the chocolate glazed aren't half bad.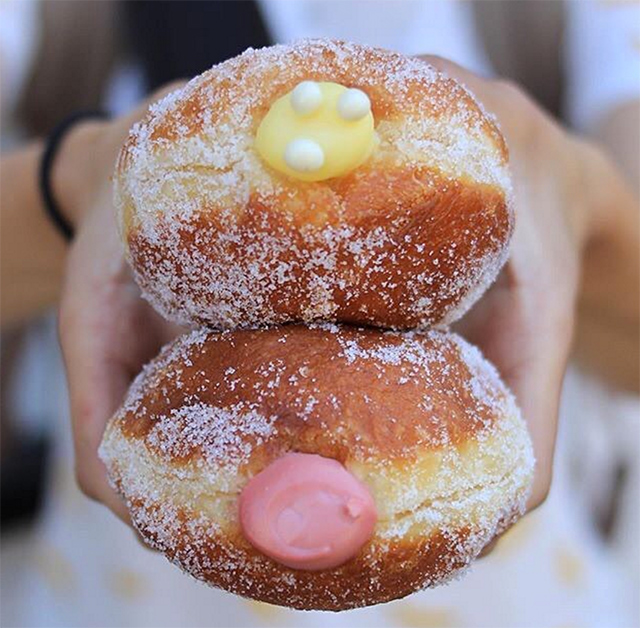 via Instagram


Mr. Holmes Bakehouse
Mr. Holmes, which made itself Insta-famous because of its cruffins, makes all kinds of amazing filled doughnuts daily. The obstacle: You generally have to wait in line, and they often sell out by noon. The website even has a countdown to the next batch of cruffins, which appear at 7 or 8 a.m., depending on if it's a weekday or weekend. Doughnut filling flavors change daily, but expect things like boysenberry, peanut butter, and guava.
1042 Larkin Street



Photo: bittermelon on Flickr.


Brenda's French Soul Food
If you want a sit-down doughnut experience with some New Orleans flair that maybe ends with shrimp and grits, head over to Brenda's for some of her famous beignets, which are arguably the closest you'll get to Cafe du Monde here in the Bay.
652 Polk Street at Eddy


Honorable East Bay Mention: Doughnut Dolly, with two locations in Temescal and Berkeley, will be headed soon to mid-Market, but until then you need to cross the bridge to taste some fine, filled-to-order doughnuts in seasonally changing flavors.

Photo: Bob's Donuts/Instagram