A San Francisco startup has dived head first into the all important and contentions world of pizza. Attempting to meld super fast delivery, high quality pizza, and ease of ordering into a single experience, the company is now beta testing a pizza-ordering app (seriously) that promises to deliver made-to-order gourmet pizza in under fifteen minutes. And here's the thing: it actually works, and the pizza is delicious.
Oh yeah, and as they're in the beta phase, the first pizza is free.
The company, Pi Pizza, describes itself as "a hyper-fast artisan pizza delivery service," and has a kitchen (likely) in the Mission District. It is hard to say for certain, however, as the company doesn't list an address on their website and an email from SFist was not returned as of press time. The company only delivers at present to the Mission, and it's hard to image Pi Pizza cooking the pizza elsewhere as when this reporter tried the app out last night a freshly made (hot) pizza showed up roughly 15 minutes after I tapped the screen of my cell phone.
Pizza magic.
Pi Pizza is not messing around — after a customer selects one of the three offered options, and drops a pin on a map for a desired drop-off location, a screen pops up stating the status of dinner. When the pizza is done cooking one is able to watch, a la Uber or Lyft, as the pizza is driven through the streets of San Francisco to meet the customer wherever he or she happens to be (more on that later).
A text is then sent to the hungry person's phone, instructing him to be ready on the curb. A car pulls up, a pizza is passed off, and the driver drives away.
Much like Uber, payment is handled through the app, and the $20 price tag includes tax and tip. And because this is the Mission, the pizza comes with slightly odd but cool pieces of artwork.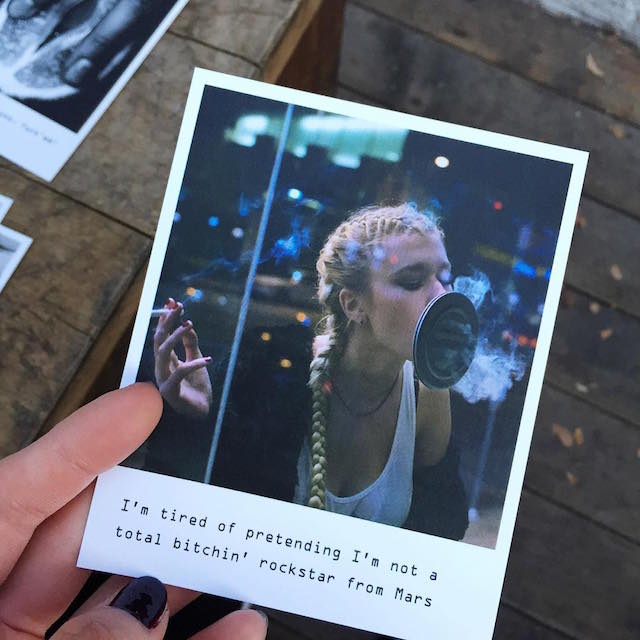 Perhaps most excitedly, that the delivery needs no physical address combined with the sheer speed of delivery opens up an entirely new pizza game: ordering on the street, in a park, or while you grab a smoke outside of a bar.
But the question still remains, who made my pizza? More importantly, was it cooked in a commercial kitchen that had been inspected by the health department (another question posed in the as-of-yet unreturned email)?
We do know a bit about the company. Founder Evan Kuo explains Pi Pizza's backstory in a promotional video (linked at the bottom of this post), and the company has several prominent investors that include a Zynga co-founder (thanks VC guy for buying my dinner last night!).
But we can say one thing for sure: The thin-crust, roasted butternut squash, balsamic onions, fresh mozzarella, goat cheese, and fried sage leaves pizza was delicious.
Update: Pi Pizza got back to us, and addressed our concern regarding where the pizzas are being made.
"Our dough, toppings, and pizzas are produced in a commercial kitchen that we share with a number of other food businesses on Cesar Chavez," explained spokesperson Jessica Yen.
As to the artwork arriving with each pie? Yen noted that the company is "hoping to work with local artists and feature their work and/or create something together. This is one of our bigger goals, beyond making great pizza."
Photo by Jack Morse.
Photo by Jack Morse.
Related: The Best Pizza In San Francisco: A Definitive List
Photo via Instagram.