Many men may enter, but only one will leave with the crown. None, however, shall exit with his dignity.
Yet judging by this year's crop of bro brethren, there wasn't much of that to go around in the first place. And the assembled specimens of the male species, it should be noted, are giving it up for a good cause: the Mr. Marina competition, an annual fundraiser for the Leukemia and Lymphoma society. Further, like the Wall Street banking types these gentlemen very much resemble, they've been raking it in since 2012, raising $525,000 in total. Count it.
Without further ado, here they are, contestants for your hearts and minds. Perhaps you've seen them on Tinder or, better yet, "elitist dating app" The League. So, in that spirit, let's do some swiping, shall we?

BRADLEY THOMASMA
"STRAIGHT OUTTA DETROIT," Mr. Bradley Thomasma is "BUILT ON HARD WORK, A HANDSHAKE AND MOM'S HOMEMADE APPLE PIE."
That is all to say that Bradley is likely bankrupt, in one way or another.
"CALIFORNIA DREAMIN', I SET SAIL FOR THE GOLDEN COAST, WHERE I CAN NOW BE FOUND SPEARHEADING SOCIAL EVENTS, EXPLORING THE GREAT OUTDOORS OR CROONING ON STAGE AT YOUR NEIGHBORHOOD KARAOKE OR PIANO BAR."
Okay, I like this guy and would totally swipe right on a karaoke bro-sesh.

DREW CARTER
Ed Note: Okay, so Drew's boneheaded profile appears to have been written in the second person. Bear with him.
"YOU HEAD TO THE MARINA SAFEWAY EVERYDAY TO 'SHOP FOR GROCERIES.'
"SO WHAT IF YOU'RE NEVER REALLY GOING TO COOK ANYTHING BECAUSE ALL YOUR MEALS ARE PROVIDED BY YOUR TRENDY TECH JOB
YOU SWEAT IN THE GYM EVERYDAY, SHUNNING BREAD AND PASTA SO YOU CAN CRACK BEERS WITH YOU BOYS AND BRUNCH-HOP ON THE WEEKEND - ABS ARE STILL MADE IN THE KITCHEN
SO, POP ANOTHER ICE CHILLED BOTTLE OF CARPENE MALVOLITI BRUT ROSÉ MR. MARINA 2016, YOU'RE A GROWN MAN AND CAN STILL DRINK WITH THE LADIES. - MR. MARINA TWO-THOUSAND AND SIXTEEEEEN!"
Would personally swipe left on this thirst-monster, but your mileage may vary.

EDMO GAMELIN
"DESPITE FREQUENT VISITS TO FORT MASON, AN INBOX FULL OF CHUBBIES RECEIPTS, AND A CALENDAR HOLD FOR "LIGHTNING TAVERN BUSINESS" EVERY FRIDAY FROM 3PM ONWARD, EDMO IS NOT TO BE MISTAKEN FOR A TYPICAL "MARINA BRO". No, this archaic species identifies as "MARINA GENTLEMAN".
Swipe left due to patriarchal bullshit.

GARRETT RUHLAND
Meet Garrett, "A MAN WITH SIMPLE TASTES: BEER ABOVE 8% ABV, WHISKY THAT PREDATES MY LINEAGE, CIGARS FROM FORBIDDEN FRONTS, THE OCCASIONAL BOW TIE, AND SHORTS THAT RIDE HIGH ON MY THIGHS."
Nice thighs, would ride, **swipes right**

JAMES SMITH
"OFTEN SEEN AT PALM HOUSE DRINKING PUNCH BOWLS AND USING CHEESY PICKUP LINES ON WOMEN FROM ALL WALKS OF LIFE, DADDY, AS JAMES SMITH LIKES TO CALL HIMSELF — "
I'm going to stop you right there. That is some daddy-issue shit I am not gonna touch. Swipe to the left, to the left.
"HE'S TRIED. HE'S TRUE....HE BLEEDS RED WHITE AND BLUE. HE'S BEAUTY. HE'S GRACE...WHEN YOU'RE DOWN, HE'S YOUR ACE. HE'S BEEN AROUND THE WORLD AND HE PLANS FOR MORE, BUT I TELL YOU WHAT, AND I'LL TELL YOU NOW...HE'LL ALWAYS BE YOUR STAND UP TALL, ALL FOR ONE AND ONE FOR ALL, ROOTIN-TOOTIN, FLAG SALUTIN', DREAM CHASING, LIVE LIFE WITHOUT THE CASING, MARINA MAN NEXT DOOR."
Sick flow, build me a "reclaimed wood" table and I'll swipe right.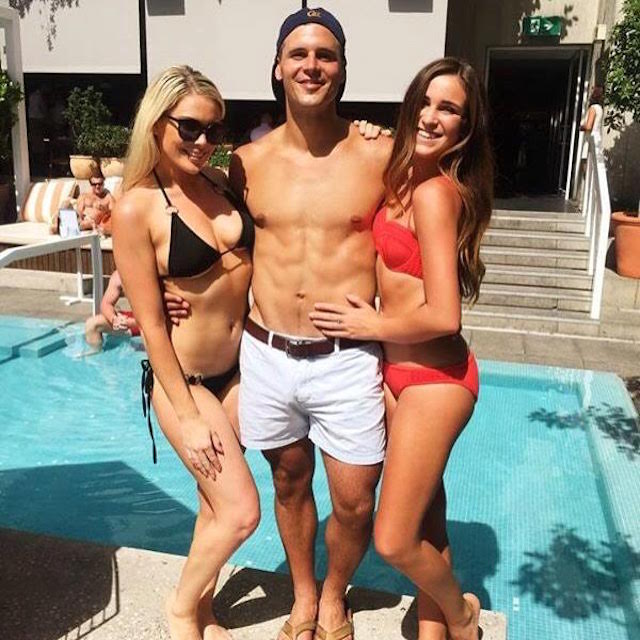 KOREY WARZALA
"KOREY WEARS FITTED CHINOS, TAILORED WHITE BUTTON-DOWNS, TAN SUEDE SANDALS, COLOGNE, A CHEERFUL STRUT, AND THE BIGGEST SMILE IN THE BAY."
Go on....
"IF IT WERE THE LAST DAY HERE ON EARTH, HE'D GRAB THE BOYS, CRACK OPEN SOME BEERS AND THROW ONE MORE SET OF LAUGHS ON THE BOOKS."
Okay bro loves his bros, but is it just in a bro way, bro?
"HE IS THE MODERN RENAISSANCE MAN. HE'S A GUY WHO LOOKS LIKE HE HASN'T EVER TRIED BECAUSE HE ACTUALLY HASN'T - THE KID WAS BORN THAT WAY."
Literally the definition of privilege. Block him maybe.

MARK VALLEE
"AN AEROSPACE ENGINEER BY DAY"
**Immediately swipes right**
AND DRESSED IN 80'S COSTUMES BY NIGHT, I TAKE PRIDE IN BEING A TRUE SAN FRANCISC-BRO. ON WEEKENDS, IF I'M NOT ON A PARTY BUS DRESSED IN A SPACE CAT SHIRT AND GALAXY TIGHTS, YOU CAN FIND ME PLAYING VOLLEYBALL AT FT MASON. SUNDAY FUNDAYS, FLIP CUP, AND TAILGATES ARE MY JAM; TANK TOPS, COUNTRY CONCERTS, AND BREAKFAST BURRITOS WITH HAM!
**Immediately regrets swiping right.**

MICHAEL BECERRA
"I'M A SILICON VALLEY MARKETING GUY WHO HAS WORKED AT APPLE AND GOOGLE."
Does this line work? It probably works.
"MY OTHER PASSIONS ARE MALE MODELING (YES, JUST LIKE ZOOLANDER) AND WORKING ON MY STARTUP AS CO-FOUNDER OF CREWMIX, A STARTUP APP USING TECH TO... "
Sorry, I stopped caring, but he's a model, so swipe as you see fit.

SEAN HARRIS
"SEAN HARRIS MAY NOT LIVE IN THE MARINA, BUT THE MARINA LIVES IN SEAN HARRIS.... ONE OF HIS BEST FRIENDS (ESSENTIALLY HIS SISTER) HAD A SUCCESSFUL BATTLE AGAINST LEUKEMIA IN HER EARLY 20'S, WHICH INSPIRED HIM TO PARTICIPATE IN A DATE AUCTION FUNDRAISER TO FIGHT CANCER A COUPLE YEARS AGO."
What, you expect me to make fun of that? I'll let him take us out.
"TO SEAN, RAISING MONEY FOR RESEARCH IS THE BEST THING WE CAN DO TO FIGHT SUCH A DEVASTATING ILLNESS WHICH AFFLICTS PEOPLE OF ALL AGES AND HEALTH CONDITIONS."
See you guys at the Competition, may the best man win, and hopefully reflect thoughtfully on masculinity and what winning really means outside of a capitalist paradigm.

Bro-Down For The Dude Crown: Scenes From The Mr. Marina 2015 Competition