It's going to remain wet and chilly for the next couple months here, folks. So hunker down, find your way to one of the venues below, grab the warming/alcoholic beverage of your choice, and wax nostalgic for last January when we were all in short sleeves and acting cautiously happy about how the drought made winter so pleasant. A fireplace, after all, assuming you don't have one in your home, is a sight for sore eyes when it's all windswept and film-noir-ish on every street you travel.


500 Club
The 500 Club shows up on many "best of" lists, and with good reason. The Mission District mainstay does a lot of things right. The bar serves strong drinks, has a good jukebox, and shows the Giants for starters — but it's the fireplace that really puts the 500 Club over the edge. With an elevated hearth for sitting, a cold patron can get close to the flames while sipping a drink and warming the bones. — Jack Morse
500 Guerrero Street at 17th Street.

Big Four
This hotel bar-restaurant atop Nob Hill provides one of the oldest of old-school SF experiences, complete with piano man, green leather booths, historic photos, fireplace lounge, and well mixed Manhattans and Martinis. It's the perfect place to celebrate an anniversary, or meet an ex after an appropriate cooling off period, or begin a secret affair in one of its booths. In other words: ideal for winter. — Jay Barmann
1075 California at Taylor, in the Huntington Hotel



Photo Courtesy of Chambers


Chambers Eat + Drink
One of the cooler cozy spots in town is the bar/restaurant at the Phoenix Hotel which got a rock-and-roll makeover a couple of years back by a Vegas-based designer. With shelves lined with LPs, a low-ceilinged bar area, cozy booths, and a fireplace (as well as an LA-style firepit thing on the patio), this is a great place to escape the rain or cold on any late fall or winter evening. Also, the drinks are good, and the smoked grit fries with tomato aioli, the steak, and the burger are all first rate. — Jay Barmann
601 Eddy Street at Larkin



Drake's Dealership
The craft beer pioneers at Drake's have a strong contender for the Bay Area's best beer garden in their 350-seat, 10,000-square-foot "Dealership" located in Oakland's mixed-use Hive development. Dozens of fire pits and 32 beers on tap, including lots you won't find in bottles, will keep you plenty warm. Bonus: the New Haven style pizza is delicious, but bears only a passing resemblance to that fine towns' miraculous pies. —Caleb Pershan
2325 Broadway Auto Row, Oakland, between 23rd and 24th Streets



Driftwood
With jazz and bluegrass every Tuesday, a warm hearth, and an expertly made Vesper, SoMa's Driftwood is a fine place to while away these winter hours. Owners Chris Milstead and Shawn McGee are keeping things fresh with a splash of new decor and a few cocktails to match, so swing by. — Caleb Pershan
1225 Folsom Street between 8th and 9th Streets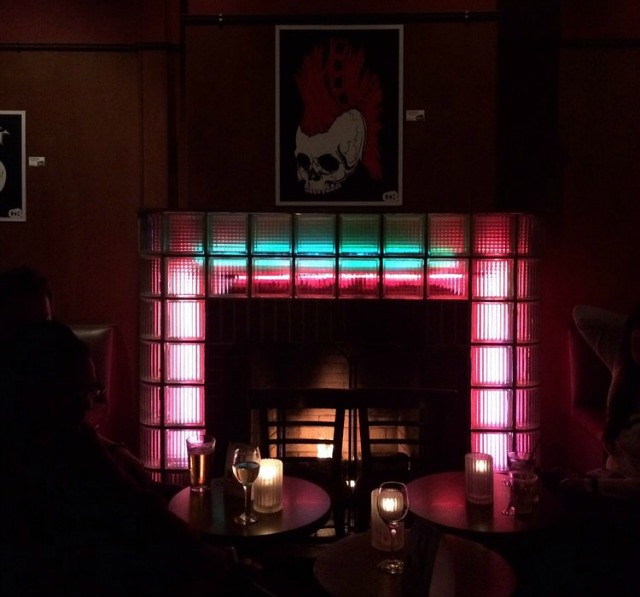 Behold the glass brick splendor of Fireside Bar's fireside. Photo: Ann S/Yelp


Fireside Bar
A favorite of this SFist correspondent due to its extreme dog-friendliness, the Inner Sunset's Fireside Bar is known for strong drinks, an eclectic clientele, and its uniquely glass-bricked fireplace. Old timers might recall when this location was home to the Wishing Well, a bar that sat in the center of the dive scale. Fireside has a similar level of authenticity, but has traded some of the Well's (RIP! I did love you) more challenging elements in to become a comfy place to grab a beer, pet a pooch, and sit by the crackling fire as you chat with the regulars and watch the game. -- Eve Batey
603 Irving Street at 7th Avenue



Photo via Facebook.


The Homestead
Combining the best elements of a neighborhood bar with a little bit of swank, the Homestead has long been a cherished watering hole for many Missionites. The place has been around seemingly forever — it opened in 1906 — and with its $1 baskets of peanuts, and a private back room for rent (with proceeds going to charity), the gas fire-stove just seems like icing on a toasty cake. Elevated in the corner of the bar, it's the perfect spot for a hot toddy on one of these long, wet El Niño nights. — Jack Morse
2301 Folsom Street at 19th Street



Photo via Yelp.


Lion Pub
Lion Pub does cozy and raucous at the same time. The bar, which if you didn't know any better you could easily stroll right past thinking it was a mortuary, has a roaring fireplace in the back for posting up and a stone lion mounted up front for riding (yes, really). Bartenders fresh squeeze grapefruit on huge juice presses, and the entire place smells like some distant citrus summer memory. The bar has plenty of beer on tap, but that's not the reason to go. Instead, order a greyhound and kick back by the fire. — Jack Morse
2062 Divisadero Street at Sacramento Street



Fiery pleasures await upstairs at Maven. Photo: Courtesy of Maven


Maven
Maven's gas fireplace is little bit of a neighborhood secret, located as it is in cozy corner on the upstairs mezzanine and perfect for Sunday afternoon lounging, or a happy hour retreat on a cold night. The place is a full-service restaurant, though, with food served upstairs as well, so on busy nights you might be hard pressed to get a fireside seat, unless you arrive early. — Jay Barmann
598 Haight at Steiner



Photo of the revamped Park Chalet from a press release sent in August, 2015


Park Chalet
On a chilly Ocean Beach night, scoring a table by Park Chalet's fireplace is the next best thing to a flight to the tropics: Though the chill might be leaking in though the bar and restaurant's mostly-glass walls, the fire will keep you more than toasty. As of last August, the spot had attracted a new executive chef in Ian Hockenberger, and had revamped their menu, freshened up the paint, swapped out the carpet, and refinished the bar, all changes that provided a blast of fresh air to the venerable location. Fortunately, the fireplace remains, as does their Monday-Friday happy hour menu from 3-6 p.m. My suggestion is to score a prime fireplace spot early, then nurse beer after beer from their fantastic list of housemade brews until you're warmed to the core. -- Eve Batey
1000 Great Highway between Upper Great Highway and Lincoln Way



Swig
Swig, a precursor to Bourbon & Branch from the same team, is quite literally lit. That's thanks to the above fireplace, but for added warmth, turn to their selection of whisky. It's one of the best in the biz. — Caleb Pershan
561 Geary Street between Jones and Shannon Streets



Photo: Facebook


Tupper and Reed
The new Berkeley outpost of the Bourbon & Branch/Future Bars empire made it onto our list of 2015's best new bars, and in addition to a great, historic atmosphere and good drinks, the place has a fireplace to boot. The 90-year-old Gothic building on Shattuck Avenue was formerly the home of Beckett's in the last decade, and now the cocktail experience has come up a notch, with a focus on rare and high-end spirits. It's a swell date spot, especially for winter, and especially if your date likes whiskey. — Jay Barmann
2271 Shattuck Avenue, Berkeley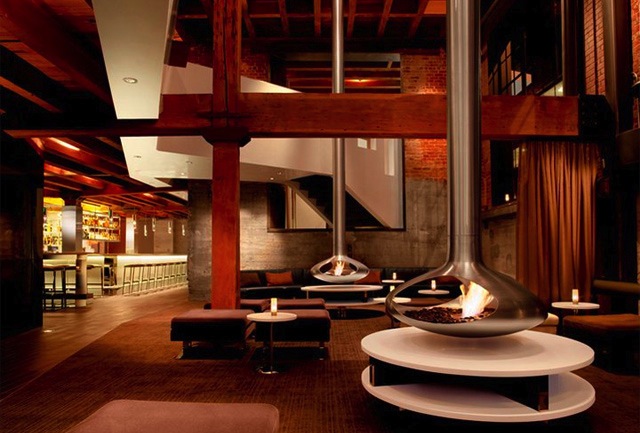 Twenty-Five Lusk
The downstairs lounge at Twenty-Five Lusk, half a level below grade and accented with a couple of awesome, '60s-style suspended fireplaces, is one of the best designed drinking spaces in the city. Unfortunately it's also in the heart of bougie, techie, new-moneyed SoMa, which, unless you're a part of that crowd, might leave you outnumbered and with no place to sit during your average happy hour. But when you catch this place right, and catch the bartender's attention, on a night when it's cold and rainy outside and you've lost your love for city life, it can be the most welcome of warm, urban oases. We'd recommend early in the week, or on a Sunday, but since this place is generally popular for business meet-and-greets, check the website for warnings of private party buyouts so you won't be disappointed. — Jay Barmann
25 Lusk (at Townsend)


Wild Side West
Lesbian-founded and still leaning that way, on nights when it's too cold to delight in the yard/patio/magic garden area, stay inside by the fireplace. The decor within, after all, is as bizarre and charming as the strange sculpture without. —Caleb Pershan
424 Cortland Avenue between Bennington and Andover Streets
(Photo: Zeki's)


Zeki's
Forget all these bars with one fireplace — that's amateur hour! Zeki's has two blazing away, surrounded by warm brick and dark wood. They also have ten beers on tap, an extensive list of single malts, and a pool table to keep you occupied on those dark winter nights. And if the pool table's not enough, weeeellll, they do claim that they're the "friendliest bar in San Francisco." Test that, and you might end up with more that a roaring fire to keep you warm. — Eve Batey
1319 California (at Leavenworth)




Photo courtesy of Big Four