Unless you've been living in a $500-a-month crawlspace, you know that Star Wars: Episode VII opens nationwide today and had West Coast premieres last night. Though we were denied access to press screenings, SFist was on hand for the premiere at the official grand opening of the Alamo Drafthouse Cinema, where nerds, geeks, droids and Sith-as-fuck Star Wars fans posed for these photos and shared their Jedi-level cosplay secrets.
Chewy looks a little crunchy in the photo above, but it's his Slutty Chewbacca outfit from Halloween. "I wanted to be Han Solo, and I told him, 'you can be Slutty Chewbacca,'" said Chelsea Paris, the Han Solo in the middle. "Girl costumes are always really slutty. You go to be something normal and you can't. All they have is the slutty version. So you have you make your own costume if you want to be not-slutty."
Image: Joe Kukura
"Han Solo had to hand-sew this," Ms. Paris quipped, in a joke that plays better phonetically than in print.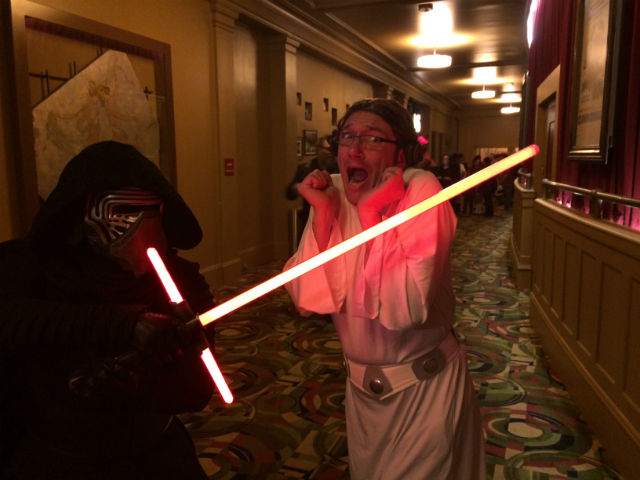 Image: Joe Kukura
Alamo Drafthouse owner Tim League warmed up the crowd before the premiere. "This movie may be terrible," League announced. "This movie may embarrass me."
Image: Joe Kukura
Fans were treated to special limited edition comic books and the Drafthouse played an awesome reel of vintage Star Wars clips before the movie started. "This is part of Alamo business as usual," League told SFist. "We do a pre-roll for every movie. Every single movie. We'll curate something for every movie that plays."
Image: Joe Kukura
But the cosplayers were the real stars of this Star Wars premiere. "Slave Leia? I don't have that in my closet," said Kelsey, another female Han Solo. "These are my work pants. It's just red duct tape from Walgreen's on pants from Banana Republic. I ordered a military vest but it didn't come in. Cosplay problems."
Image: Joe Kukura
"Jawa is about the lowest-effort Star Wars costume possible," said Cory Osburne, the Jawa above. "You just get a cheap costume robe, a ski mask and you tape over some flashlights [for the eyes] and there you go."
League shared a great story with us about his first Star Wars viewing in 1977. "I went to go see Star Wars with my mother," League remembered. "I ordered a popcorn and a very large drink. I drank the whole thing. It got near the end of the movie and [the Rebel X-wings] were approaching the Death Star. I really, really had to go to the bathroom."
Image: Joe Kukura
"I didn't want to leave the movie because I was completely into it," he said. "So I made the decision to just wet my pants, which I hadn't done in a really long time. I didn't tell my mother. Then we were walking out and she saw what I had done and she took me to the ladies room to change my pants."
"In retrospect, I think I made the right call."
Fans wetting themselves with excitement can see Star Wars: The Force Awakens in both 2D and 3D at the Alamo Drafthouse and at theaters across the Bay Area
Related:Top Five Local Spots To Get In That Star Wars Mood Without Having To Travel To A Galaxy Far, Far Away
Image: Joe Kukura