When the New Mission Theater opened 99 years ago as the Idyll Hour theater, the films were silent. The location at 2550 Mission has — save for the occasional illegal rave and a stint as a furniture store — itself been awfully quiet since Santana reportedly played it out with a performance in 1980. But now, with Austin's beloved dine-in movie chain Alamo Drafthouse reopening the doors on the 17th, it's the audience who'd better shush. The franchise is notorious for their strict no talking, no texting policy, and they'll kick you out if you ignore their warnings, no refunds!
Cinephiles delighted at the news this week that Alamo Drafthouse would, with help from The Lost Weekend, purchase and present Le Video's orphaned collection. That's going in the still under-construction lobby, so you can breeze through it on your way in or out.
Nailing the interior details, Alamo Drafthouse Founder and CEO Tim League explains, was something of an archeological project. But the "dig" led to accurately weird carpet recreations, authentic old posters, and even stunning pieces of a 1932 mural. There was also a lot of garbage and graffiti, and they're keeping just a swathe of it so you can see what they had to do.
Just the 326 seat Theater 1 is set to open right away. That's equipped with Sony 4K RealD 3D, 35MM, 70MM. Four more screens are on the way, ranging from 37 to 94 seats and all showing Sony FK digital, for a grant total of 534 seats in the house.
Something to eat or drink? They make it easy to order but pretty hard to choose. At your seats under your table, write down something from the list of 27 beers on tap or name a few items from a full menu — including Austin-famous queso — devised by chef Ronnie New (Comstock Saloon, Magnolia).
A waiter trained in stealth will take your order slip and come back with, say, cocktails or boozy milkshakes from Isaac Shumway (Bourbon & Branch, Tosca). Yes of course, there's popcorn, but be specific because it comes in four varieties: butter (to clarify, that's clarified butter), kimchi powder, sriracha flakes, and truffle parmesan butter.
If you're looking to just dine and drink for a moment, that's to be done at Bear vs. Bull, right within the theater. It's named for the lawless, utterly cruel animal torture of the Gold Rush era that supposedly took place on Mission Street: '49ers would pit the two animals against each other, and in fact it was after seeing one such contest in Toulumne County during the 1850s that New York Time's scribe Horace Greeley coined the terms for "bear" and "bull" markets.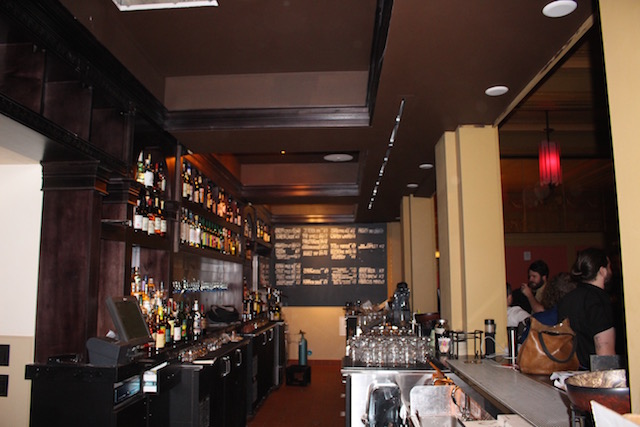 Alamo Drafthouse New Mission Theater opens on December 17th in time for Star Wars — that's super sold out, sorry guys — and tickets will average $13.25 for evening shows. Expect lots more events, including partnerships and shows with the SF Film Society, KQED, SF Sketchfest, and more in the near future.
This, you see, is just the previews.
Previously: Alamo Drafthouse To Buy Le Video's Huge Collection, Rent Titles Out Of Their Lobby