Local citizen review outfit Yelp has far bigger problems these days than dealing with a parody takedown of the Yelp Elite on South Park last week — but a parody website "nbc.com.co" posted a story overnight to that effect that fooled a few news organizations, including the San Francisco Business Times. The story's been taken down, though the URL lives on, and we took a screencap for posterity.
The fake story claimed that Yelp was suing the creators of the show, Matt Stone and Trey Parker, for libel and slander over the episode which skewered the self-importance of Yelpers, particularly the Yelp Elite, and the way restaurants live in fear of their wrath.
The Business Times blogger didn't read on in the story to the part about Fappy The Anti-Masturbation Dolphin and the Christian mascot's troubles with Yelp reviews, nor did they notice the suspicious URL, or the rest of the stories on the site, which include the announcement of a Big Lebowski sequel. But at least one of my friends on Facebook was fooled too.
And, to be fair, when you Google the news, the "NBC" link does look sort of convincing.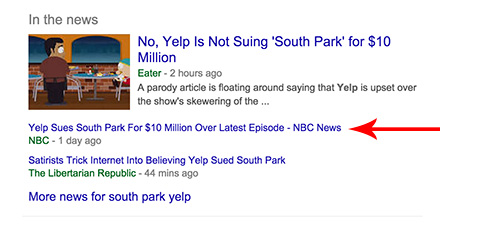 Meanwhile, if you missed last week's South Park, "You're Not Yelping," you should definitely get around to it. The full episode is at that link, or you can just watch the semi-NSFW musical clip below.
Previously: Google And Priceline The Leaders In The Clubhouse As Potential Yelp Buyers