It's flower-blooming season! There's no better time all year to visit San Francisco's network of beautifully maintained urban community gardens and enjoy the bloom, bounty and contribution they bring to our city.
But here's the trouble: Most of San Francisco's "community gardens" are kept locked up and surrounded by chain link fences and you cannot get into them! ("Community," indeed). Another problem: Their open hours are not typically posted, nor are they listed on individual community gardens pages on the Rec & Parks site. A rep at the Rec & Parks department told SFist that they are working on a system to clarify and post these public and open hours, but until then many of the gardens below are relatively inaccessible, and that's a shame.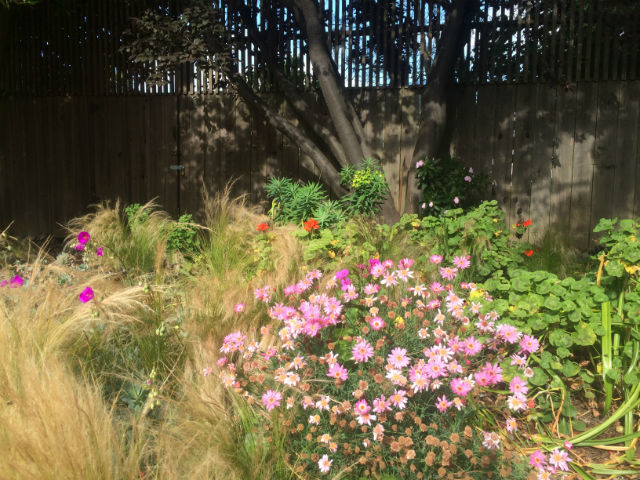 The most egregious example is the Connecticut Friendship Garden (Connecticut St. & 22nd) which has gone so far as to erect a giant wooden fence that denies the public even a peek at the garden (as seen above).
But still, some of these community gardens are very cool! And a couple of them actually do allow the community to set foot in them. We've listed a dozen of the prettier ones below.
Image: Owen Byrne
Potrero Hill Community Garden
I'm a sucker for a garden with a beautiful city view, and Potrero Hill Community Garden has that in spades. This garden is open to the public, and its founding was inspired by the Goat Lady of Potrero Hill whose goats grazed there (illegally!) in the 1940s and 50s. It's now home to 51 separate garden plots and common areas "maintained by local residents using only organic methods."
San Bruno at 20th Street
Image: Joe Kukura


Garden for the Environment
Another adorable gem that's open to the public, Garden for the Environment sits in the quiet Forest Knolls neighborhood and has a lovely gazebo, a functioning sink and adorable little signs labeling the plants and vegetables.
Lawton Street at 7th Avenue
Image: Joe Kukura


Alice Street Community Gardens
This garden does have a locked gate, but appears to be kept open during normal daytime business hours. It's also a great place for Financial District workers to sneak off and smoke a fat doob, though be aware that video cameras are installed.
Bonifacio at Lapu Lapu
Image: Mary Jane Watson


Alemany Farm
Oh my god you guys they have a windmill! One of the larger urban gardens in the city, Alemany Farm is one of those little paradises that makes you feel like you're not in the city anymore. They also have beehives, if that kind of thing does it for you.
Alemany at Ellsworth
Image: Ron W., Yelp


Hooker Alley Community Garden
The Tenderloin has a Hooker Alley (but you already knew that!), and it's home to a very serene and cute little garden with an entirely non-Tenderloiny feel about it.
Mason at Hooker Alley
Image: Joe Kukura


Golden Gate CommUNITY Garden
I am inclined to automatically hate anything that CW Nevius likes, but I must give props to this garden for its vanguard 'wall of plants' and its nicely rustic set of picnic tables.
Frederick St. at Arguello Blvd.
Image: Joe Kukura


Potrero del Sol Community Garden
Nestled next to San Francisco's largest skateboard Park, the Potrero del Sol Community Garden is also the only SF community garden equipped with a basketball hoop.
Potrero St. at 25th St.
Image: Joe Kukura


Ogden Terrace Community Garden
Tucked in the hilly backwoods of Bernal Heights, the Ogden Terrace Community Garden has the cool 'steep hill' garden layout that is marvelous to take in from its base. But again, this marvelous view is concealed by a locked-up chain link fence.
Ogden Avenue at Prentiss Street
Image: Edwin R., Yelp


Bernal Heights Community Garden
Another beautiful steep hillside garden, bit another one whose view is concealed from the public by entirely unnecessary wooden gating.
Bernal Heights Blvd. at Gates Street
Image: Ana S., Yelp
Brooks Park Community Garden
The only community garden is SF, to my knowledge, that is equipped with little BBQ grills for public use.
Shields Street at Ramsell Street
Image: Ron W., Yelp


Corwin St. Community Garden
Also known as Seward Mini Park, this garden is equipped with a fun little double-slide for the kiddos.
Corwin Street at Douglass Street
Image: Sean M., Yelp
Fort Mason Community Garden
Probably the oldest community garden in the bunch, Fort Mason Community Garden was established in 1890 as a military post garden. It switched to a community garden in 1975, and still provides spectacular ocean and city skyline views today.
Fort Mason

Horticulture enthusiasts will correctly note that I have given scant if any attention to the involvement of the San Francisco League of Urban Gardeners (SLUG), the SF Parks Alliance and the community organizers who make these gardens happen. If this aspect of urban gardening interests you, check their websites or even request a spot in one of these gardens.
Image: Joe Kukura