Despite gorgeous weather today, winter is approaching — and it could end up being a rainy one. So, we here at SFist would like to advise you as to where you can find yourself a crackling fire next two which you can sip some bourbon, or red wine, or tea, or whatever it is you enjoy drinking when winter sets in.
Chambers Eat + Drink
One of the cooler cozy spots in town is the bar/restaurant at the Phoenix Hotel which got a rock-and-roll makeover a couple of years back by a Vegas-based designer. With shelves lined with LPs, a low-ceilinged bar area, cozy booths, and a fireplace (as well as a firepit thing on the patio), this is a great place to escape the rain or cold on any late fall or winter evening. Also, the drinks are good, and the grit fries with tomato aioli, the steak, and the burger are all recommended.
601 Eddy Street at Larkin
Big Four
This hotel bar-restaurant atop Nob Hill provides one of the oldest of old-school S.F experience, complete with piano man and fireplace lounge, and perfectly mixed Manhattans. It's the kind of place to celebrate an anniversary, or meet an elderly relative, or have a secret affair. In other words: ideal for winter.
1075 California (at Taylor) in the Huntington Hotel
(Photo: Zeki's)
Zeki's
As the self-proclaimed "friendliest bar in San Francisco," this Nob Hill haunt has all the right moves: a roaring fireplace, cable cars clattering outside, an extensive list of single malts, and a pool table to keep you occupied on those dark winter nights.
1319 California (at Leavenworth)
The Summer Place
Ah, the Summer Place. I think I remember you. There was that time, what was it, 2007? It was nearing 2 a.m. There was Fernet involved, and someone who might have been a hustler but was definitely some kind of criminal. I was smoking then, and this was famously a place you could still smoke indoors (that was true until 2013, when smoking was finally prohibited due to some complaints from upstairs neighbors). Anyway, your prices have gone up, your clientele has gotten a little more classy, but you're still the same old dusty dive with the cozy fireplace and the aura of a place where many a bad decision has been met with a second or third bad decision.
801 Bush (at Mason)
Photo of Park Chalet's fireplace: Park Chalet/Google+
Park Chalet
On a chilly Ocean Beach night, scoring a table by Park Chalet's fireplace is the next best thing to a flight to the tropics: though the chill might be leaking in though the bar and restaurant's mostly-glass walls, the fire will keep you more than toasty. Monday-Friday there's a really solid happy hour menu from 3-6 p.m., so my suggestion is to score a prime fireplace spot early, then nurse beer after beer from their fantastic list of housemade brews until you're warmed to the core.
1000 Great Highway between Upper Great Highway and Lincoln Way
Photo: Courtesy of Swig
Swig
Back in those long-ago days before there was Bourbon & Branch, the guys who opened Bourbon & Branch opened Swig, in their first attempt to bring classy cocktails to the Tenderloin. Earlier this year the place underwent a hefty remodel, and as well as a makeover to the bar program, which now boasts one of the deepest selections of whisky, if not the deepest, in the city. The fireplace is still there in the center of the downstairs room, and though this place can get busy and bro-tastic on weekends and some weeknights, it's a fine place for chilling in the early evening or your odd late-night.
561 Geary (at Jones)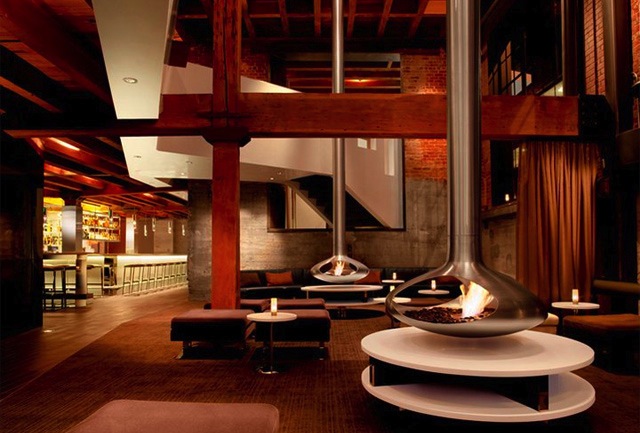 Twenty-Five Lusk
The downstairs lounge at Twenty-Five Lusk, half a level below grade and accented with a couple of awesome, '60s-style suspended fireplaces, is one of the best designed drinking spaces in the city. Unfortunately it's also in the heart of bougie, techie, new-moneyed SoMa, which, unless you're a part of that crowd, might leave you outnumbered and with no place to sit during your average happy hour. But when you catch this place right, and catch the bartender's attention, on a night when it's cold and rainy outside and you've lost your love for city life, it can be the most welcome of warm, urban oases. We'd recommend early in the week, or on a Sunday, but since this place is so desirable for business meet-and-greets, check the website for warnings of private party buyouts so you won't be disappointed.
25 Lusk (at Townsend)
(Photo: The Riptide)
The Riptide
When the cold Pacific air starts cutting through the Outer Sunset, the Riptide is there to keep you warm with honestly cheap drinks and a couple of logs crackling in the brick fireplace. The mounted taxidermy and the free snacks don't hurt either.
3639 Taraval (at 47th Avenue)
The Homestead always gives off a cozy wintertime vibe. (Photo: Arnaud DG)
The Homestead
While the Homestead's heat source is actually a cast iron stove, it'll cure your winter chill just as effectively as anything else on the list. With free peanuts [ed. note: we're hearing word that, alas, the peanuts are no longer free.] that you're free to toss on the floor and buxom nude portraits adorning the walls, the place hasn't changed much in more than 110 years of operation.
2301 Folsom (at 19th Street)
Fiery pleasures await upstairs at Maven. (Photo: Maven)
Maven
Maven's fireplace is a well-kept secret known only to intrepid drinkers who venture up the stairs. It occupies a cozy corner perfect for fireside lounging, but it's really only situated for a few friends to enjoy, so get there early (and often) if you want to get toasty on something other than booze.
598 Haight (at Steiner)
Behold, the glassy, fiery magic at St. Regis Lobby Bar. (Photo: W.L. / Yelp)
St. Regis Hotel Lobby Bar
Hot damn, do I love the St. Regis Lobby Bar! First, unlike its Four Seasons and W Hotel counterparts, the bar is a street-level and pedestrian-friendly area. Spacious. Airy. Calming. BOLD. You don't need to go up an elevator or staircase to get to it. Second, it's got one of those nifty glass-base fireplaces. If you try to put your hand in the fire (why not?), it goes out. Cool.
125 Third Street (at Minna)
Photo via Facebook
Wild Side West
One of the best and coziest bars in the city, in the cozy environs of Bernal Heights, is this longtime LGBT-friendly bar that now stands as the only full-time lesbian-ish spot in town — at least after the Lex says goodbye, and despite it being more of a mixed bar than it was once upon a time. It's also a really mellow, friendly place to catch up with an old friend, or to play Gin Rummy in a corner on a Sunday night.
424 Cortland (at Bennington)
Photo courtesy of Jupiter
Jupiter
Across the Bay on any given night, in any season, there's a fire burning in the pit out in back of Jupiter. Sure it's a little college-y — and many a Cal grad earned their first beer hangover here over the years — but it usually has a pretty quiet vibe, with the occasional jazz or acoustic band playing out back. The pizza is fairly terrible, but the beer is always good, and snagging a seat actually next to the fire requires patience, or arriving very early.
2181 Shattuck Avenue, Berkeley

Eve Batey, Andrew Dalton, Rose Garrett, and Brock Keeling contributed to this list.
Photo courtesy of Big Four